Do you know what Search.searchtpo.com is?
Do not let Search.searchtpo.com fool you – it is not a legitimate search engine. We have to admit that it looks like an ordinary search tool, but we have no doubts that it cannot be trusted because research conducted by our malware experts has clearly shown that Search.searchtpo.com is a new browser hijacker developed by Polarity Technologies Ltd. This company creates search tools on the same template, so it should not be very surprising that Search.searchtpo.com shares similarities with Search.yourinterestscenter.com, Search.yourclassifiedscenter.com, and Search.searcheasysta.com. We suspect that you are reading this article not only to find out more about this page. Most probably, you have already discovered it set as your homepage on all your web browsers (Internet Explorer, Google Chrome, and Mozilla Firefox are browsers which will be affected by this browser hijacker) and are now looking for a solution to the problem. You will know what to do to erase it after reading this article fully, but we cannot promise that it will be a piece of cake to eliminate it.
If you still cannot understand why Search.searchtpo.com needs to be erased from browsers, you should read this paragraph carefully. Despite the fact that this search tool looks trustworthy and allows users to open certain pages (e.g. news.mynewswire.co, terraarcade.com, bigfishgames.com, and others) with the click of a button, it is, without a doubt, not perfect. First, as you already know, it sets itself on browsers as a homepage thus replacing the user's preferred page. Second, researchers have noticed that the search results it displays for users differ from those trustworthy search tools, e.g. Google and Yahoo! returns after entering a search query. This is, some of these search results are modified. Most probably, they appear among ordinary search results so that users would click on them and visit third-party pages. The developer of Search.searchtpo.com, which is Polarity Technologies Ltd, should get money for displaying those modified search results and thus leading users to pages belonging to third parties. Needless to say, users do not get anything for visiting these websites. The only thing they can get is untrustworthy programs. Undesirable software which might be promoted on third-party pages might sneak onto the computer when a user clicks on an untrustworthy third-party link or a Download button. On top of that, there are cases when it is enough to visit a corrupted page to end up with bad software. We do not say that this will necessarily happen to you too, but you should be aware of the fact that you risk causing harm to your PC by performing web searches using Search.searchtpo.com. This is not the only problem which might arise.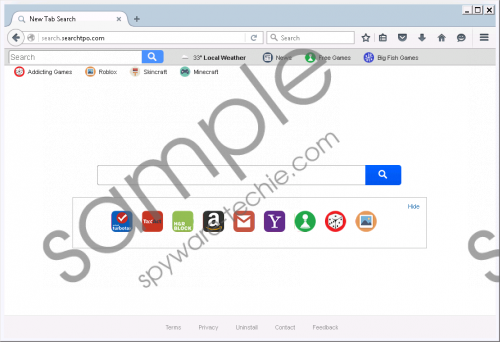 Search.searchtpo.com screenshot
Scroll down for full removal instructions
It seems that users who perform web searches using Search.searchtpo.com also risk experiencing privacy-related problems because researchers have managed to reveal that this dubious search tool might also record information about users. Search tools often collect various details about users, but they cannot identify users personally. This is, unlike Search.searchtpo.com, they do not record any personally-identifiable details. Well, the search tool we are focusing on in this article does not record personal details directly either. Instead, it records search queries which might contain personally-identifiable information. You can promise not to provide personal information voluntarily ever again, but this, actually, still would not mean that you are safe and no issues will ever arise.
You could set a new homepage only if you remove Search.searchtpo.com from your default web browser. This can be done by resetting it to default settings. Alternatively, an automatic tool can be employed to get rid of the unwanted page in an automatic way. The most important thing is to fully uninstall this hijacker, so it does not really matter how you are going to do that.
Delete Search.searchtpo.com
Internet Explorer
Open your browser and tap Alt+T.
Click Internet Options and click Advanced to open the tab.
Click Reset.
Mark the Delete personal settings box.
Click Reset.
Mozilla Firefox
Launch Mozilla Firefox.
Open the Help menu by tapping Alt+H.
Click Troubleshooting information.
Find the Refresh Firefox button at the top and click on it.
Click Refresh Firefox again.
Google Chrome
Open your web browser and press Alt+F.
Click Settings.
Click Show advanced settings at the bottom.
Click on the Reset settings button.
Click Reset.
In non-techie terms:
There are so many websites pretending to be reputable search providers. In most cases, these are websites promoted by browser hijackers, so users find those pages set on their browsers without their knowledge. Search.searchtpo.com is one of these untrustworthy pages, so the worst thing you can do is to ignore its presence and do nothing. If you do so, it is only a question of time when serious problems will emerge for you.