Do you know what Search.searchtheweb.today is?
Search.searchtheweb.today has a misleading appearance, to say the least. It does look 100% reliable, but you should not trust it blindly because it seems that not all search results it returns to users are fully trustworthy. In fact, it would be best that you remove it from your browser if it is ever set on it out of the blue, and you cannot remember giving it permission to apply these changes. Specialists say that Search.searchtheweb.today should change only the default homepage and New Tab page on users' browsers, but you should not be very surprised if you find it set as your new default search provider too. Never trust search tools that are set on your browsers without your permission no matter that they look trustworthy because trustworthy search providers will never force you to use them. If you have not set Search.searchtheweb.today yourself, its sudden appearance might be linked to the installation of some kind of browser add-on. If it turns out to be true, you will simply need to disable the browser extension to remove the search tool set. This may sound complicated, but it is not, believe us – you will see this for yourself.
Users do not hurry to remove Search.searchtheweb.today from their browsers, and it is nothing surprising because this search tool has a beautiful interface, users can enable/disable private search themselves, they can change the background of the search engine, and, finally, they can perform web searches under several different categories: Web, Images, Videos, and News. The search tool itself is powered by Yahoo!, so it might really look like a good example of a legitimate search provider. It would be a lie if we stated that it is malicious, but we are 100% sure that it is not perfect. Our experienced researchers have analyzed Search.searchtheweb.today, and they have found that it has one serious drawback – it may display the so-called modified search results. They are not harmful themselves, but they might, in the worst-case scenario, redirect you to untrustworthy websites, so it might be quite risky to click on them. Of course, we do not say that they promote only dubious websites. They redirect to harmless websites too, but, by using it as your main tool for searching the web, you risk ending up on those unreliable websites. If it is not a huge drawback for you, you can keep it, but do not forget that specialists recommend replacing it with a more reliable search provider.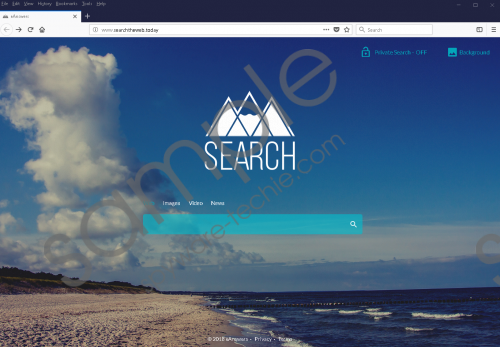 Search.searchtheweb.today screenshot
Scroll down for full removal instructions
The analysis of the Privacy Policy document belonging to Search.searchtheweb.today has shown that it should not automatically collect any personally-identifiable information (e.g. your name, telephone number, email, etc.); however, it may automatically "receive and record certain non-personally identifiable information." These details include your IP address, browser type, cookie information, etc. Since we have some doubts about the reliability of Search.searchtheweb.today, we do not think that you should let it gather data automatically. You will only put an end to this if you stop using Search.searchtheweb.today and remove it from your browser.
Specialists say that Search.searchtheweb.today might come bundled, or you might get redirected to it from another domain. In other words, it might come as a redirect too. In any event, if you are sure you have not set it on the browser yourself, you should take action today to make it gone. We are sure you do not want to find unauthorized changes applied to your browsers again, so we highly recommend that you invest in reputable security software. It will protect your system from malware, and you will be sure that you will not find your preferred settings changed out of the blue.
If you see Search.searchtheweb.today each time your web browser is launched, or you get redirect to it automatically, you should reset your browser to default settings right away. Alternatively, you can set a new homepage, New Tab page, and search provider (if it has been altered too) yourself, but, without a doubt, this will take more time than the simple browser reset. An automated antimalware scanner can be used to remove Search.searchtheweb.today too.
Remove Search.searchtheweb.today
Internet Explorer
Start Internet Explorer.
Tap Alt+T to access the Tools menu.
Click Internet Options.
Open the Advanced tab.
Click the Reset button.
Mark Delete personal settings.
Click Reset again.
Mozilla Firefox
Start Mozilla Firefox.
Access Help by pressing Alt+H.
Select Troubleshooting information.
Click Refresh Firefox.
If you are asked to confirm, click Refresh Firefox again.
Google Chrome
Launch Google Chrome.
Press Alt+F to access its menu and then click Settings.
At the bottom, click Advanced.
Click Reset.
To confirm the browser reset, click Reset again.
In non-techie terms:
You should not blindly trust Search.searchtheweb.today even if it does look trustworthy because there is a possibility that it will present you with some modified search results. Also, it will automatically collect various details about you if you keep it, so you should think twice before letting it stay. To tell you the truth, websites that appear on users' browsers out of the blue cannot be trusted in 99% of cases.