Do you know what Search.searchmpct.com is?
A program called Search.searchmpct.com should be avoided at all times. We advise you to do so because it has been classified as yet another browser hijacker that exhibits a number of invasive features. The primary indication that this program is up and fully running on your personal computer is a sudden change of your web browser's default settings. Unfortunately, changes triggered by it will have a negative effect; meaning that surfing the web will become a much more annoying and frustrating experience that you are used to. A lot of users infect their operating system with this devious program since it is marketed in a misleading and manipulative manner. Thus, we provide a few tips that will help you improve your virtual security, allowing you to avoid this or any other devious program. Additionally, we present a detailed removal guide that you should use to get rid of Search.searchmpct.com in a quick and easy manner.
Search.searchmpct.com works in a similar way to other browser hijackers. Upon intrusion, it edits your browser's registry entries and files in the %APPDATA% directory. All registry entries and files affected by this hijacker a directly related to your browser's default settings. It is important to note that this hijacker is fully compatible with major browsers such as Internet Explorer, Mozilla Firefox, and Google Chrome. Such broad compatibility signifies the fact that nearly every users could be affected by it; thus being aware of it is critical. Once all the alterations are in place, you will notice a change of you default homepage. One of the most annoying things about all of this is the fact that you are not notified in any way about this devious change. Being forced to use a suspicious third-party website as your default homepage will make surfing the web a bothersome task. Unfortunately, this is not the worst thing about this browser hijacker. During further investigation, researchers at our internal labs have discovered that the search box on a newly appointed homepage, might present you with modified results. This means that by clicking on some of the results, you risk of entering suspicious and even malicious sites. For example, you could end up on sites that run an arbitrary code execution exploit; this exploit is used by cyber crooks as it can trigger a remote installation procedure. Thus, just entering such a site could have devastating outcomes. To keep your PC safe and to surf the web the way you like it, make sure to execute a complete removal of Search.searchmpct.com as soon as it found active on your PC.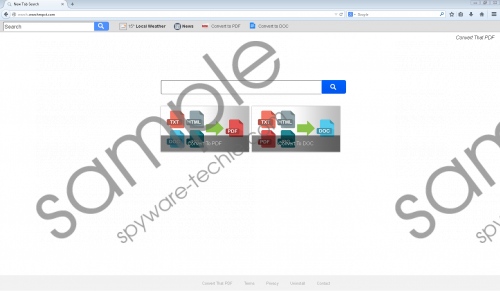 Search.searchmpct.com screenshot
Scroll down for full removal instructions
If you wish to have a clean and secure operating system, you must take a few precautionary steps. Our research team highly advises you to practice safe browsing habits at all times. It is crucial to always learn about the program that you want to have as much as possible before even acquiring it. This is important since this dubious program like a lot of other similar applications is advertised in a misleading manner. We also recommend refraining yourself from all suspicious third-party download websites because they are notorious for hosting bundled installers, which are often used by malware developers to distribute their invasive software. You can minimize the chances of coming across intrusive setup files by simply acquiring all of your applications from their official developers' websites only. It is also crucial to pay your utmost attention to every single installation procedure as you might be presented with a chance to cancel the setup of some devious program. Last, but not least, make sure to install a professional antimalware tool as it provides overall system security. By practicing safe browsing habits along such a tool, you will make your operating system virtually unbreakable.
The complete removal of Search.searchmpct.com should not be delayed under any circumstances. The instructions that we present below should be executed with your utmost attention. A single mistake could result in an incomplete removal of this browser hijacker. This could mean that leftovers linked to it might be used to silently restore it. In other cases, traces associated with this hijacker could keep the devious change intact. If you wish to be sure that the manual removal has been successful, make sure to recheck your personal computer for leftovers related to Search.searchmpct.com once you are done with the manual removal.
How to remove Search.searchmpct.com from your computer
Type regedit into a search box and then select it.
Navigate to to HKEY_CURRENT_USER\Software\Microsoft\Internet Explorer\Main.
Right-click a registry value entitled Start Page and select Modify.
Replace the unwanted URL with a new one and then click OK.
Open your File Explorer.
Go to C:\Users\(your username)\AppData\Local\Google\Chrome\User Data\Default.
Delete files entitled:
a) Preferences.
b) Secure Preferences.
c) Web Data.
Navigate to C:\Users\(your username)\AppData\Roaming\Mozilla\Firefox\Profiles\(unique Mozilla profile ID).
Select a file called prefs.js and then tap Delete on your keyboard.
In non-techie terms:
If you think that manual removal and analysis of your PC are too complicated, do not worry. Malware experts working at our internal labs have crafted an alternative removal guide. By following the instructions that we provide below you will be able to get rid of this browser hijacker once and for all.