Do you know what Search.searchmedia.online is?
Search.searchmedia.online appears to be a browser hijacker as it may replace a user's homepage or new tab page. Naturally, if you do not like that your browser loads this search engine upon its launch instead of your favorite website, we recommend removing this browser hijacker with no hesitation. The reason we do not think the tool is worth keeping is that it cannot even offer a unique search engine. Our computer security specialists report that the application might be using a modified Yahoo version to gather results. Consequently, the display results could include content that would not normally appear while using the original search.yahoo.com. To learn more about the tool in question, we invite you to read our full report. As for users who came here only to learn how to delete Search.searchmedia.online from their browsers, we offer our removal guide available at the end of the main text.
To begin with, we should talk about how Search.searchmedia.online could hijack one's browser. Our researchers say it is like the application could travel with unreliable browser extensions. Such applications might be downloaded from various file-sharing websites, untrustworthy pop-ups, and so on. If you care about maintaining your system safe and secure, you should never download new tools from sites that contain pirated software, freeware from unknown developers, and so on. Also, we highly recommend keeping a reputable antimalware tool. It might help you identify malicious or potentially dangerous content as well as guard your system from various threats. To make the most of it, we advise keeping chosen security tool up to date and scanning all data that raise suspicion with it.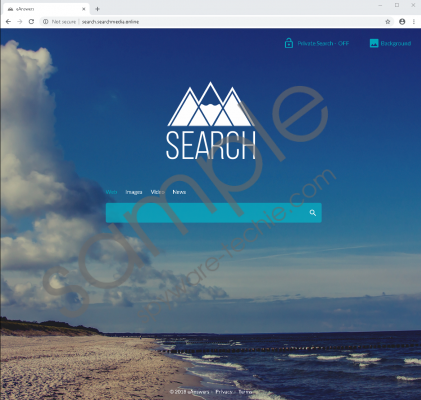 Search.searchmedia.online screenshot
Scroll down for full removal instructions
It would seem Search.searchmedia.online can settle in on Internet Explorer, Mozilla Firefox and Google Chrome browsers. As explained earlier, the browser hijacker might do so by changing a user's homepage or new tab page. The search engine could be using a modified Yahoo search tool to gather results, and so they could be displayed together with various third-party content, for example, pop-ups, sponsored links, or other advertisements. What you should know is that Search.searchmedia.onlinedevelopers claim they do not check third-party content, which means they cannot guarantee such material will be safe to interact with. In other words, it means there is a chance some of it could be potentially dangerous. We do not say it may necessarily show up while surfing the Internet with this browser hijacker, but it is possible it could. If you would like to avoid it happening, you may want to think about picking a more reliable search engine.
There are a couple of ways to get rid of Search.searchmedia.online. First of all, the browser hijacker could be deleted manually, but the task might not be an easy one. As you see, to eliminate the application manually, you would need to locate the browser extension that the hijacker was bundled with. The removal guide available below explains how to look for it. However, if you cannot find it and do not think you can erase Search.searchmedia.online on your own, we advise not to hesitate to employ a reputable antimalware too that could delete this browser hijacker for you.
Erase Search.searchmedia.online
Mozilla Firefox
Tap CTRL+SHIFT+A simultaneously.
Choose Extensions.
Locate an extension/toolbar associated with Search.searchmedia.online.
Press Remove.
Restart your browser.
Google Chrome
Press ALT+F.
Pick More tools and select Extensions.
Search for extensions related to this browser hijacker.
Press Remove and select Remove.
Relaunch the browser.
Internet Explorer
Open your computer's Start menu and select Control Panel if you have Win XP/Win Vista/Win 7.
Tap Windows Key+R, type Control Panel and press OK if you have Win 8 or Win 10.
Pick Uninstall a program/Add or Remove Programs.
Find an extension/toolbar related to this browser hijacker.
Select it and click Uninstall.
Exit Control Panel.
In non-techie terms:
Search.searchmedia.online might not be considered to be malicious, but it does fall under the classification of browser hijackers, which means it might be an unreliable application. Our computer security specialists say it is because the tool is a search engine that uses a modified Yahoo version. It means that search results it may display could be injected with third-party content, such as questionable pop-up advertisements, banners, sponsored links, etc. If you do not want to risk coming across such content, we advise against using this application to surf the Internet. Instead, you could employ a reputable search engine that you could trust, for example, googe.com, search.yahoo.com, and so on. If you decide it is best to delete the browser hijacker, you could use the removal guide available above or employ a reliable antimalware tool that could get rid of it for you.