Do you know what Search.searchlma.com is?
Search.searchlma.com can show up in your browsers without your permission when your operating system has been infiltrated by a browser hijacker. Its presence is a clear sign of privacy breach since it is quite likely that you do not remember letting these browser setting changes take place. It is of course possible that you installed a browser extension or tool that offered you such an option, but you did not pay attention. This is how a lot of users end up with unwanted tools on their computers, and they think that they have been infected. You need to know that usually it the user who downloads these malware applications, even if he or she does not realize it. Understanding how you can infect your own computer can help you prevent such unfortunate things from happening. If your browsers have been modified without your consent, you should delete Search.searchlma.com before you are presented with unreliable content.
One way for this search engine to appear on your computer is that you download a browser extension form localmapsaccess.com. This is a rather simple promotional web page, but you can install this directions and map tool with a single click. But we would advise you to take your time and read what this extension can do once you click on the "Add extension" button. Because, you actually agree to let this tool, for example, read and change your browsing history. Only install tools when you are comfortable with the changes it may make or the access it may have to your computer. That is why it is best to run a web search before you download anything.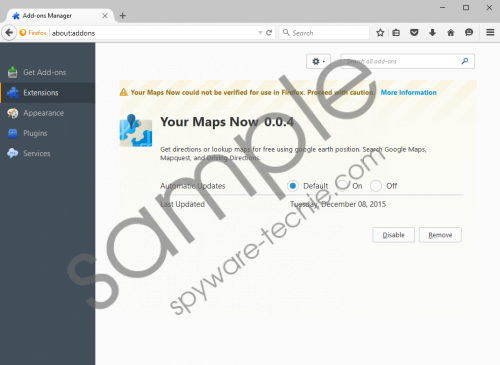 Search.searchlma.com screenshot
Scroll down for full removal instructions
But it is quite unlikely that this is the only source for users to get Search.searchlma.com onto their computers. As a matter of fact, the bad news is that this browser hijacker seems to travel in software bundles packed with other malware infections. Installing such a bundle can be quite challenging for your operating system if you do not have an up-to-date security tool installed. You need to know that it is advisable to download software only from official vendors' website or reputable sites. If you end up on an unfamiliar and suspicious-looking website, the only thing you should do is close the tab right away. However, even that may not save you from malicious installers since some malicious websites can run a program code the moment your browser loads the page, and that code can drop a few malware programs onto your hard drive without your noticing it. If you are in doubt, you should run a system scan, but before that you should delete Search.searchlma.com.
Our researchers have noticed that it is possible that this hijacker uses an alternative search engine and sets home.searchlma.com instead. But either of these search engine pages you find, you have been infected with the same browser hijacker. Unfortunately, this tool is totally useless because it provides you with unreliable third-party services. This hijacker may use these as a channel to show you third-party advertisements. If you click on any ads or links in relation to this hijacker, you may easily end up on a malicious website. This is quite risky because apart from allowing more infections onto your computer, you might also get scammed by criminals. If you do not want your identity stolen and misused in some online fraud, it is best to remove Search.searchlma.com right now.
It is not as easy to make this infection disappear as it would be with a perfectly working uninstaller. Although this browser hijacker does have an uninstaller, which can be run via Control Panel, it leaves certain leftovers in Mozilla Firefox and Google Chrome; namely, the extensions it uses to show advertisements by. Please follow our guide below, if you are unfamiliar with the steps. However, if you want to be sure that it is safe to use your computer, we recommend that you employ an antimalware application. It is also important to always keep all your software, including your operating system and your browsers, updated for full protection.
Search.searchlma.com Removal from Windows
Windows 8/Windows 8.1/Windows 10
Tap Win+X and pick Programs and Features.
Click on the application and click Uninstall.
Windows Vista/Windows 7
Click on the Windows button on the Taskbar.
Select Control Panel.
Open Uninstall a program.
Click on the application and click Uninstall.
Windows XP
Press Win+R and enter Control Panel. Hit OK.
Select Add or Remove Programs.
Click on the application and click Remove.
Reset the Browsers
Google Chrome
Press Alt+F and open Settings.
Scroll down and click Show advanced settings.
Scroll down and click Reset settings.
Press Reset.
Mozilla Firefox
Press Alt+H and access Troubleshooting Information.
Click Refresh Firefox and click Refresh Firefox in the pop-up.
Press Finish.
In non-techie terms:
Search.searchlma.com is an unreliable search engine that you do not want to find in your browsers because that would mean that your computer is under attack by a browser hijacker malware infection. And if that infection has found a way to your system, chances are that other malicious software installers also have arrived with it. Since this hijacker may introduce you to potentially dangerous web content through its third-party services, we believe that you should remove Search.searchlma.com along with all other potential threats. We recommend that you use a reliable malware removal tool in order to make sure that no leftovers remain and your system is all secure to use.