Do you know what Search.searchlf.com is?
The reason users install Login Faster is because they expect that it will act in a beneficial way. Unfortunately, what they do not know is that Search.searchlf.com will be set in the place of their homepages and search engines after the installation of the extension. At first, Search.searchlf.com might seem to be a decent and beneficial search engine because it allows users to search for the information on the web and contains easy-access buttons that should help to access Gmail, AOL, Yahoo!, and other websites with the click of a button. Even though users believe that the search engine that comes with the Login Faster extension is fully reliable, our team of specialists says that it is better to remove it as soon as possible because research specialists have recently carried out has shown that this search tool might even cause harm to your computer if you make a decision to let it stay and use it to find the necessary information on the web. To prevent this from happening, you have to set a reliable search provider instead Search.searchlf.com. Of course, you will first need to remove it.
We have two main reasons in mind when we say that you should remove Search.searchlf.com from your Internet Explorer, Google Chrome, and Mozilla Firefox browsers as soon as possible. First of all, we do not think that this search engine should be allowed to stay on browsers because it shows the modified search results full of commercial ads and sponsored links even though it is based on the Yahoo! search engine (a reliable search provider), which suggests that the developer of the Login Faster have adapted the search engine to their own needs. The presence of untrustworthy search results means that there is a possibility to be taken to an unreliable third-party website containing malicious software because ads and sponsored links that are shown together with ordinary search results promote other websites, and nobody knows whether or not they are reliable.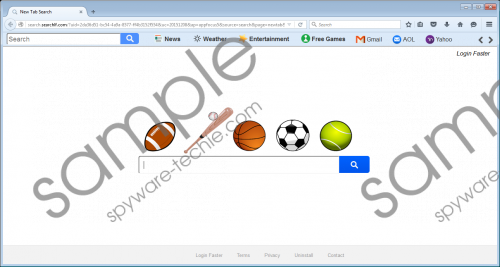 Search.searchlf.com screenshot
Scroll down for full removal instructions
Secondly, specialists have noticed that Search.searchlf.com is going to collect information about users and their activities on the web. Even though it claims that it is not going to gather personal information in the Privacy Policy document, it is also said that non-personally identifiable information it is going to record might contain personal details. As all the information is going to be shared with third parties, there is a risk that your privacy will be violated if you keep and use Search.searchlf.com as your default search engine. Users who do not want to experience any problems associated with their privacy need to remove Search.searchlf.com as soon as possible. As you can see, this questionable search engine should be erased not only because it might initiate redirections to unreliable third-party websites but also because it is a threat to the privacy.
There are so many other untrustworthy extensions promoting questionable search engines in the SaferBrowser family, so we have decided to tell you more about the ways they are distributed in order to help you to prevent them from sneaking onto your computer. First of all, it has been noticed that these extensions, including the Login Faster extension responsible for the presence of Search.searchlf.com, are distributed through malicious software installers. Also, it is very likely that they might be installed if a user clicks on some kind of unreliable advertisement. Believe us; undesirable extensions are very sneaky and they might find other ways to enter your computer as well. Therefore, we highly recommend installing a reliable security tool on the computer. It will be enough to keep it enabled all the time to protect the system from dangers.
As Search.searchlf.com is spread by the extension Login Faster, you need to remove extensions from all the browsers to make this unreliable search engine disappear. You are welcome to use the manual removal instructions our specialists have prepared for you. If you do not find them helpful, scan your computer with an automatic malware remover, e.g. SpyHunter. It will delete all the threats for you quickly.
Delete Search.searchlf.com
Internet Explorer
Open your browser and then access the Tools menu (Alt+T).
Click Manage Add-ons.
Open Toolbars and Extensions.
Select the undesirable extension and then remove it.
Mozilla Firefox
Open your browser.
Tap Ctrl+Shift+A and then open Extensions.
Select the unwanted extension and delete it.
Google Chrome
Open your browser and tap Alt+F.
Open More tools and then click Extensions.
Select the extension you wish to delete.
Click on the recycle bin button.
Click Remove.
In non-techie terms:
If you want to be sure that your computer is clean, i.e. there are no other threats or components of the Login Faster extension left, you should definitely scan your computer with an automatic malware remover. You can download the free diagnostic scanner from our website; however, if you decide to download the scanner from the web, make sure that it is trustworthy before you launch it – there are hundreds of bad programs that pretend to be good.