Do you know what Search.searchjsmmp.com is?
The appearance of Search.searchjsmmp.com on browsers can mean only one thing – they have been hijacked. In other words, you have encountered a browser hijacker. Our team of experienced researchers has analyzed this hijacker thoroughly, but they cannot say anything new about it because it has been developed on the same template Polarity Technologies Ltd. uses for all its products. It shares similarities with Search.yourpackagesnow.com, and Search.youremailnow.com, Search.yourclassifiedscenter.com, and many other websites that belong to Polarity. This automatically suggests that it cannot be trusted fully too. Therefore, if you have already found it set on your browsers, it would be best that you remove it without further consideration because the page set is not a fully trustworthy search provider even though it looks like one at first glance, we can assure you that. It will not be a hard task to remove Search.searchjsmmp.com from affected browsers. Continue reading to find more.
Search.searchjsmmp.com is considered a browser hijacker because users find it set on their Internet Explorer, Mozilla Firefox, and Google Chrome without their knowledge. It should change only a default homepage on all these browsers, but other versions that alter the default search tool and New Tab URL might be available too, so do not be surprised if you find all your preferred settings changed. Since there are so many trustworthy search providers available on the market, you should not use Search.searchjsmmp.com as your default search tool. Not all the users immediately understand why we recommend replacing Search.searchjsmmp.com with a more reliable search tool when it looks trustworthy itself. The biggest drawback it has is associated with search results it returns. Specialists say that there is a huge possibility that some of these returned search results will be modified, which means that you might land on pages that do not contain any information you are searching for. Their links are only shown to users seeking to drive traffic to these websites. There is a small possibility that links leading to untrustworthy websites will be displayed to you too, which is why we believe it would be best to stop using Search.searchjsmmp.com completely. The decision whether or not to keep Search.searchjsmmp.com is in your hands.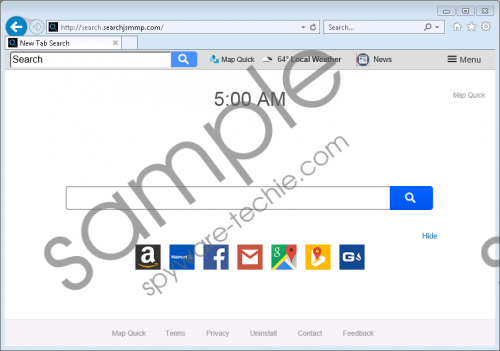 Search.searchjsmmp.com screenshot
Scroll down for full removal instructions
We are sure it would not be easy to find a user who has set Search.searchjsmmp.com on browsers himself/herself consciously because this page is usually set on browsers without permission. Researchers say that browser hijackers are usually installed next to unrelated software, for instance, free programs, so it is not surprising that users cannot explain why there is Search.searchjsmmp.com set on their browsers too. As has been observed by specialists, users often download these software bundles from file-sharing websites, for example, filewon.com, malavida.es, descargar.es, and many others. We do not say that you can no longer download any programs from the web, but we highly recommend being more careful while installing new software on the system. Also, to make it impossible for malicious software to enter your system and make modifications on it, you should install a security application on your computer. No malware could bypass it and slither onto your computer illegally as long as you keep it active.
Make room for a more trustworthy search provider – remove Search.searchjsmmp.com from your browsers today. You do not need to be an expert in malware removal to remove it manually. You should no longer see it set on your web browser after you reset it to default settings. If you do not even know where to start, you should follow our manual removal guide (find it below this article). Untrustworthy search providers can be removed from browsers automatically as well, so if you want a quicker result, use it instead of trying to get rid of Search.searchjsmmp.com manually.
How to remove Search.searchjsmmp.com
Internet Explorer
Open Internet Explorer.
Go to the Tools menu and then click Internet Options.
Open the Advanced tab.
Click Reset.
Put a tick in the box next to Delete personal settings.
Click Reset to confirm.
Mozilla Firefox
Start Mozilla Firefox.
Tap Alt+H.
Click Troubleshooting information.
Find the Refresh Firefox button in the top-right corner of the page.
Click it.
Click Refresh Firefox again in the confirmation box.
Google Chrome
Launch Google Chrome.
Press Alt+F.
Click Settings.
Click Advanced at the bottom to see the rest of the menu.
Click Reset.
To confirm the browser reset, click Reset in the dialog box.
In non-techie terms:
Search.searchjsmmp.com is a page that might bring you problems, so even though it looks like a reliable search provider, we cannot say that it is a brilliant idea to use it for web searches daily. It is not malicious, but it might display some modified search results that, theoretically, might redirect even to untrustworthy websites. Its removal should not be a complicated procedure since resetting affected browsers is all you need to do.