Do you know what Search.searchfdd.com is?
If you have landed on this page, you are probably looking for ways to get rid of Search.searchfdd.com. This browser hijacker slithers into target systems unexpectedly and then interferes with your web browsing habits. If users do not take this intrusion seriously, in the worst-case scenario, this could also lead to a malware infection. Thus, it is important that you protect your computer and your personal information by removing Search.searchfdd.com today. Please scroll down to the bottom of this description for the manual removal instructions. You can easily get rid of this intruder on your own.
However, if you think you should invest in a security application, then it is a very good idea. Why? Browser hijackers do not travel alone. Search.searchfdd.com might be the most visible security threat that is currently installed on your PC. But there might be many other applications slowing down your system and collecting all sorts of information about you, so the most efficient way to figure out which programs need to go would be running a full system scan with a reliable antispyware application. After the scan, you will no longer have to second guess yourself, whether your system is safe or not.
A computer security program is not the only thing that can protect you from harm. It is also how you behave online that is important. We are not talking about the comments you leave on social networking websites (although that is also important). We are more concerned about your web browsing habits, and how you engage with unfamiliar content. Considering that this program usually comes bundled with freeware applications, you need to learn to recognize potential threats even before you download them on your PC. So for starters, you should refrain from downloading programs from unfamiliar sites.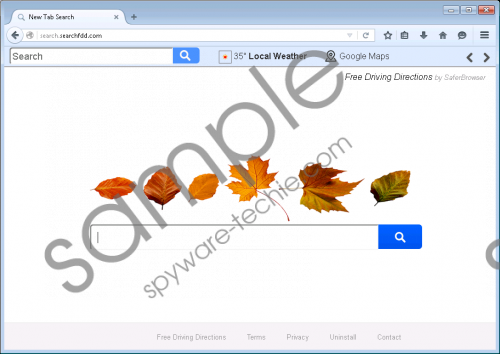 Search.searchfdd.com screenshot
Scroll down for full removal instructions
For instance, you may be looking for a program that helps you rip audio from video clips. There are multiple applications out there that can do that for you. Some of the apps are distributed via their official homepages, and there are also many programs that spread through file-sharing sites. If you decide to download a program from a file-sharing site, you need to make sure the third-party installer does not carry any additional applications. How to do that? You can always scan the installer with your security application. If there is something malicious about the installer, the scan will show you that.
What's more, if you choose to not scan the installer, you should still check every single step on the installation wizard very carefully. It is very often that third-party installers inform users about additional features, plug-ins, search engines, and other apps that might be installed on their computers together with the main program they downloaded. If you look through these steps carefully, you might be able to avoid dealing with Search.searchfdd.com in the future. However, rushing through the steps blindly would only result in something unpleasant like a browser hijacker infection.
Luckily, browser hijackers are not extremely dangerous. They cannot cause an ultimate system crash, and they cannot steal your money. Nevertheless, Search.searchfdd.com displays a lot of third-party content, some of which is customized based on your web browsing history. The hijacker needs you to click the outgoing links it displays because this is how it gets some revenue. What is dangerous about this scheme is that the program does not know where you will land once you click a third-party link, and it does not even review the content it promotes. Therefore, some of the links might be embedded by cyber criminals, and the moment you click such corrupted links, you could end up on a site that is associated with malware distribution.
Of course, having a browser hijacker on your computer does not automatically mean you will get infected with a Trojan or a ransomware application, but it is always better to be safe than sorry. As mentioned, once you terminate Search.searchfdd.com, you should also take care of the rest of the unwanted programs.
If you encounter various difficulties while trying to protect your computer from harm, please do not hesitate to leave us a comment below, and we will respond as soon as possible.
How to Remove Search.searchfdd.com
Internet Explorer
Press Alt+T and click Internet options.
Open the Advanced tab and press the Reset button.
Choose the Delete personal settings option and click Reset.
Click Close.
Firefox
Press Alt+H and go to Troubleshooting information.
Click Refresh Firefox at the top right of the new tab.
Click Refresh Firefox again, and press Finish to complete.
Chrome
Press Alt+F and go to Settings.
Click Show advanced settings at the bottom of the page.
Scroll down and press Reset Settings.
Click Reset.
In non-techie terms:
We know that Search.searchfdd.com may look like a regular search engine, but you should not trust this domain. It is a browser hijacker, and this website will redirect you to dangerous pages that may be part of cyber crime network. You need to remove Search.searchfdd.com right now, and you can do it either manually or automatically. Automatic removal is faster and more efficient, so do not hesitate to acquire a security application that will help you do that.