Do you know what Search.searchefc.com is?
Search.searchefc.com is a product by Polarity Technologies Ltd., and while most other browser hijackers created by the company (e.g., Search.heasysportsaccess.com) are introduced to Google Chrome and Mozilla Firefox users using extensions and to Internet Explorer users with applications, this is not the case with this specimen. This is not the first time this has been observed, and, in the past, we have seen the same extensions being linked to different hijackers. That being said, the lack of "official" representation – which is what the extensions and apps create – makes the hijacker even more mysterious. Where does it come from? How does it work? How to remove it? You might be most interested in the last question, and that is what we are here to discuss. Do you want to learn more before you delete Search.searchefc.com? If you do, you should find useful information in this report.
Was Search.searchefc.com attached to an extension or an app that you downloaded from a questionable website? If it was, there is a great possibility that the pieces you installed could be malicious. You do not want to ignore the possibility that threats exist, and since some threats are more difficult to find than others, you might find it useful to employ a malware scanner. Do not install just any scanner because there are plenty of those that are fake or simply useless. If you do not want to let in malware or useless software, you need to do your research and select the right malware scanner carefully. Once it is done examining your operating system, you will know if you need to delete malicious infections. Hopefully, that is not the case, but even if threats are discovered, you should not panic because you can find removal guides for any threat you might have faced on this website.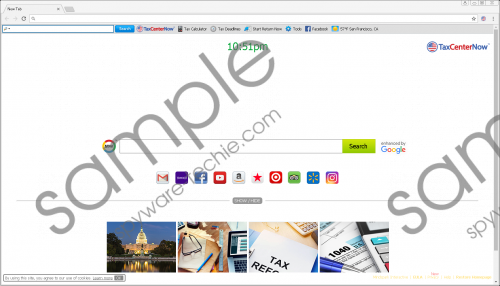 Search.searchefc.com screenshot
Scroll down for full removal instructions
Even if your browser was hijacked by Search.searchefc.com without your wanting it to, you might choose not to delete this hijacker. Why? Because it offers easy-access links to legitimate and seemingly useful sites, such as amazon.com, gmail.com, terraarcade.com, and minecraft.net, and also because the search tool represented via the hijacker appears to be legitimate too. Although there is no indicator suggesting that your search queries would be redirected to Yahoo Search, this is what happens when you enter search keywords into the field. Yahoo Search is, of course, one of the most popular search engines in the world, but that does not mean that it can be trusted in every case. Search.searchefc.com can modify the results that are shown to you by injecting sponsored links. If you interact with them, the creator is likely to be earning money for every click. Unfortunately, we cannot vouch for the links that are added, and since there is a possibility that malicious ones could be shown, we suggest removing the hijacker.
You should not hesitate to remove Search.searchefc.com because although it offers links to legitimate sites via the homepage, it hijacks it, and it is capable of redirecting to a search engine that is modified to introduce you to sponsored content. On top of that, it is known that tracking tools are employed by it to record information, and that is not something you want to deal with when it comes to a suspicious browser hijacker. It should not be difficult for you to delete Search.searchefc.com, and if the hijacker is not associated with extensions or applications – which you might need to remove to get rid of the hijacker – you can follow the instructions below. If other threats were discovered by a malware scanner, utilizing an anti-malware tool is strongly recommended.
Delete Search.searchefc.com
Internet Explorer
Move to the Control Panel and then go to Uninstall a program.
Look for unfamiliar applications. If they exist, Uninstall them.
Launch the browser and check if the homepage is still hijacked, if it is, tap keys Alt+T.
Select Internet options, go to the General tab, and navigate to Home Page.
Overwrite the undesirable URL with the preferred one and click OK.
Google Chrome
Open the browser and type chrome://extensions into the address bar.
If unfamiliar extensions exist, Remove them.
Restart the browser, and if the homepage is still hijacked, enter chrome://settings into the address bar.
Under On startup find the hijacker, click the three dots on the right, and select Edit.
Overwrite the undesirable URL with the preferred one.
Mozilla Firefox
Open the browser and type about:addons into the address bar.
If unfamiliar extensions exist, Remove them.
Restart the browser, and if the homepage is still hijacked, enter about:preferences into the address bar.
Navigate to the Home Page section and overwrite the undesirable URL with the preferred one.
In non-techie terms:
Search.searchefc.com might not look like a threat at first, but its interface is misleading. The hijacker takes over the homepage of your browser to ensure that you are exposed to third-party links via its interface and the search engine that it represents. While interacting with the links promoted via the interface might not do any harm, we cannot guarantee that all of the added results shown via Yahoo Search will be trustworthy. Overall, we believe it is best for you to remove Search.searchefc.com, and you can do that using the instructions above. Another option is to download and use an anti-malware tool, which is highly recommended in a situation where other threats exist.