Do you know what Search.searchcounn.com is?
We want to inform you that Search.searchcounn.com is not what it seems to be. Our malware analysts took a look at it and concluded that it is a browser hijacker because it is distributed via bundled installers that inject it into your browser without your knowledge or consent. It was designed to replace your browser's homepage to subject you to commercial advertisements and promotional links featured on its main page and in search results and, therefore, you might want to remove it. This malicious search engine is all about generating advertising revenue, so do not expect it to provide you with a reliable service. For more information, please read this description.
Search.searchcounn.com comes from the same entity that also released Search.searchlttrn.com, Search.yourpackagesnow.com, Search.searchfcs.com, and many other browser hijackers. Officially, this alleged search engine was created by a company called Polarity Technologies Ltd. This company is located in Cyprus, but additional research did not give any results. It seems that this company is fake and the real developers hide in the shadows for fears over repercussions they may face as a result of litigation in the event their hijackers cause damage.
Our malware analysts believe that, like its clones, this new browser hijacker is also distributed via malicious software bundles. We have yet to find websites that feature such bundles, but in general, these bundles should be featured on freeware distributing sites that bundle freeware and open source applications with malware such as adware and browser hijackers, and, in some cases, potentially unwanted programs. Researchers say that the bundles are most likely set to inject this browser hijacker into your browser without authorization which means that you will not be asked or given a chance to deselect its installation. So the bundled installers force Search.searchcounn.com on your computer.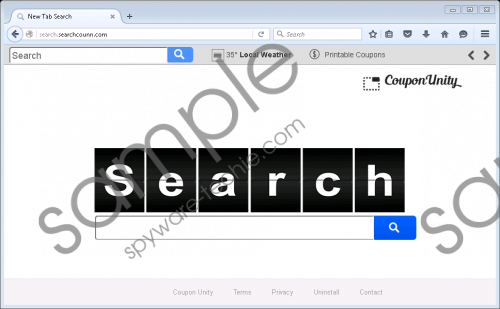 Search.searchcounn.com screenshot
Scroll down for full removal instructions
Research suggests that the bundled installers were configured to interact with Microsoft Internet Explorer, Google Chrome, and Mozilla Firefox, and to change their homepage addresses. I the case of Chrome, however, it also changes the new tab page address. The aim is to force you to use this browser hijacker as a regular search engine while there is nothing regular about it. It does not have its own search algorithm, so it uses Yahoo to process the search queries. However, Search.searchcounn.com can modify Yahoo's search results to include additional promotional links that can be of malicious nature and infect your computer with malware such as spyware, ransomware, Trojans, and so on. It could also feature links that redirect to scam websites. Nevertheless, this hijacker tends to customize the search results to include more relevant promotional links.
To customize the links, this hijacker has to collect information about you. Researchers say that Search.searchcounn.com has been set to collect information that includes but is not limited to your IP address, Internet Service Provider name, browsing history, browser type, entered search queries, and other anonymous information. All of it is collected for marketing and advertising purposes because it helps this hijacker select and present you with more relevant promotional links that you would be more willing to click and generate its developers' income. All things considered, it is a highly unreliable search engine that you should get rid of.
We hope that this short description was useful. The information presented here makes it abundantly clear that Search.searchcounn.com is not a legitimate search engine but a browser hijacker that is set to replace your browser's homepage and subject you to questionable websites through its search results. We recommend that you remove it and set a new homepage address. You can use the instructions below to replace the homepage address for your browser.
Removal Guide
Google Chrome
Press Alt+F.
In the dropdown menu, select Settings.
Click Set pages and enter a new address.
Click OK.
Microsoft Internet Explorer
Press Alt+T.
Select Internet Options.
Enter a new address in the address line.
Click OK.
Mozilla Firefox
Press Alt+T.
Click Options.
Select General.
In the Home Page line, enter a new address.
In non-techie terms:
Search.searchcounn.com is a malicious search engine that was classified as a browser hijacker mainly due to the way it is distributed. It is bundled with malicious installers that inject it secretly into your browser while installing other applications. it is set to replace your browser's homepage and force you to use it for searching the web which means that you will have to come into contact with this hijacker's shady promotional links that can jeopardize the security of your PC. Therefore, it is vital that you remove it.