Do you know what Search.papershorty.com is?
Finding Search.papershorty.com in your browsers upon launch can only mean one thing: You have infected your computer with a browser hijacker. Our researchers say that this malware infection comes from Israel, which is not the first time, of course, since we also remember Imali Media and their browser hijackers like search.startjoytabsearch.com. It is essential to know that such a hijacker may infiltrate your system alongside other threats, which clearly means multiple system security threats for your system. This search page can provide you with altered search results due to the possible promotion of affiliates. You should never trust such results because you could pay dearly for clicking on the wrong content. Thus, we advise you to remove Search.papershorty.com from your PC as a first step towards a secure virtual world. Please read our full report if you would like to learn more about this hijacker and how it is possible to avoid similar threats.
Whenever you find a browser hijacker like this one in your browsers, it is quite likely that you have installed a freeware bundle recently. This particular malware infection does not seem to have its own promotional website. So, obviously, its authors need to use alternative channels, such as bundles. While there are legitimate bundles containing authentic free software and additional reliable free tools, schemers also like to use this distribution method to infect unsuspecting computer users. If you are an inexperienced user, for example, you may easily land on unfamiliar torrent or freeware pages after a web search for a free program or movie. Not knowing the website you try to download files off of could be a great disadvantage. These shady websites can contain all kinds of malicious third-party content, such as fake buttons. Also, when you download files from these, it is more likely that you download bundles of malicious threats. So you need to keep this in mind when you finally delete Search.papershorty.com.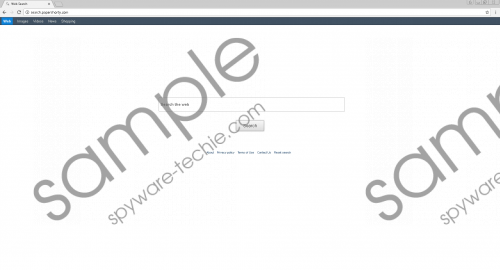 Search.papershorty.com screenshot
Scroll down for full removal instructions
Of course, there are other ways, too, to download and install such a dangerous package of malware infections and potentially unwanted programs. For instance, when you accidentally land on a suspicious website and click over any content, you can easily drop such a bundle without even realizing. The same can also happen if your system is infected with browser hijackers, adware programs, or potentially unwanted programs, because these can all redirect your to questionable websites, show you unreliable third-party ads, or directly infect you. No wonder why we tell you to use a reputable online malware scanner to identify all possible threats after you delete Search.papershorty.com from your PC.
If you want to search the web, we do not advise you to use any unreliable search engines. Why not stick to the reputable ones like Google, Yahoo, or Bing? It is always risky to use an unfamiliar one because you cannot know whether you can trust the search results or not. What if this browser hijacker can collect important information about you to be able to target you with possibly misleading third-party ads? What if cyber villains can also take advantage of this function? What if you can be exposed to unreliable content on the search results page even if you end up on Yahoo? Please note that this search website has only one goal: To promote affiliates to generate revenue. The risks of engaging with ads and links on the search results coming through this hijacker include further infections or online scams. If you want to protect your computer, you should remove Search.papershorty.com right now.
It is time to act. If you are ready to move on, you can use our instructions below as a reference. As you can see from these steps below, it may be enough for you to simply change or restore your homepage settings in the infected browsers. But keep in mind that this may not mean total freedom from malware infections; it is quite likely that you will find several more on board. We understand if it is not every user's dream, to hunt down infections, so we suggest that you start using a reliable malware removal application, such as SpyHunter. Of course, it still would be important for you to keep all your programs up-to-date, too, because cyber criminals have ways to exploit out-of-date software through their old security bugs.
Remove Search.papershorty.com from your browsers
Google Chrome
Open the menu by tapping Alt+F.
Navigate to Settings.
Choose Manage on startup pages in the On Startup section.
Mark Open a specific page or set of pages.
Click the three dot icon next to the homepage address to open the menu.
Open Edit and modify the homepage URL address.
Click Save.
Mozilla Firefox
Tap Alt+T to open the Tools menu.
Select Options.
Choose General in the left panel.
Press the Restore to Default button.
Internet Explorer
Press Alt+T to open the Tools menu.
Open Internet options.
Move to the General tab and press the Use default button.
Click OK.
In non-techie terms:
Search.papershorty.com is an Israeli browser hijacker that may show up in your main browsers as your new homepage. This search page may look totally authentic to you with its simplicity and resemblance to reputable search engines. It is quite possible that you do not even realize that there has been a change unless you are a more experienced user. This browser hijacker has no official site to promote it; therefore, it is mostly spread in questionable ways like freeware bundles. This however can indicate the presence of other malware infections on your system. If you do not wish to infect your computer with even more threats or lose money from your bank account after an ugly online scam, we suggest that you remove Search.papershorty.com right away. For the best possible protection, we advise you to employ a reliable anti-malware program.