Do you know what Search.pandaviewer.com is?
Search.pandaviewer.com is a browser hijacker that works on the Chrome browser. It means that this application will change your default homepage settings with the intention to make a financial profit via commercial advertising. Although this type of activity is not downright illegal, it may still lead to specific security issues every user should avoid. What's more, when you remove Search.pandaviewer.com from your computer, you should also scan your system for other potentially undesirable programs because such hijackers never come alone. And to protect your system from harm, you have to delete everything suspicious for good.
Now, why would we say that this browser hijacker arrived at your computer with some company? It is because the browser hijacker is part of a setup of a potentially unwanted program called PandaViewer. This program has an official website at pandaviewer.com, where it is promoted as a "fast, stable, easy to use image viewer for pc, laptop, tablet and smartphone." However, it is rather doubtful whether users would download this application directly, especially if you are satisfied with the image viewer app that is built-in on your computer or mobile device. Thus, the likelihood of users setting up this application willingly is very slim.
It proves that the PUP and the browser hijacker that accompanies it usually come bundled with freeware. It would be possible to avoid installing unwanted applications if you were more selective about the sites where you get your freeware from. Also, it would always be a good idea to check the installation steps on a third-party installation wizard that helps you set up new applications. It is probably rather hard to grasp it, but more often than not users have the opportunity to avoid installing unfamiliar and unwanted programs. However, they miss that opportunity because they go through the installation blindly.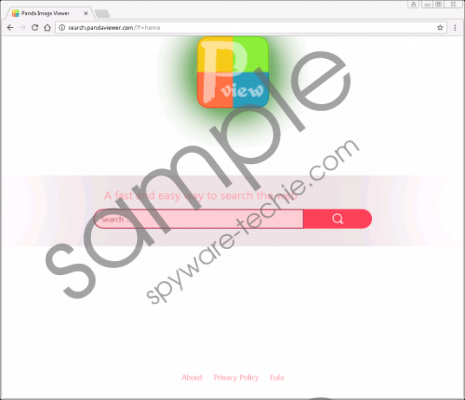 Search.pandaviewer.com screenshot
Scroll down for full removal instructions
Consequently, PandaViewer gets installed on your system, and the Search.pandaviewer.com hijacker will be added to your Chrome browser. Even if you do not use the Chrome browser, the potentially unwanted program can still be installed on your PC, so you need to be careful when you set up new freeware on your system. In fact, the program itself may cause more security issues than the browser hijacker, so you have to be read to delete anything suspicious for good. If you think that there might be undesirable programs wrecking your system right now, you can always scan your PC with the SpyHunter free scanner to be sure.
Even if you think that Search.pandaviewer.com can provide you with reliable search results, you should take a closer look at this hijacker, and you will soon notice that it cannot offer you anything original. Instead of using its own search engine, it makes use of a custom version of the Google Search. By custom, we mean that the program would still use the popular search engine, but some of its search results will be modified according to the data it has collected about you. And the application does not even try to hide it from you.
If you check the Privacy Policy at pandaviewer.com, you will find the following paragraph:
The data we collected from you will be transferred and saved in log files on the web server. The related information includes Internet Protocol (IP) address, Internet Service Provider (ISP), referring/exit pages, operating system, click stream data, date/time stamp and browser type.
It is very common for potentially unwanted programs to collect such information, and then expose users to potentially harmful content. Of course, we are not trying to say that Search.pandaviewer.com tries to infect you with malware, but browser hijackers can often be exploited by cyber criminals because they do not review the third-party content they promote. As a result, some of the search results delivered via Search.pandaviewer.com could redirect you to malicious websites.
These security risks should be taken into consideration at once. Also, when you remove Search.pandaviewer.com from your computer, you should also terminate the PandaViewer application, too. To make it easier, you can invest in a legitimate security tool that would do the job for you automatically. When you are done, you can also safeguard your system against many other dangerous threats.
How to Delete Search.pandaviewer.com
Press Win+R and type %LocalAppData% into the Open box.
Click OK and open the directory.
Navigate to Google\Chrome\User Data\Default.
Locate and delete the Preferences, Secure Preferences, and Web Data files.
In non-techie terms:
Search.pandaviewer.com may not look like much, but this application is a browser hijacker. What's more, it is associated with a potentially unwanted program that can use your personally non-identifiable data for online marketing purposes. To protect yourself and your computer from various security problems, you should remove Search.pandaviewer.com immediately. For more information, please do not hesitate to drop us a note below.