Do you know what Search.ourmediatabsearch.com is?
Search.ourmediatabsearch.com is an annoying browser hijacker that might alter user's browser settings and change the user's current homepage or preferred search provider. Luckily, our researchers found quite an easy way to eliminate the search engine manually, so if you do not want to see this questionable application each time you browse we urge you hesitate no more and erase it while using the removal guide we added below the article. Nonetheless, before you slide below, it would be advisable to learn more about the application, especially if you never encountered a browser hijacker or on the contrary if you keep receiving such annoying software from time to time. By finding how Search.ourmediatabsearch.com could be spread or how it might work may help users recognize similar threats in the future or even find a way to avoid them.
According to our specialists, Search.ourmediatabsearch.com could be distributed via bundled setup files available on various file-sharing web pages, e.g., descargar.es, filewin.com, filewon.com, and so on. If you want to avoid browser hijackers in the future, you should review terms on the setup wizard more carefully. If there are any additional software suggestions, users should learn more about such applications and deselect them if they do not seem to be reliable or useful enough. Besides, we could advise users not to rely on file-sharing web pages as the installers they offer can be bundled not only with hijackers, but also threats like adware, potentially unwanted programs, or even malicious software.
Currently, the application might be compatible with Internet Explorer, Mozilla Firefox, and Google Chrome. While hijacking these browsers, it may replace your usual start page, new tab page, or default search provider. Thus, once the threat settles in, your browser should be set to load Search.ourmediatabsearch.com instead of your previously preferred web pages. The search engine might look regular at first since like any other search engine it has all the features you would need to surf the Internet and even provides such important documents as Privacy Policy and End User License Agreement (EULA).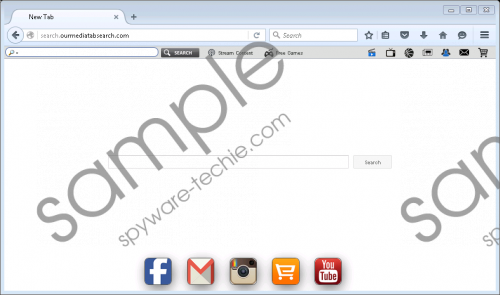 Search.ourmediatabsearch.com screenshot
Scroll down for full removal instructions
Sadly, some users skip reading Privacy Policy or EULA documents while thinking they are all the same and make no difference. However, if users who receive the browser hijacker would carefully read its EULA before even starting to use it, they would probably realize how unreliable it might be from the outset. According to some statements, the so-called browsing product is "exposed to various security issues and should be regarded as unsecure." It also lists the possible security issues (unauthorized access, interception, corruption, damage or misuse) and says they could occur while downloading or sharing information when using Search.ourmediatabsearch.com.
What's more, in the same document (EULA) it says the application might provide users with third-party advertisements. The problem is there is no accurate information on where these ads may come from or whether they can be trusted. The browser hijacker's creators simply state that they do not give any guarantees or take any responsibility for any outcomes resulting from the interaction with third-party content. Thus, our specialists believe that some of the ads might be malicious, e.g. promote different browser hijackers, adware, or even malicious software.
Since the search engine can be easily replaced with a secure and reliable one (e.g. google.com, yahoo.com, and so on) we do not think it is worth to take any chances with it and risk exposing the system to threats. If you agree with us and do not want to keep it on your browser, we offer you our removal guide located just below this text. Users can erase the browser hijacker with a reputable antimalware tool too if the manual deletion appears to be too difficult. It is also advisable to use a security tool in case there are more questionable applications on the computer because the antimalware software could help users erase them all at the same time.
Eliminate Search.ourmediatabsearch.com
Internet Explorer
Press Alt+X and access Internet Options.
Pick the Advanced tab, click Reset and select Delete personal settings.
Click Reset again and select Close.
Mozilla Firefox
Click the Help icon and select Troubleshooting information.
Press Refresh Firefox, then click Refresh Firefox again.
Select Finish.
Google Chrome
Press Alt+F and go to Settings.
Slide below till you can select the Show advanced settings option.
Slide down once more, choose Reset Settings and press Reset.
In non-techie terms:
Search.ourmediatabsearch.com is an unreliable search engine that was categorized as a browser hijacker. Since it might be distributed through bundled software installers, we would not be surprised if you accepted to install the application without even realizing it. In such case, we would advise you to use our removal guide placed above or a legitimate antimalware tool and get rid of this threat at once. Mainly it works just like any other search engine, so it cannot enhance your browsing experience. On the contrary, the application might disturb user's browsing and even expose his computer to threats by displaying unreliable third-party advertisements.