Do you know what Search-operator.com is?
Search-operator.com is a very strange and mysterious search engine that you might find bundled with extensions and applications, or you could be routed to it from a different website or even a third-party search engine. Although it is important to understand how the search engine was introduced to you, regardless of that, it is not a good idea to use it. According to our research team, it does not look like this tool can show unreliable or malicious search results; however, it redirects searches to a third-party engine without any warning, and that is an offense. That is not all that you need to pay attention to, and we strongly recommend that you continue reading this report. If you do not care to learn anything else, scroll down to the removal guide below that shows how to delete Search-operator.com manually. That being said, even if you think you know this search engine enough, we suggest that you keep reading.
So, how did you encounter Search-operator.com? Did it change the homepage or maybe the default search provider on your web browser? If that has happened, it is important that you inspect your operating system immediately because it is possible that potentially unreliable extensions or programs were downloaded along with the search engine. Install a free malware scanner and let it examine your operating system and browsers to check for unreliable or even malicious threats. If any are found, we suggest that you remove them without any hesitation. The longer you postpone the operation, the more vulnerable your operating system will become. Of course, even if Search-operator.com exists without other programs or threats by its side, you need to be cautious. If it was set as your homepage, search provider, or new tab, we recommend deleting it ASAP.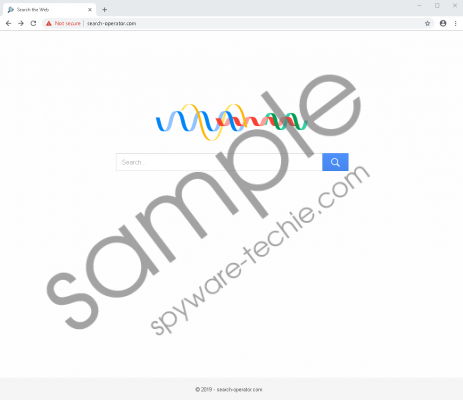 Search-operator.com screenshot
Scroll down for full removal instructions
As you might know already, Search-operator.com redirects search queries to bing.com, which is a well-known and widely used search provider. Although the results are not modified, that does not mean that the search tool is trustworthy. Its home page only displays a search field, and there is absolutely no information about it, its creators, or its activity. You do not know if Search-operator.com records any data about users, if it works with third parties that might have access to data, or if it can be trusted at all. It is possible that the creator of this search tool is still building it, but, for the time being, it is very mysterious and, therefore, untrustworthy. This is the main reason we suggest that users delete it from their browsers. If you have been redirected to this engine randomly, do not use it, and think very carefully if the site or service that redirected you to it can be trusted.
You should not read beyond this point if you have not scanned your operating system yet. Scan it right away to figure out if there are other suspicious pieces that you need to worry about. Hopefully, there aren't, and you can remove Search-operator.com or, if you were redirected to it, just ignore and forget it. The instructions below were created to help those who need to change homepage and search provider settings, and we also recommend clearing browsing data to ensure that no cookies are left behind to track you and transmit information about your virtual behavior. If other threats are found, install anti-malware software to have all threats eliminated automatically and at once.
Remove Search-operator.com from browsers
Mozilla Firefox
Open the browser and enter about:preferences into the address bar.
In the menu on the left click Home and move to Homepage and new windows.
Adjust the homepage URL to set the preferred one.
In the menu on the left click Search and move to Default Search Engine.
Set the desired provider and Remove the unwanted one.
Now tap keys Ctrl+Shift+Delete to access the Clear Recent History menu.
Choose the time range and boxes and then click Clear Now.
Google Chrome
Open the browser and enter chrome://settings/ into the address bar.
In the Settings menu scroll down to Search engine and click Manage search engines.
Set the desired provider and Remove the unwanted one.
Return back to Settings and scroll down to On startup.
Adjust the homepage URL to set the preferred one.
Now enter chrome://settings/clearBrowserData into the address bar.
Choose the time range and boxes and then click Clear data.
Internet Explorer
Open the browser and tap keys Alt+T to access the Tools menu.
Click Internet options and then click the General tab at the top.
Adjust the Home page URL and then click OK.
Tap Alt+T again, click Manage add-ons, and then move to Search Providers.
Set the desired provider and Remove the unwanted one. Click Close.
Now tap keys Ctrl+Shift+Delete to access the Delete Browsing History menu.
Choose the boxes and then click Delete.
In non-techie terms:
Even though we cannot claim that Search-operator.com is a malicious search engine because it redirects to a legitimate search engine and the results that are shown appear to be harmless, there is no doubt that this tool is unpredictable, which makes interacting with it very risky. We strongly recommend that you install a malware scanner if this search engine was set as the homepage or search provider, because we fear that malware might have been dropped onto your computer. Whether or not other threats exist, we suggest deleting Search-operator.com, which you should be able to do manually using the guides above. These guides support the most popular web browsers only, and if you need help eliminating the unwanted search tool from other browsers, make sure to leave a comment below.