Do you know what Search.MyTelevisionXp.com is?
If Search.MyTelevisionXp.com says hello to you when you open your browser, there is a good chance your browsers have been modified without your permission. That could mean the presence of a browser hijacker that may have infiltrated your computer silently. Have you installed free software lately? That is one of the most common ways people infect their systems with malware. If so, chances are this browser hijacker is only one of several infections that may currently be attacking your Windows operating system. Our researchers have tested this hijacker in our internal lab and we are here to share what they experienced. Before we go into details, though, we can already tell you this: You should remove Search.MyTelevisionXp.com from your computer if you do not want potential risks to haunt you.
As a matter of fact, this search engine is totally useless since it simply redirects your queries to a Yahoo! Search results page. However, Search.MyTelevisionXp.com may save your queries and combined with other data it can find about you this hijacker can get hold of personally identifiable information. Unfortunately, this can also be shared with third parties. What is worse, these third parties are not always reviewed, if at all. That is how cyber criminals might access your information and misuse it to commit online scams, for example. This information can also be used to target you with tailored third-party ads or sponsored links, which might be inserted in modified search results pages or through the third-party services this hijacker offers you on a quasi-toolbar. Your computer will be a safer place if you delete Search.MyTelevisionXp.com, there is no doubt about it.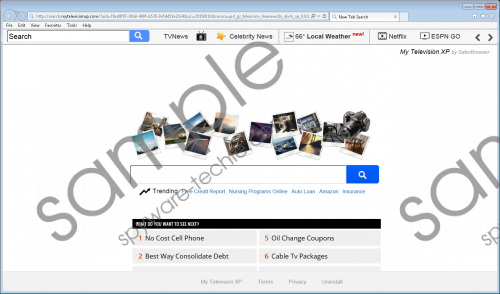 Search.MyTelevisionXp.com screenshot
Scroll down for full removal instructions
Although you can download this suspicious hijacker through myemailxp.com, a lot of users complain that it simply emerged on their computers without their consent. It is possible because, like most malware infections, Search.MyTelevisionXp.com also uses freeware bundling to spread. But the bundles it can be found in, including InstallCore bundles, may be packed with other malware programs. In that case, the presence of this hijacker is really bad news because by installing such an infected bundle can hold serious threats to your system's security. Removing Search.MyTelevisionXp.com is only the first step towards a clean computer. You will also have to address the issue of the other possible infections and take action. We recommend that you run a malware scanner – you can use a free online version – in order to see the malware situation on-board. Of course, detection is not enough to solve your problems; you need to act, too.
If you want to manually handle this hijacker infection, you can use our instructions below this article. If you carefully follow each step, you will be free of Search.MyTelevisionXp.com in a few minutes. After you uninstall it via Control Panel, you also need to remove the browser extensions. Since the uninstaller takes care of Internet Explorer, you only need to do that in the remaining two browsers. If you have any questions regarding this browser hijacker or its removal, please leave us a comment below.
Search.MyTelevisionXp.com Removal from Windows
Windows 8, Windows 8.1, and Windows 10
Press Win+Q and type in control panel. Click OK.
Open Uninstall a program.
Select the unwanted program and click Uninstall.
Windows Vista/Windows 7
Open the Start menu and select Control Panel.
Click Uninstall a program.
Select the undesirable program and click Uninstall.
Windows XP
Press Win+R and enter Control Panel. Press OK.
Select Add or Remove Programs.
Click on the unwanted program and click Remove.
Remove Search.MyTelevisionXp.com from browsers
Mozilla Firefox
Press Alt+T and go to Add-ons.
Choose Extensions in the left panel.
Select the extension and click Remove.
Google Chrome
Press Alt+F and choose Settings.
Choose Extensions in the left panel and select the extension.
Click on the recycle bin icon on the right.
In the confirmation window, click Remove.
In non-techie terms:
Search.MyTelevisionXp.com is a questionable search engine whose presence means that a browser hijacker has sneaked onto your computer. This hijacker may pose a threat to your virtual security. It can expose you to potentially unreliable third-party content through its services. But it can also come on-board with a bunch of malware infections. All in all, you cannot keep this hijacker on your computer if you are concerned about the health of your operating system. We suggest that you use a reliable malware removal application to automatically detect and remove all malware infections that may be present on your PC.