Do you know what Search.mysearchengine.info is?
Search.mysearchengine.info is a search engine that might be set as your default search provider against your will. It is associated with a potentially unwanted program that users often download and install on their computers accidentally. The program in question is called VideoPlayerClassic, and if you happen to have this application on-board, then it is not surprising to see Search.mysearchengine.info on your browser as well. Consequently, to remove this search engine, you need to delete the program responsible for it. Once you are done with the manual software removal, be sure to scan your PC with a licensed computer security tool as you need to make sure that your system is 100% safe.
The guys in our research lab say that Search.mysearchengine.infois similar to search.emaildefendersearch.com, search.realcoolmoviessearch.com, search.searchinsocial.com, and so on. This shows that the search engine comes from a family of similar pieces of software, and it would suggest that the people behind those applications aim for the same purpose. We believe that these search engines have been created to bring financial profit to their developers via third-party advertising. Your computer, your browser, and your browsing habits just happen to be a few of the elements necessary in this monetary scheme.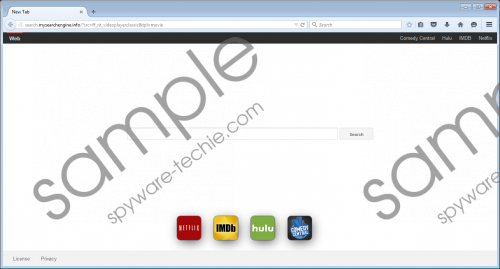 Search.mysearchengine.info screenshot
Scroll down for full removal instructions
We are not trying to say that Search.mysearchengine.info will infect you with malware or steal your personal information. This search engine has not been created to do that. However, seeing how it can display third-party advertisements, you should think twice before running an extensive search via Search.mysearchengine.info or clicking any of the ads displayed on the site. The point is that you can never know who is behind those third-party ads. Sometimes the search engine might get exploited by cyber criminals to promote their content, and if you happen to click the corrupted links on the ads, then you would be only one step away from a severe malware infection.
At the same time, if you see that your default search engine was changed to Search.mysearchengine.info on Mozilla Firefox and Google Chrome (this search engine does not work on Internet Explorer), you should scan your PC with the SpyHunter free scanner. The point is that, even though the VideoPlayerClassic application has an official website via videoplayerclassic.com, most of the users still download this piece of software in bundles. This means that Search.mysearchengine.info is not the only unwanted program on your computer. You are bound to have at least several potential computer security threats you need to take care of.
The longer you wait, the bigger is the possibility that you will get infected with malware. Depending on the number of potential threats on your system, you could be going through various annoying behavioral patterns that should not be tolerated. If your computer is running slower than the usual, and you cannot access your favorite websites without going through tons of commercial advertisements, perhaps it is the right time to do something about it.
Remove VideoPlayerClassic extension from your browser and Search.mysearchengine.info should disappear as well. If something does not go according to the plan, get yourself a licensed antispyware tool that will do the job for you. It will also protect your system from similar intruders, and you will not have to worry about your computer's security in the future.
How to Delete Search.mysearchengine.info
Mozilla Firefox
Press Alt+T and click Add-ons.
Open Extensions.
Disable and remove VideoPlayerClassic.
Restart your browser.
Google Chrome
Press Alt+F and click More tools.
Open Extensions.
Remove VideoPlayerClassic from the list.
In non-techie terms:
Some users may think that Search.mysearchengine.info can provide them with reliable search results, thus improving their overall web surfing experience. Unfortunately, that is not something this search engine can provide you with. In fact, you need to remove Search.mysearchengine.info at once to avoid potential computer security issues. If you have any questions about the search engine removal, please do not hesitate to leave us a comment below.