Do you know what Search.mysafesearch.net is?
Malware researchers at Spyware-techie.com have recently analyzed a supposed search engine called Search.mysafesearch.net. They found that it is more than just a search engine. Research has revealed that it is a browser hijacker because its developers distribute it via malicious software bundles that install it by stealth automatically, so you might want to remove it. Its aim is to make you use it for browsing the web. However, the consequence of using it is that its search results feature promotional links of unknown origin. These links can subject you to unsafe content, so using it can pose a threat to your computer's security.
Our malware analysts have discovered that Search.mysafesearch.net comes with a dedicated browser add-on called mysafesearch. This add-on is for Google Chrome only, and its purpose is to replace the browser's homepage to Search.mysafesearch.net. If that were to happen, then be warned that this search engine can subject you to highly unreliable search results. We have found that, when you enter a search query into its search box, it redirects the query to http://feed.snowbitt.com/?publisher=mymediasyn&ts=sy&barcodeid=51586999&searchtype=ds&q=asddas&type=MM_100, and then Yahoo.com. The result is that you get modified, ad-supported search results that feature links of unknown origin.
Another important aspect we want to cover is the fact that this hijacker can collect information about you to personalize the promotional campaign and also share that information with third parties. According to the privacy policy, this hijacker can gather information such as "ISP (Internet Service Provider), location, Internet protocol (IP) address, anonymous user identifiers, device configuration and identifiers (IDFA (Identifier for Advertisers used in IOS), Advertising ID (Identifier for Advertisers used in Android) and the like." The collected information mentioned above is of non-personally identifiable nature, so this hijacker can obtain it automatically. Moreover, the developers can share this information with third parties in order to generate more advertising revenue. Now let us move on to how Search.mysafesearch.net is distributed.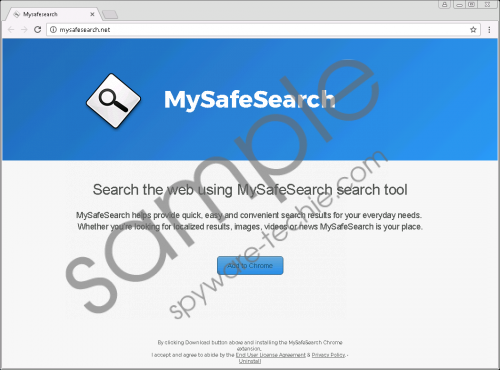 Search.mysafesearch.net screenshot
Scroll down for full removal instructions
Our malware analysts have found that this particular browser hijacker has an accompanying browser extension called mysafesearch which is compatible with Google Chrome only. This extension is used to get this hijacker onto your computer without your authorization. You can get this extension from its dedicated website at Mysafesearch.net. Also, this same extension if featured on the Chrome Web Store, so it may look like it is completely safe, but that is just not the case. Finally, the reason our malware researchers have classified it as a browser hijacker is due to the fact that it also comes bundled with third-party installers that inject it into your browser without your knowledge or approval. These installers can be featured on shady freeware sharing websites that make money off bundling free software with adware, browser hijackers, and potentially unwanted programs. At present, this hijacker is visited from inside the US the most, so it is reasonable to think that it is distributed on websites that are mostly popular in this country.
While you can use Search.mysafesearch.net as a regular search engine, we want to inform you that it is a browser hijacker whose purpose is to make you use it for searching the web. It features ad-supported search results that can redirect you to rather shady websites and also collect information about you to personalize the ad campaign and generate more advertising revenue. If you want to remove this hijacker, then you have to uninstall mysafesearch from your browser. See the guide below for more information.
Removal Instructions
Open Google Chrome.
Tap Alt+F.
Go to More tools.
Click Extensions.
Find mysafesearch and click the Remove button.
In non-techie terms:
Search.mysafesearch.net might look like a regular search engine but is far from being one. Researchers have found that it is distributed in a malicious manner and have classified as a browser hijacker because it can replace your browser's homepage address without your knowledge or approval. Therefore, we recommend that you remove it from your computer.