Do you know what Search.mydrivingdirectionsxp.com is?
When you enter search keywords into the search box provided by Search.mydrivingdirectionsxp.com, you will be redirected to search.yahoo.com via extsearch.maxwebsearch.com server. This already says a lot about this suspicious search provider. For one, it performs suspicious, unexpected redirecting, which is often a sign of malware. Another thing you need to keep in mind is that the search results shown to you can be modified, which makes them unpredictable and even unreliable. The problem is that this search tool is installed together with My Directions XP whether you like it or not. Of course, it is possible that you will have to remove Search.mydrivingdirectionsxp.com as a standalone threat, but it is most likely that you will encounter it after installing the extension associated with it. If you continue reading this report, you will learn how to delete this extension, as well as the suspicious hijacker.
How did Search.mydrivingdirectionsxp.com find its way into your browsers? If it has hijacked your browsers without your permission, it is most likely that it was executed via a malicious installer that could have carried other malicious threats as well. If you suspect that malware could have entered your operating system, please scan your operating system immediately. Every moment wasted could be utilized to scam you, steal information about you, or employ your operating system for malicious attacks. Hopefully, malware capable of this has not corrupted your PC yet, and you only need to worry about the removal of the hijacker. Although this infection cannot download malware or cause other direct harm, it is not entirely innocent. For one, it can display links to third-party sites, and they could easily expose you to unreliable installers or offers. What is more, it can collect personally identifiable information. You can check the Privacy Policy at search.mydrivingdirectionsxp.com/home/privacy to learn more about this. We understand how annoying this information might be to analyze, but this is crucial.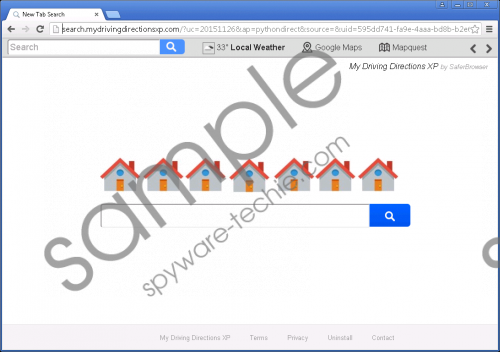 Search.mydrivingdirectionsxp.com screenshot
Scroll down for full removal instructions
Although it is possible that Search.mydrivingdirectionsxp.com will be introduced by third-party installers, it is most likely that you will acquire it via mydrivingdirectionsxp.com/DrivingDirections. This website offers the My Directions XP extension that we have mentioned already. It is compatible with Internet Explorer, Mozilla Firefox, and Google Chrome browsers (ID is phoidnoiohobnjfnpneiilkgjcobnoag. Although the extension functions in the same way on all browsers, it is represented in different ways. For example, if you add it to IE, it will be installed as an application which you will need to uninstall via Control Panel. Registry entries will be added as well (My Email XP_RASAPI32 and My Email XP_RASMANCS under HKEY_LOCAL_MACHINE\SOFTWARE\Microsoft\Tracing). If you add it to Chrome, it will be represented in a folder whose name is the same as the Chrome ID. The Firefox add-on is represented via one single XPI file. We do not recommend deleting My Directions XP from its original locations.
If you uninstall My Directions XP, you will have to delete registry leftovers. If you delete the Firefox extension file and delete the folder associated with the Chrome extension, it is likely that you will need to remove Search.mydrivingdirectionsxp.com separately. This is why we advise eliminating the extension from the browsers (or uninstalling it if you use Internet Explorer) first. Afterward, get rid of any leftovers that could remain active, and you can use a malware scanner to see if they exist. It is crucial that you use a malware scanner once you think that all threats have been eliminated. Allowing malicious programs to remain active is about the worst thing you can do because this could bring on serious issues. Keep in mind that some infections can perform in a malicious way without alarming you or even active security tools.
Delete unwanted software
Delete from Windows 10 & Windows 8/8.1:
Enter Control Panel into the RUN (Win+R) dialog box.
Open this tool and move to Uninstall a program.
Right-click the program you wish to remove and click Uninstall.
Delete from Windows 7 & Windows Vista:
Open the Start menu (click the Windows logo on Taskbar).
Open the Control Panel menu and click Uninstall a program.
Right-click and Uninstall the application you have decided to remove.
Delete from Windows XP:
Click the Start menu button on the left of the Taskbar.
Open Control Panel and double-click Add or Remove Programs.
Remove the undesirable application.
Remove Search.mydrivingdirectionsxp.com
Remove from Google Chrome:
Tap Alt+F, click More tool, and select Extensions.
Click the recycle bin and select Remove.
In the menu on your left select Settings.
Under Startup mark Open a specific page or set of pages.
Click Set pages and overwrite the undesirable URL. Click OK.
Move to Search and click Manage search engines.
Set the desired search provider.
Remove (click X on the URL) the unwanted provider.
Click Done and restart the browser.
Remove from Internet Explorer:
Tap Alt+T, select Internet options, and click the General tab.
Overwrite the Home Page URL and click OK.
Tap Alt+T once more and select Manage Add-ons.
Move to Search Providers and set the desired search provider.
Remove the undesirable search provider.
Click Close and restart the browser.
Remove from Mozilla Firefox:
Tap Ctrl+Shift+A (Add-ons Manager) and move to Extensions.
Remove the undesirable extension.
Tap Alt+T and select Options.
In the General section overwrite the Home Page URL.
In the Search section Remove the unwanted search provider.
Set the desired provider and restart the browser.
In non-techie terms:
Your virtual security is in your hands, and you have to make all the calls regarding it. If you want get all potentially security threats out of the way, you should start by removing Search.mydrivingdirectionsxp.com. If other malicious infections were downloaded, you must eliminate them as well. After this, you must think about the protection of your operating system. If you do not take care of this matter, you will be at risk of attracting other infections every time you browse the web, open email attachments, click on links found on social media sites, download software, and even use external devices. Hopefully, you will take this seriously so that malware and unreliable hijackers could not slither in again.