Do you know what Search.mybestmediatabsearch.com is?
Search.mybestmediatabsearch.com is spread by the browser extension MyBestMediaTab. Some people download and install it from mybestmediatab.com; however, others cannot even explain how this extension has appeared on their computers. Therefore, our researchers suspect that it tends to enter computers without permission too. Unfortunately, neither of the versions can be trusted, so you should hurry to remove the extension if you ever notice it installed or simply see that Search.mybestmediatabsearch.com has changed the settings of your Mozilla Firefox and Google Chrome browsers. To be more specific, you will see a different default search engine and the New Tab page on Mozilla Firefox, whereas only the homepage will be changed on Google Chrome. You will be allowed to change the settings of these browsers only after you delete the MyBestMediaTab extension, so we suggest doing so as soon as possible. It is a must to erase it also if you wish to protect your system from dangers.
If the MyBestMediaTab enters your computer, you will, undoubtedly, notice a new homepage, search engine, and the New Tab page; however, these are not the only modifications this extension makes. More experienced users can also notice the new file MyBestMediaTab-the-extension1@mozilla.com.xpi created in %AppData%\Mozilla\Firefox\Profiles\.*\extensions (if Mozilla Firefox is installed) and a new folder ndljgnmbcnbekccbnjdbmjaejnnjjjao in %LOCALAPPDATA%\Google\Chrome\User Data\Default\Extension and %UserProfile%\Local Settings\Application Data\Google\Chrome\User Data\Default (if there is Google Chrome installed on the system). You can be sure that you have successfully erased the MyBestMediaTab extension from your browsers if you can no longer find the file and folders this extension creates after the deletion of the extension.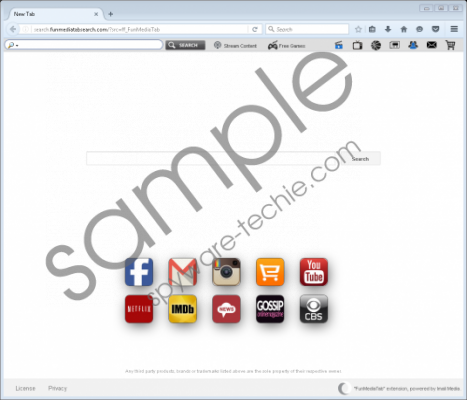 Search.mybestmediatabsearch.com screenshot
Scroll down for full removal instructions
We suggest getting rid of the extension and the search engine Search.mybestmediatabsearch.com it promotes as soon as possible because our team of specialists has found that this search engine is unreliable. To be frank, it seems that the extension itself and the search tool have been created for advertising purposes mainly even though they promise to enable users to "watch movies and TV shows easily from legit streaming websites." It is because users who install the extension only see the button at the top of Search.mybestmediatabsearch.com that helps to access Netflix, HBO, and other similar websites, whereas the search engine returns search results containing advertisements. Yes, MyBestMediaTab is not as beneficial as it claims to be. In addition, there is a possibility that you will be taken to an unreliable third-party website one day if you use Search.mybestmediatabsearch.com to search for the information on the web. This might happen after you click on an untrustworthy advertisement which will be put in the search results page together with decent search results.
There is another reason why we do not think that keeping and using Search.mybestmediatabsearch.com is the best idea. Our specialists have thoroughly tested this search tool in the lab and found that it also gathers information about users. As it is said in the Privacy Policy, there are two types of information that are going to be recorded: data from log files and personal information. Many users think that these details are unimportant; however, they do not know that they might be shared with third parties and might even end up in the hands of cyber criminals. There is only one way to put an end to this activity – you need to remove the MyBestMediaTab extension from your computer. Do not forget to be more careful in the future if you do not want to encounter another extension that promotes search engines very similar to Search.mybestmediatabsearch.com, e.g. search.realcoolmoviessearch.com and search.emaildefendsearch.com.
Search.mybestmediatabsearch.com needs to be removed from browsers ASAP if you wish to set another search engine. To delete it completely, you will have to remove the MyBestMediaTab extension. We know that not all the users will find it easy to do that, so we suggest using our manual removal instructions or scanning the system with the specialized tool, e.g. SpyHunter.
Delete Search.mybestmediatabsearch.com
Mozilla Firefox
Open your browser.
Tap Ctrl+Shift+A and click Extensions.
Find and remove the undesirable extension from your PC.
Google Chrome
Open your browser and tap Alt+F.
Click More Tools.
Open Extensions.
Select the MyBestMediaTab extension.
Click the recycle bin button.
Click Remove.
In non-techie terms:
Untrustworthy extensions might travel together with other unreliable programs, so we suggest that you scan your computer with a reliable antimalware scanner once you are done with MyBestMediaTab. To check the system's condition, you should use a reliable scanner. If you want to be sure that you use a good tool, download the reputable scanner from our website.