Do you know what Search Know is?
Search Know is an adware program that is said to be similar to the SuperWeb family of adware applications. This means that the program enters your computer with the intention to make money out of your browsing habits. Although the program does not intend to infect you with malware, this might happen if it gets exploited by malevolent third parties. Therefore, you will do yourself a favor if you remove Search Know from your computer right now. Please scroll down to the bottom of this description for the concise removal tutorial. You should be able to get rid of this program in no time.
On the other hand, we believe that the best defense is prevention, so you should definitely know how to avoid getting infected with this adware program. It should be pointed out that Search Know does not enter your system surreptitiously. In other words, the program does not employ stealth tactics to slither into the target computer. On the contrary, most of the time, users are able to avoid installing Search Know, but they simply miss the opportunity because they do not realize how important it is to follow all the installation steps on a third-party installer.
As you can probably tell, Search Know usually gets distributed in third-party installers with other freeware applications. For example, if you are about to download some program from a third-party file-sharing website, you should bear in mind the possibility that you could accidentally install Search Know as well. That said, it is very likely that you have many other unwanted programs running on your PC, and this adware application is the least of your concern. How to know just how bad your system is affected? Scan it with the SpyHunter free scanner, and you will get a list of all the potential threats immediately.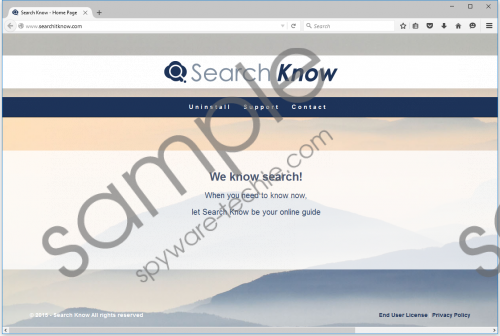 Search Know screenshot
Scroll down for full removal instructions
This adware program will do its best to make money by redirecting you to affiliated websites. It will do that by displaying various commercial advertisements. Some users may even think that the program is useful and can improve their online experience. After all, the official website at searchitknow.com even says that "when you need to know now, let Search Know be your online guide." This way the application tries to make you think that it can provide you with some useful information, but we are not too sure about that. It is far more likely that Search Know will spam you with annoying pop-up ads that lead you to nowhere.
Usually, adware programs employ third-party advertising networks to generate the ad content. Search Know generates the ad content after it has analyzed the information on your web browsing habits. This way, the program can orchestrate a flow of targeted commercial advertisements, thus increasing the possibility that you will click on them. Needless to say, clicking a commercial pop-up is one of the worst ideas out there.
You can never know where the outgoing link in the ad could lead you. If you are not careful, you could end up getting infected with malware. That would cause an ultimate system crash, so to avoid that, delete Search Know today and invest in a licensed antispyware tool that will protect your system from similar intruders.
How to Delete Search Know
Windows 10 & Windows 8.1
Right-click the Windows icon on the left corner of your taskbar.
When the drop-down menu appears, click Control Panel.
Select Uninstall a program and remove Search Know.
Windows Vista & Windows 7
Open the Start menu and click Control Panel.
Go to Uninstall a program and remove Search Know.
Windows XP
Press the Windows key and select Control Panel.
Double-click Add or remove programs and uninstall Search Know.
In non-techie terms:
It is possible to install Search Know accidentally, but you should know better than to keep this program on your computer. Please remove Search Know right now and then scan your PC with your antispyware application. Even if you terminate the program manually, it is possible that it will leave a lot of annoying leftovers, and you need to keep your system safe and clean. Should you need any piece of advice on how to deal with such intruders, you can always contact us by leaving a comment.