Do you know what Search.joygame.com is?
Search.joygame.com is a search engine which will modify the settings of Google Chrome, Internet Explorer, and probably, Mozilla Firefox in order to be able to set itself as your homepage. Specialists have observed that this usually happens after a user installs a game from Joygame.com or adds the extension from the Chrome Web Store (https://chrome.google.com/webstore/detail/joygame-homepage/ojmcefcpojnkmmblchnllkaphlpdobgd?hl=tr) called Joygame Homepage. Even though the search engine which is set after the installation looks really decent, we do not think that you should keep it and use it because there is a slight possibility that it will put your system into danger. We will provide more information on the removal of Search.joygame.com further in this article, and we will also explain you why it is advisable to get rid of it.
Search.joygame.com is often considered to be a browser hijacker because it does not always inform users about the changes. The threat itself adds extensions in order to work as it should, so you will probably not even see its entry in Control Panel. From a technical perspective, the domain of Search.joygame.com is hosted on 212.68.37.6 IP address, which shows that the origin of Search.joygame.com is Turkey. It is very likely that this search engine is targeted at people living in Turkey primarily because all the text on it is written in Turkish too. We have also checked where this search engine is prevalent the most. Results did not surprise us at all. It has been found that 72.8% of users who use Search.joygame.com live in Turkey and the rest 3.6% are residents of Saudi Arabia. Even though this piece of software is popular in these two countries primarily, our security specialists believe that it might affect users from other countries too. Actually, we think that Search.joygame.com is getting more and more popular because the Alexa rank number is dropping (it is 667 at the time of writing). This number shows the combination of visitors and page views. Generally speaking, it indicates the popularity of the website.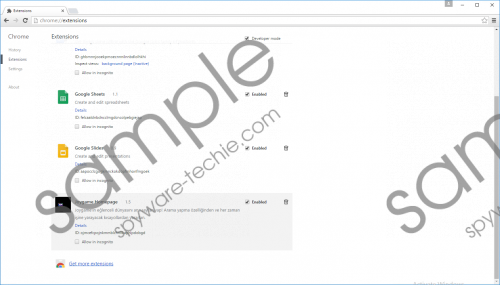 Search.joygame.com screenshot
Scroll down for full removal instructions
It has been noticed that Google Chrome users have downloaded the Joygame Homepage extension which sets Search.joygame.com 391, 708 times and this number is still increasing. We cannot say the exact number of Internet Explorer and Mozilla Firefox users; however, we are sure that this number is huge too. If you ever notice the presence of Search.joygame.com on your browsers, be sure that you do not use this search engine. Yes, it looks quite decent and is based on Google; however, there is still a huge risk that Search.joygame.com will present users with sponsored content (ads). According to many security experts, sponsored content might take users to corrupted web pages one day. On top of that, ads might not allow users to find the relevant information on the web in the shortest period of time. We highly recommend that you ignore third-party ads placed on the main page of Search.joygame.com because they might cause redirections to unreliable websites as well.
Search.joygame.com is often considered a suspicious search engine also because the extension which distributes it tends to enter systems without permission. To be more specific, it is spread through Joygame installers and users might not even know that they are going to install a piece of software that will change the settings on all the browsers. It has been observed that the installer itself connects to the following servers:
http://launcher.softnyx.net/launcher/OnFetch.txt
http://rotatorsglb.joygame.com/ar/softnyx/wolfteam
http://cdn.joygamedl.com/wtas/patch/game/495/wolfr_495.xfs
It establishes these connections in order to download the software. In some cases, such servers contain particular files and commands as well. As you already know, the extension Search.joygame.com comes with is available on the official website and the Chrome Web Store; however, it is also very likely that it finds other ways to enter systems, e.g. it can travel together with other programs which are advertised on third-party web pages, e.g. file-sharing websites.
In order to get rid of Search.joygame.com and be able to set another homepage, remove its extensions from all the browsers. The quickest way to do that is to reset browsers one by one. Unfortunately, this will not be enough to fully erase the software because this software will leave some of its files. To remove them completely from your system, use instructions which our specialists have prepared for you. Another way to delete Search.joygame.com fully within seconds is to scan the system with an automatic malware remover, such as SpyHunter.
Delete Search.joygame.com
Internet Explorer
Launch your browser and go to the Tools menu.
Click Internet Options and click on the Advanced tab.
Click Reset.
Check the Delete personal settings checkbox and click Reset again.
Google Chrome
Open your browser.
Tap Alt+F.
Select Settings.
Scroll down and open Show advanced settings.
Click Reset settings.
Click the Reset button.
Mozilla Firefox
Open the browser.
Access the Help menu (tap Alt+H).
Open Troubleshooting information.
Click Refresh Firefox.
Click the Refresh Firefox button again.
Delete leftovers
Open Explorer (Windows key + E).
For Windows 7 and newer Windows OS versions: type %USERPROFILE%\AppData\ in the address bar.
Locate LocalLow\search.joygame[1].xml and then delete it.
For Windows XP: enter %USERPROFILE%\Application Data\LocalLow\ in the address bar.
Find search.joygame[1].xml and right-click on it.
Select Delete.
Open the Registry Editor (tap the Windows key + R and enter regedit).
Go to HKLM\SOFTWARE\Wow6432Node\Policies\Google\Chrome\RestoreOnStartupURLs if you use 64-bit Windows OS and check the HomepageLocation value. Delete http://search.joygame.com, if it is there.
Move to HKLM\SOFTWARE\Policies\Google\Chrome\RestoreOnStartupURLs and find the HomepageLocation value. Right-click on it and delete http://search.joygame.com from the Value Data line.
Go to HKLM\SOFTWARE\Policies\Google\Chrome\Recommended and open the HomepageLocation value. Remove http://search.joygame.com from its data.
Move to HKLM\SOFTWARE\Wow6432Node\Policies\Google\Chrome if you use 64-bit Windows OS and locate HomepageLocation. Remove http://search.joygame.com from the Value Data line.
Check the value HomepageLocation in HKLM\SOFTWARE\Policies\Google\Chrome. Delete http://search.joygame.com, if it is present in the Value Data.
Delete the SOFTWARE\Microsoft\Internet Explorer\LowRegistry\DOMStorage\search.joygame.com registry key.
In non-techie terms:
Unfortunately, other undesirable programs might be installed on your computer as well. Therefore, you should scan your system with a trustworthy antimalware tool to make sure that your system is now 100% clean. We suggest using the diagnostic SpyHunter version for this matter.