Do you know what Search.hyourweatherinfonow.com is?
Search.hyourweatherinfonow.com is a new browser hijacker released by Polarity Technologies Ltd. It does look like an ordinary search tool because it has a search box in the middle and, like other search tools, returns search results, but it is not what it seems to be at first glance, believe us. There are no trustworthy search engines that change browsers' settings without permission. Reputable search tools never fall into the browser hijacker category either, so you should get rid of Search.hyourweatherinfonow.com mercilessly. If you keep it set as your homepage and default search tool, it might redirect you to untrustworthy websites. No, it will not do that automatically – you might end up on these pages if you use it to perform web searches and click on modified search results it provides users with. Not all search results returned to users after they enter a search query are modified, but you will be presented with them sooner or later, so be cautious when you perform searches using Search.hyourweatherinfonow.com. If you ask our opinion, we do not recommend using this search tool. If you decide not to use it at all, there is no point in keeping it set on browsers either. Also, you could not set a new homepage and default search tool as long as it keeps places of the default homepage and search tool occupied.
If Search.hyourweatherinfonow.com is opened to you automatically when you launch the web browser you use to perform web searches, it means that you have encountered the browser hijacker. It does not differ much from other Polarity Technologies Ltd. websites categorized as browser hijackers by specialists, e.g. Search.yourmapscenter.com and Search.youremailnow.com. To be more specific, it hijacks users' web browsers the first thing. According to our experienced team of specialists, it should be able to change settings of Internet Explorer, Mozilla Firefox, and Google Chrome. We are sure you have at least one of these browsers installed on your computer. If so, it will not take long for you to notice the appearance of Search.hyourweatherinfonow.com. If your browsers' settings have already been changed against your will, it does not mean that you must use this search tool to perform web searches. Actually, specialists do not even recommend using it for searching the web, so you should delete the browser hijacker from your system without further consideration.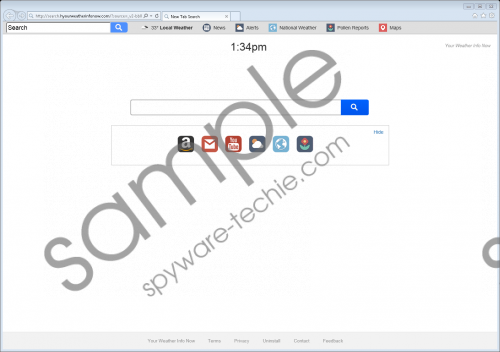 Search.hyourweatherinfonow.com screenshot
Scroll down for full removal instructions
There is a reason why Search.hyourweatherinfonow.com is not considered fully reliable. It has turned out that it might show some modified search results promoting different websites. These websites usually do not have what users are searching for, so do not be surprised when you cannot find any useful information on pages you are redirected to. Our security specialists say that not all promoted websites are trustworthy, so users should not click on any of these modified search results if they do not want to end up on them. Of course, that is easier said than done. These modified search results look exactly like ordinary search results, so it might be extremely difficult or even impossible to avoid them all. You will be sure that you cannot click on them only after you delete Search.hyourweatherinfonow.com and start using a reputable search provider to perform your web searches. You should get rid of it not only because it is the only way to eliminate the so-called modified search results. You should also delete it because it records information about users. It records both personally-identifiable and non-personally identifiable information, its Privacy Policy document says. Of course, it will record your personal details only if you provide them yourself, e.g. type in the search box.
Resetting all affected browsers to default settings should be enough to remove Search.hyourweatherinfonow.com from them, so do this right away if you are not going to use this search tool. If you need some help, feel free to use our manual removal guide (you can find it below this report).
Delete Search.hyourweatherinfonow.com
Internet Explorer
Open Internet Explorer.
Press Alt+T and click Internet Options.
Click Advanced.
Click Reset.
Check the Delete personal settings box.
Click Reset.
Mozilla Firefox
Launch Mozilla Firefox and access its Help menu by pressing Alt+H.
Select Troubleshooting information.
Click Refresh Firefox at the top of the page.
Click Refresh Firefox again to confirm the reset.
Google Chrome
Start Google Chrome and press Alt+F.
Click Settings.
Scroll down and then click Advanced.
Click Reset.
In non-techie terms:
The outer appearance of Search.hyourweatherinfonow.com is misleading. It does look like a trustworthy search provider, but it is not. First, it acts as a browser hijacker, i.e. it changes browsers' settings without the users' knowledge. Second, it might show modified search results that, in the worst-case scenario, might expose users to potential threats by taking them to dubious websites. Last but not least, if you enter any personal details in the search box of Search.hyourweatherinfonow.com, they will all be recorded as search queries and might even be disclosed to third parties. Of course, this search tool gathers some non-personally identifiable details automatically too.