Do you know what Search.hfreeforms.co is?
Our cyber security experts at Spyware-techie.com have concluded that Search.hfreeforms.co is a malicious search engine because its creators employ deceptive and illegal distribution methods in order to replace your browser's homepage address. Therefore, if you can this search engine accidentally, you ought to remove it because it was also set to collect information about its users and use that information to present them with customized ads featured in its search results. Note that the ads are unreliable in nature as they come from unvaried sources. Researchers have classified this search engine as a browser hijacker due to the way it is distributed.
Search.hfreeforms.co does a good job at presenting itself as a legitimate search engine. It features a toolbar on its main page that has links to various document forms used in the US. Apart from that, it has links to Amazon, Gmail, Yahoo, YouTube, and several other websites. However, all of this is a façade because this search engine is dedicated to online advertising. Our malware researchers say that this malicious search engine redirects all entered search queries to a Yahoo search engine. However, it redirects to a modified search engine that features ad-supported search results. Promoted links are nothing new since many legitimate search engines also do that. However, this search engine is highly unreliable so you should not trust its promoted links because they can be misleading and redirect you to scam websites or websites that feature malware downloads. Therefore, using it is a bad idea.
Furthermore, our cyber security specialists have concluded that this hijacker can collect some anonymous information about you automatically. Collecting anonymous information is not illegal, but you should keep in mind that this is a browser hijacker that has an agenda. This hijacker has been configured to obtain information such as your IP address, geographical location, Internet Service Provider domain name, search queries entered, browsing history, browser type, operating system type, and so on. Researchers say that this information is used for geotargeting purposes. Indeed, this hijacker can show you somewhat personalized promotional links to generate more revenue.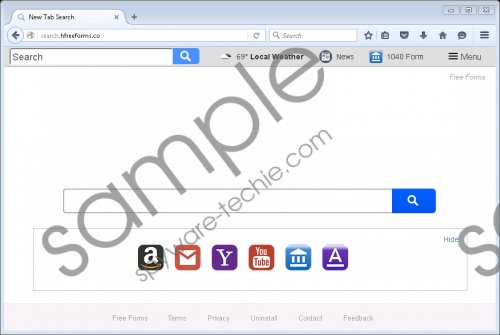 Search.hfreeforms.co screenshot
Scroll down for full removal instructions
Search.hfreeforms.co is a product of Polarity Technologies, an unreliable company that has been releasing browser hijackers for quite some time now. This company is allegedly located in Cyprus, but there is no guarantee that it is a real, legitimate company. We would not be surprised if it were a fake name because of how bad its search engines are. Their distribution methods, in particular, are something to be discussed separately. Our researchers say that Search.hfreeforms.co is disseminated using malicious software bundles that feature this hijacker and have been configured to hide its presence from the user and install it automatically without the user's knowledge or consent. The installers interact with your browser whether it is Google Chrome, Mozilla Firefox or Microsoft Internet Explorer and inject it into the browser replacing the homepage address. This action is malicious by definition, so you ought to remove as soon as you can.
In conclusion, Search.hfreeforms.co is a highly malicious search engine that falls into the browser hijacker category due to its malicious distribution method. It replaces the home page address and subjects unwary users to potentially malicious promotional links and also collects information about them to improve the ad campaign to make more money. This is unacceptable, and we advise that you remove this search engine as soon as possible.
Replace the homepage address
Google Chrome
Simultaneously press Alt+F keys.
Select Settings.
Click Set pages and enter a new address.
Click OK.
Mozilla Firefox
Simultaneously press Alt+T and click Options.
Select General.
In the Home Page box, enter a new homepage address.
Microsoft Internet Explorer
Simultaneously press Alt+T keys.
Select Internet Options.
Enter a new URL in the home page address line.
Click OK.
In non-techie terms:
Search.hfreeforms.co is a browser hijacker dedicated to replacing your browser's homepage address to make you use it and, thus, subject you to promoted links in the search results to generate revenue. However the promoted links can be unreliable and outright malicious, so our malware analysts recommend that you remove this hijacker.