Do you know what Search.getmaps.co is?
Search.getmaps.co is a potentially harmful search engine that comes as a browser extension affecting all major browsers, including Mozilla Firefox, Internet Explorer, and Google Chrome as well. It is likely that you do not even recall installing this tool. As a matter of fact, our researchers have noticed that this search engine might appear without your permission. This is rather suspicious behavior and raises some questions about its reliability. But this gets only worse when you learn that this application can enter your computer along with other malware programs. This way it is possible that you are facing multiple system security threats. Our researchers say that you should remove Search.getmaps.co and all other malware infections as well if you want to use your computer safely. Please read our full report to find out more about this search engine and how you can protect your PC from similar attacks.
You can find the promotional page at getmaps.co and this tool is also available at the Chrome web store, chrome.google.comwebstoredetailget-mapsnfkmbmiinaklppcopmiolahadjjhjcdc. But you need to understand that even if an application has an official-looking page and it can be found in the web store, it does not necessarily mean that it is actually a reliable program. These webpages are practically clones of previous ones from the same creators. In this case these developers are responsible for Search.youremailnow.com, Search.yourclassifiedscenter.com, and Search.yourinterestscenter.com among many others. Just like all of its predecessors, this search engine is mostly spread on the web on alternative routes.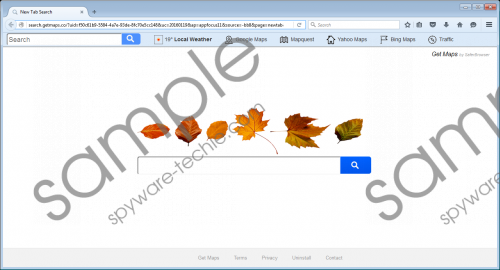 Search.getmaps.co screenshot
Scroll down for full removal instructions
According to our researchers, you can be infected with this browser extension if there is at least one adware program on your computer, including SwiftSearch and InteliTerm. These ad-supported applications can display such unreliable third-party pop-up advertisements that can lead to dropping this tool onto your system. What is worse, it is possible that this search engine enters along with other malware threats. In any case, if you find this application on your computer, there is a good chance that your PC is suffering from multiple malware attacks. Therefore, we recommend that you do not just remove Search.getmaps.co alone, but that you also scan your system to identify all other potential threats as well.
While this unreliable search engine was tested in our internal lab, our researchers noticed that it installs as Search.getmaps.co in Internet Explorer and Mozilla Firefox, but in Google Chrome it shows up as Home.getmaps.co. This tool tries to "sell" itself as a useful extension in your browsers, one which can provide you access to online maps and direction services. But it simply displays a fake toolbar on which you can find a few quick links to third-party sites, such as Google Maps and Bing Maps. These and more preferred pages you can easily save as bookmarks by using the built-in functions of your browsers. You can have all your bookmarks available from a bar so you do not need any "special" tool for that, let alone a questionable one as this has proved to be. We have found that you cannot really trust any of the content this search engine page offers you. Especially, the search tool itself.
All your web searches get redirected to a Yahoo search results page. But before you would regard it as reliable and reputable, we must warn you that you arrive at this page through this unreliable search engine page. This means that the search results may be manipulated. This search engine may alter them by including potentially harmful third-party advertisements and links. You will not be able to tell the difference between a legitimate search result and a corrupt one. Therefore, one single click on the wrong content could take you to malicious websites and you could infect your machine with more threats. Or worse, you may be scammed by criminals to share your banking details. We hope that you see now that there is only one choice for you if you want to secure your computer: You should delete Search.getmaps.co as soon as possible.
It is not too complicated to eliminate this threat, but it takes two stages. First, you need to run its uninstaller via Control Panel. Our researchers have found that this uninstaller does not do a good job and leaves the extensions in Mozilla Firefox and Google Chrome. Those you should manually remove. Please follow our guide below if you need assistance with these steps. Also, it may be time to consider installing a reliable anti-malware program if you want to keep your PC secure and protected from all known malware infections. If you get stuck or need more help with the removal of Search.getmaps.co, please leave us a message below.
Search.getmaps.co removal from Windows
Windows XP
Click Start and choose Control Panel.
Select Add or Remove Programs.
Select the application and press Remove.
Windows Vista/Windows 7
Press the Windows button on the Taskbar and choose Control Panel.
Pick Uninstall a program.
Select the application and press Uninstall.
Windows 8/Windows 8.1/Windows 10
Tap Win+Q and type in Uninstall a program.
Select the application and press Uninstall.
How to reset your browsers
Google Chrome
Tap Alt+F and go to Settings.
Scroll down and click Show advanced settings.
Scroll down and click Reset settings.
In the confirmation window, press Reset.
Mozilla Firefox
Tap Alt+H and choose Troubleshooting Information.
Click Refresh Firefox.
Click Refresh Firefox in the pop-up.
Press Finish.
In non-techie terms:
Search.getmaps.co is a useless and potentially harmful search engine that may show up in your browsers out of the blue sky, i.e., without your knowledge. This search engine has been found quite unreliable by our researchers, who do not recommend that users keep it on board. You cannot trust any content this tool offers for you, not even the search tool itself. Since this browser extension can expose you to potentially unsafe third-party content, we believe that you should not engage with anything displayed by this tool. We advise you to remove Search.getmaps.co ASAP and identify all other possible infections on your computer. If you leave even one suspicious application on board, you may put your virtual security at risk. If you want to protect your PC from future attacks, we suggest that you install a reliable anti-malware program.