Do you know what Search Genie is?
Search Genie is supposed to be a convenient tool. Unfortunately, it can create serious inconvenience for you if you install it. At the time of research, this browser add-on was compatible with Google Chrome, and it could be downloaded from searchfrit.com, as well as chrome.google.com/webstore/detail/search-genie/kffplnohkmnjpakkgahhbpndamfidlkb. If you think that only reliable and harmless extensions are available on the Chrome web store, unfortunately, you are not correct. In some cases, seriously dangerous apps are able to bypass security analysts. Also, there is a grey zone, and it is sometimes difficult to say whether an app in it is dangerous or harmless. When we look at this particular app, it certainly looks harmless at first. In fact, it even looks beneficial. However, if you take a closer look, you might realize that it is better to delete it. If you are interested in the removal of Search Genie, we can assist you.
Let's start from the beginning, shall we? Why did you install Search Genie? Most likely, it came attached to some other application, and you could not reject it. If that is what happened, you need to understand that you should NEVER download anything just because you have no other option. Software bundling is often used by cyber criminals, and so you want to be extremely cautious. Maybe you downloaded Search Genie because it promised to offer a convenient web default search? Well, what does that mean? According to the official information, the application is meant to help you search "any terms" to receive "targeted results." Basically, the app analyzes your search queries to introduce you to appropriate results. There is nothing suspicious about that. Well, in fact, the tool can showcase sponsored content and ads according to your queries, and that is a good reason to delete it. At the end of the day, you do not know what parties this potentially unwanted program (PUP) is associated with.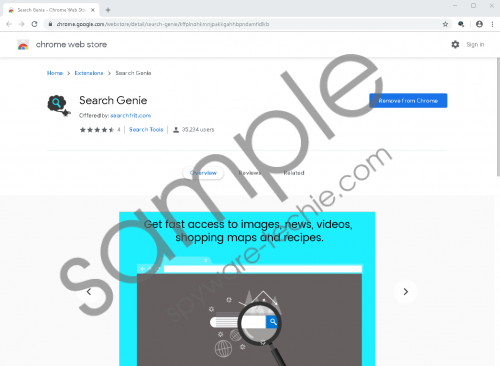 Search Genie screenshot
Scroll down for full removal instructions
After installation, Search Genie changes the default search provider on the browser. It is changed to feed.searchfrit.com, and most users delete the PUP exactly because of this. This tool redirects all searches to Yahoo Search, but the results are modified so that sponsored content could be shown. That is not how reliable and useful search tools work, and that is why we suggest removing the PUP and finding a better tool to help you navigate the World Wide Web. You can even choose Yahoo Search, but you should never trust a mediator that could affect the results shown. Furthermore, Search Genie can collect data about users and their online behavior. That is another reason why trusting this application is not a good idea. According to our research team, those who enable notifications by the PUP, can also be flooded with ads. Overall, there are plenty of reasons to mistrust and delete the extension.
Have you made up your mind about deleting Search Genie from your web browser? If you have decided to get rid of this potentially unwanted program, we suggest wasting no more time. Before you choose the method of removal, we recommend scanning your operating system. If you learn that malicious threats exist on your operating system, it might be a good idea to implement an anti-malware tool that would detect and erase all infections at once. The PUP would be erased automatically too. If other threats are not found, and you are not interested in securing your system with reliable security software, you should have no trouble deleting the PUP using the guide below.
Remove Search Genie
Launch Google Chrome.
Tap keys Alt+F and then select More tools.
Click Extensions to access the list of all installed extensions.
Click the Remove button next to the undesirable one.
In non-techie terms:
Even though Search Genie is meant to make it easier for you to browse the web, it is pretty obvious that trusting this tool is not a good idea. It changes your browser's settings, can flood you with ads, and, also, can use a reputable search engine to expose you to sponsored content. Due to these reasons, we strongly advise that you delete Search Genie. It is easiest to have this PUP eliminated with the help of an anti-malware program that would automatically erase all existing threats at once. That being said, you should be able to remove it manually as well. The instructions above will make the process easier.