Do you know what Search.gboxapp.com is?
Search.gboxapp.com is a search engine which presents supported advertisements whenever you try to browse the web. Most computer users set this as their home page after they install the Gboxapp toolbar. This Mozilla Firefox and Internet Explorer toolbar is meant to help you find programs for the Gadgetbox application on the computer. Once you install it onto the computer, you will be introduced to a box of various recommendations. Note that most of the recommendations, including home page and default search provider modifications, are set automatically, which means that to refuse these options you have to un-check the listed boxes manually. If you do not perform this step, you will be stuck with the undesirable browser settings. Needless to say, you can remove Search.gboxapp.com from the browsers, and if you have no idea how to delete undesirable software – follow the information provided within this article.
You have to be extra careful with Search.gboxapp.com. The search engine may provide links to unreliable websites, and promotional content. Therefore, if you are using this search tool to find information, make sure you do not click on any ads. As it is stated within the Privacy Policy, these ads may be presented to you by third parties, which is why the developers of the search engine refuse responsibility for any mischievous activity linked to Search.gboxapp.com. Here is an excerpt:
These third party sites have separate and independent privacy policies. We therefore have no responsibility or liability for the content and activities of these linked sites.
Do you want to utilize a search provider which cannot guarantee useful or secure search results? We are sure you do not. Without a doubt, most web browsers may lead to virtual security risks; however, the reliable ones do not offer advertisements for search results. Therefore, you should install authentic spyware detection and removal software to keep the PC protected, and then you can change the undesirable browser settings. So, how should you remove Search.gboxapp.com?
Delete Search.gboxapp.com
Delete from Internet Explorer:
Open the browser, simultaneously tap Alt+T and click Manage Add-ons.
From the menu on the left select Search Providers.
Click the undesirable search provider, select Remove and then Close.
Once more tap Alt+T and select Internet Options.
Click the General tab, remove/change the Home Page and click OK.
Delete from Mozilla Firefox:
Open the browser, simultaneously tap Alt+T and click Options.
Click the General tab, overwrite the Home Page and click OK.
Move to the top-right section of the page and click the search provider icon on the search box.
From the drop-down menu select Manage Search Engines.
Select an undesirable search provider, click Remove and then OK.
Delete from Google Chrome:
Open the browser, simultaneously tap Alt+F and select Settings.
Go to Appearance, mark Show Home button and click Change.
Overwrite/remove the URL of the default home button and click OK.
Go to Search, select a new search provider and click Manage search engines.
Select the X mark located on the URL of the search provider you wish to remove and click OK.
In non-techie terms: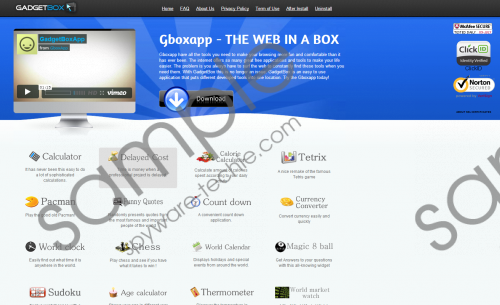 Search.gboxapp.com screenshot
Scroll down for full removal instructions
You may want to remove Search.gboxapp.com home page because it is supported through third-party adverts. One way to make sure that potentially misleading links to corrupted sites would not lead you to serious virtual security issues is to install authentic security software which could delete attacking malware automatically. Need more information? Post a comment below.
Aliases: Gadgetbox