Do you know what Search.funtvtabplussearch.com is?
Search.funtvtabplussearch.com can replace the start page on Firefox and Chrome browsers, and it could do that without your permission. Of course, it is much more likely that you will agree to the changes when downloading the FunTVTabPlus add-on created by Imali Media. This company stands behind Search.funcybertabsearch.com, Search.funsecuritytabsearch.com, and many other suspicious hijackers that have the interfaces identical to the one we are discussing right now. All of these search tools promote different links according to the themes they represent. Some do not delete Search.funtvtabplussearch.com just because it displays links routing to websites that stream content (not free) and produce TV and film-related news. Additionally, the home page of the search tool provides quick-access links to facebook.com, imdb.com, netflix.com, youtube.com, aliexpress.com, and other popular websites. Despite the fact that these links are legitimate, you should remove this search tool, and we list all of the reasons in this report.
How did you acquire Search.funtvtabplussearch.com? It is most likely that it came bundled with the aforementioned extension, but it could find its way into your PC in many different ways. In the worst case scenario, it will be downloaded without your permission bundled with malware. You might also execute malware bundles by interacting with misleading pop-up notifications. Although legitimate download sources exist (funtvtabplus.com and the Chrome web store at chrome.google.com/webstore/), many users are likely to install it using third-party software distributors who are likely to package it along with other programs. If you are introduced to the extension as an additional offer or if you download it from the official sources, you might be warned about the homepage and default search provider modifications. In this case, the best thing you could do is research the suspicious search tool and the extension to see if they are trustworthy. If you did that, you would not need to deal with the removal of Search.funtvtabplussearch.com right now.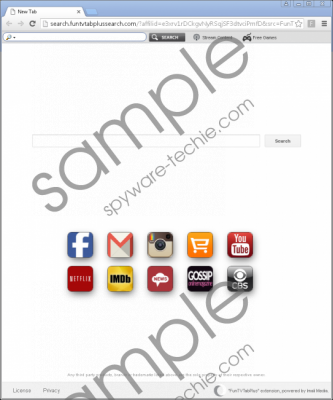 Search.funtvtabplussearch.com screenshot
Scroll down for full removal instructions
Yahoo Search engine is used by Search.funtvtabplussearch.com. Instead of showing links via its own engine, this hijacker redirects to search.yahoo.com. First of all, most users are familiar with this search engine, and they trust it. Second, the results shown via it might look harmless. The reality is that the links shown to you are controlled – at least partially – by the hijacker. So, even if you are using Yahoo Search, the results you are shown depends on the hijacker, and it will include sponsored links. This is the kind of promotion that the developer of this hijacker earns money for. To make the links/ads more appealing, it might even use HTTP cookies to record your browsing history, based upon which, more attractive offers could be displayed. We do not claim that Search.funtvtabplussearch.com is a malicious infection that requires urgent removal, but you need to weight all of the cons and pros, and the reality is that there are no pros to begin with. Sure, the easy-access links are authentic, but that is not a beneficial service.
Can you remove Search.funtvtabplussearch.com manually? We believe that you can, and we have created a guide that will help you eliminate this browser hijacker from your browsers in the fastest way possible. Even if you have no experience with unwanted or malicious software, we can guarantee you that you can erase the extensions as shown below. Since the extensions are directly linked to the hijacker, it will be eliminated simultaneously. Have you decided to modify homepage and search provider settings to get rid of the hijacker? You will find that you need to erase the extension first anyway. After you are done with the hijacker, employ a trusted anti-malware tool to clean out the remaining threats and protect your PC.
Delete Search.funtvtabplussearch.com
Google Chrome
Launch the browser and tap Alt+F.
Select More tools and then Extensions.
Remove the unwanted FunTVTabPlus extension (click the recycle bin icon).
Restart your Chrome browser.
Mozilla Firefox
Launch the browser and tap Alt+T.
Select Add-ons and move to the Extensions menu.
Remove the unwanted FunTVTabPlus extension.
Restart your Firefox browser.
In non-techie terms:
Search.funtvtabplussearch.com is not a typical browser hijacker, and it is most likely that you have let it in yourself. This hijacker provides links to many useful and popular websites, but it does not offer a reliable web search service. Because you are at risk of potentially facing unreliable ads and having information about you leaked to unknown parties, it is best to remove this hijacker without further delay. Use the guide below if you want to eliminate it manually, or employ automated malware detection and removal software.