Do you know what Search.funtabsafesearch.com is?
Search.funtabsafesearch.com is the search engine promoted by the extension called FunTabSafe. It does not seem to be dangerous at all at first glance, and it promises to help users to protect their computers from malicious software and other dangers. Also, the developer of the extension uses the Windows logo on the official website funtabsafe.com to convince users that it is a safe piece of software. Of course, not all the users download the FunTabSafe extension from its official website. In some cases, it sneaks onto computers with the help of other applications as well. Either way, it is advisable to remove the extension promoting Search.funtabsafesearch.com because this search engine is known to be an untrustworthy one. To be honest, it might even cause harm to your computer if you keep it and use it for a long time. Users who do not want this to happen have to hurry to remove the untrustworthy search engine and then set another search provider, e.g. google.com instead.
Even though the FunTabSafe extension claims that it will "add the security tools needed," the truth is that this extension will change the settings of your Google Chrome browser only. All you are going to notice is the presence of Search.funtabsafesearch.com. It will change your homepage, search engine, and even the New Tab page. You will find buttons leading to different tools and applications that should help you to ensure the stability of the system at the top of the main page of the search engine; however, researchers are sure that not all the tools Search.funtabsafesearch.com promotes are trustworthy and safe to use. What is more, it has been found that this search engine might also return unreliable search results. To be honest, it is very likely that the FunTabSafe extension has been developed to promote Search.funtabsafesearch.com, whereas Search.funtabsafesearch.com itself is used to promote other third-party websites. There is a possibility that Search.funtabsafesearch.com promotes websites administered by cyber criminals as well, which means that you might even cause harm to your computer by keeping the search engine promoted by the FunTabSafe extension as your default search tool.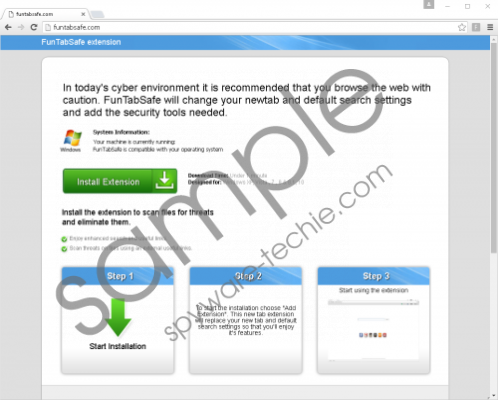 Search.funtabsafesearch.com screenshot
Scroll down for full removal instructions
Our team of specialists cannot classify Search.funtabsafesearch.com as a very trustworthy search engine also because it seems to be interested in what users do on the web and even some personal details. Researchers have checked the Privacy Policy and found that this search engine is going to record two types of information: anonymous user information and individual user information. The anonymous user information includes your search terms, links you decide to click on, and other general information, whereas the individual user information consists of such details as name, e-mail address, shipping address, zip code, and demographic information (e.g. gender, occupation, and age). Users who do not want to allow this search engine to record information about them need to remove it right now. No, there is no other way to stop it.
It has been noticed that users who live in Pakistan and Algeria notice the presence of this search engine the most frequently; however, everything might change quickly because the FunTabSafe extension is not only available for download on its official website, but might also find other ways to enter systems, e.g. it often comes together with free applications. Also, it has been found that this extension is available for download at the Chrome Web Store (https://chrome.google.com/webstore/detail/funtabsafe/pdhcaongcmcneibmkdmikplbgjmdmfnh). You need to erase the extension no matter it has sneaked onto your PC without permission or you have installed it willingly. You need to do that for the sake of your computer's safety.
There is only one way to remove Search.funtabsafesearch.com from your Google Chrome browser – you need to find and erase its extension called FunTabSafe. If you do not know how to do that, use our manual removal instructions or simply scan your computer with an automatic malware remover which you can download from our website.
Delete Search.funtabsafesearch.com
Google Chrome
Open your browser and tap Alt+F.
Select Settings and then scroll down.
Click Show advanced settings.
Click Reset settings.
Click on the Reset button.
In non-techie terms:
You need to know that other undesirable programs, e.g. adware and potentially unwanted programs might be installed on your computer as well. Of course, you might not even know that, so we suggest scanning the system with a trustworthy scanner immediately after you get rid of Search.funtabsafesearch.com using our instructions. An automatic tool will find all the threats for you and then you could remove them either manually or automatically.