Do you know what Search.funsecuritytabsearch.com is?
We have recently received complains about a search engine called Search.funsecuritytabsearch.com. Our malware researchers analyzed it and it turns out that it is not a search engine, but a browser hijacker because of its deceptive dissemination practices. You have to remove it because it is designed to enter your browser without authorization and replace its homepage. Its search results are apt to feature shady promotional links that make its developers money. This fake search engine is all about making money and has nothing to offer to the end-user.
Security analysts at Spyware-techie.com have found that this hijacker comes with a dedicated browser extension called FunSecurityLab for Google Chrome and Mozilla Firefox. When you install this extension it modifies your browser's settings and changes the homepage address to Search.funsecuritytabsearch.com. The whole point of this is to force you to enter search queries in its search box. FunSecurityLab is featured on a website called Funsecuritytab.com which hosts the download for both web browsers. Nevertheless, it is entirely possible to bundle this extension in a software bundle and distribute it on several freeware websites. However, our researchers yet to find any cases of this, but they say it is plausible nonetheless.
We have received reports form users saying that this hijacker replaces the homepage automatically because you cannot deselect it when installing FunSecurityLab. Also, it is claimed that this extension will protect your computer while you browse the web which is not true. Therefore, we conclude that this extension and its search engine are undesirable, but let us take closer look at Search.funsecuritytabsearch.com in particular.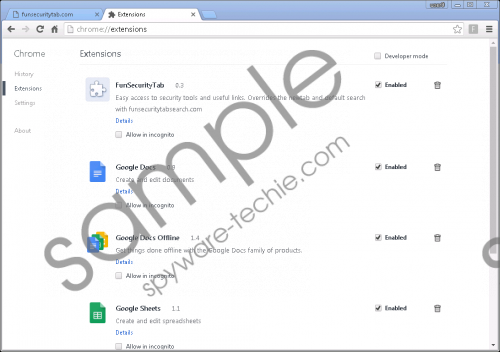 Search.funsecuritytabsearch.com screenshot
Scroll down for full removal instructions
At first glance, Search.funsecuritytabsearch.com looks like any other small-time search engine that features links to several social network websites, online stores, and so on. However, it is not legitimate at all. Our researchers say that it was created by Imali Media, a malware developer that creates browser extensions and pairs them with browser hijackers. We have extensively written about many of its previous releases that include FunMediaTab, FunTVTab, SocialNewPage, Snjsearch.com, and Search.internetquickaccess.com. Therefore, it is evident that Search.funsecuritytabsearch.com comes from a developer that is in the online advertising business. Nevertheless, it is not as innocent as it seems.
Our security analysts have noticed that like its counterparts, this particular browser hijacker is also set to redirect the entered search queries to Yahoo.com that displays modified search results. These search results feature additional promotional links from Imali Media, so they are not to be trusted. The promoted links generate advertising revenue when clicked, so it is in the interest of this hijacker's owners to make sure that the links are as relevant and appealing as possible. Still, this does not hold back the owners from promoting shady websites and the content of such websites is usually of questionable safety and legitimacy.
Search.funsecuritytabsearch.com is set to collect non-personal information automatically to determine which promotional links should be shown to you. So it collects information that includes but is not limited to search queries, browsing history, IP address, Internet Service Provider, browser type, and so on. Additionally, personal information can also be collected but only on a voluntary basis, that is, if you contact the owners via their provided method and disclose the information on your own accord. We are of the opinion that you should disclose any information to a company such as Imali Media because it will only use it to make money.
In summary, Search.funsecuritytabsearch.com is a browser hijacker developed by Imali Media and it purpose is to hijack your web browser's homepage and make you use it and, consequently, view its of its shady promotional links. It will also collect information about you to increase its revenue. So if you want to delete it, ten consult the guide below. It is a simple matter of removing the browser extension and the homepage will be reset to the original.
How to remove this hijacker and its extension
Google Chrome
Simultaneously press Alt+F.
Go to More tools and select Extensions.
Find the add-on and remove it.
Mozilla Firefox
Simultaneously press Ctrl+Shift+A.
Choose Extensions.
Find the extension and remove it.
In non-techie terms:
Search.funsecuritytabsearch.com is a browser hijacker that comes with a browser extension called FunSecurityLab. The extension sets Search.funsecuritytabsearch.com as the homepage address of Chrome and Firefox, thus forcing you to use it for searching for information online. This hijacker has also been set to collect information about you to increase the revenue generated from online promotions. You should remove this hijacker because it can open up your computer to questionable content.