Do you know what Search Expanse is?
You may be surprised to learn that Search Expanse is actually an adware-type program even though it appears to be a simple browser extension dedicated to providing you with a search engine with the ability to customize the search page. We suggest removing this application because its search results can present you with unreliable promotional links. Our malware analysts have tested two versions of this program and concluded that both of them work in a similar manner. However, there is a third version, perhaps even more malicious than the other two. In this short description will give you the most relevant information about this program which will prove to you that it is a threat to your computer.
Our malware analysts have found that Search Expanse was created by an adware developer known as SuperWeb but its files have been signed by a company called Afford Time. It appears that SuperWeb has shifted from releasing adware, such as High Stairs, Oasis Space, and Travel Output to applications to programs such as Search Expanse and Trendio Ads. Indeed, this company has already started producing clones, and there is no doubt that we will see more of them in the near future.
While collecting information about this adware, we found that Search Expanse has a dedicated distribution website at Searchexpanse.com which states that this program will present you with great search results and help you become more productive. Moreover, this adware is featured on the Chrome Web Store. The fact that The Chrome Web Store hosts its download is a worrisome development because it has the ability to reach a wide potential user base. The last distribution channels are software bundles. We have received information that there is a version that is distributed using bundled software. Its developers could have made arrangements with some third parties to include Search Expanse with their software. Unfortunately, we do not know where this adware's bundles are featured. However, it is clear to see that this program comes from a shady background. Research has shown that it was created by SuperWeb LLC, and adware developer is known for creating potentially dangerous ad-supported programs.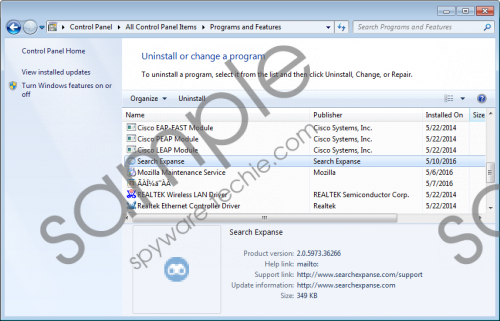 Search Expanse screenshot
Scroll down for full removal instructions
When you install Search Expanse on your browser, it will hijack its homepage, new tab page and search provider. Before agreeing to add this program to your browser's list of extensions, you should read what it can do in the pop-up window. This window states that this browser extension can "Read and change all your data on the websites you visit," "Communicate with cooperating websites," "Change your search settings to search.searchexpanse.com," and "Detect your physical location." So not only can it change your browser's search settings, but also collect information about you and your browsing habits and identify your location.
Search Expanse's EULA states that this application can display third-party advertisements. This document goes on to say that the third-party content may include "search results, APIs, links, information, websites, web pages, services, claims, promotions, offers, statements, data files, images, graphics, software, videos, music, photographs, sounds, or other content displayed." However, testing has shown that it does not show ads in the form of coupons, pop-ups or banners. Nevertheless, it seems that this program may show advertisements in the search results of Search.searchexpanse.com that replaces the homepage and other settings mentioned above. Search.searchexpanse.com is not a search engine in its purest form because it redirects all search terms to Yahoo.com. So, actually, you are using Yahoo.com that features customized search results that may include potentially malicious links because SuperWeb in not known for its reliability.
In closing, Search Expanse is an ad-supported application whose developers claim that it can help you make browsing the web more efficient if you use its featured search engine. For the time being, this adware does not show advertisements in the way we are used to seeing ads (pop-ups, coupons.) However, the search results of its search engine may show promotional links that come from unknown third-parties. Therefore, we highly recommend that you remove this browser extension. Make sure to check the Control Panel and your browser's list of extensions for this program to determine which version you have and to get rid of it in its entirety.
Uninstall this application from Control Panel
Windows 10/8.1/8
Right-click on the Start menu located on the Taskbar.
Go to Programs and Features.
Locate the undesirable software and right-click on it.
Click the Uninstall button.
Windows 7 and Vista
Click Start.
Select Control Panel.
Click Uninstall a program.
Locate the undesirable software.
Click Uninstall.
Windows XP
Press the Windows Key.
Go to Control Panel and select Add or Remove Programs.
Find the adware and click Remove.
Remove the browser extension
Microsoft Internet Explorer
Launch the browser and press Alt+X.
Click Manage Add-ons.
Click Toolbars and Extensions.
Find the add-on and remove it.
Mozilla Firefox
Launch the browser and press Ctrl+Shift+A.
Select Extensions.
Find the plug-in and click Remove.
Restart the browser.
Google Chrome
Launch the browser and press Alt+F.
Select More tools.
Click Extensions.
Find the adware.
Click Remove.
In non-techie terms:
Search Expanse is a new adware by the infamous SuperWeb LLC. This application has several versions. The most widely available one is for Chrome only. However, a bundled version of it is compatible with Firefox and Internet Explorer. The bundled installer has to be uninstalled from the Control Panel and the browser separately. This program is set to display advertisements that come in its search engine's search results. This search engine is set to replace the homepage, new tab page and search provider. So you need to delete this app to get your previous settings back.