Do you know what Search.emaildefendsearch.com is?
If you find Search.emaildefendsearch.com set as your default search provider, there is a great chance that you have downloaded Email Defend, even if you do not know this. Although our researchers did not find this suspicious, potentially unwanted program to travel using illegal methods or disguises, it is possible that some users will download it by accident. Regardless of how you acquire this program, we suggest deleting it from your web browsers (Chrome and Firefox) as soon as possible. Needless to say, we advise removing Search.emaildefendsearch.com as well. If you wonder why this search provider is not considered reliable and requires removal, you need to read this report.
The suspicious Email Defend is a product of StarGlobe LLC, and it is very similar to RealCoolMovies. We are familiar with this browser extension because it is associated with Search.realcoolmoviessearch.com. This search engine is identical to Search.emaildefendsearch.com, and both of them were created by IMALI - N.I. MEDIA LTD. As you might have found yourself, neither of these search tools provides original search results. Instead, they redirect to plusnetwork.com, search.yahoo.com, or other third-party search engines. Unfortunately, you could be exposed to unreliable search results, and this is exactly why you should remove Search.emaildefendsearch.com from your browsers. Although this search tool can provide easy-access links to seemingly legitimate websites, you need to delete it to avoid links routing to sites representing malicious and misleading content.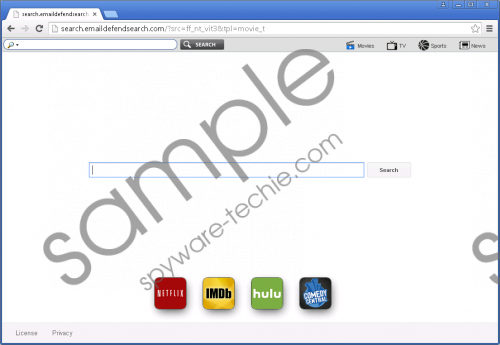 Search.emaildefendsearch.com screenshot
Scroll down for full removal instructions
Many users identify and remove Search.emaildefendsearch.com as a browser hijacker. This is because this search tool modifies the default search provider on Chrome and Firefox browsers seemingly without permission. Although it is unlikely that Search.emaildefendsearch.com will come out of nowhere, we do understand your concern, especially if you use Google Chrome. It appears that Email Defend can change Chrome settings and make New Tab – which represents Search.emaildefendsearch.com and Email Defend – the default startup page. This is why you might think that your Chrome homepage was modified when that is not the case. Of course, this does not change the fact that both the search tool and the browser extension should be deleted from your browsers.
We offer two different removal options: manual and automatic. If you are experienced, and you know what you are doing, you might be able to succeed with manual removal. This option is not suitable for users who lack experience because Search.emaildefendsearch.com can enter your PC packaged with malware. While the removal of Search.emaildefendsearch.com is not difficult, we cannot guarantee that other infections will be equally as straightforward as this suspicious search tool. If you do not trust your own skills, install an automated malware detection and removal tool.
Removal Guide
Remove from Internet Explorer
Simultaneously tap Alt+T.
Select Manage Add-ons and move to Toolbars and Extensions.
Disable the unwanted add-on.
In the menu on the left click Search Providers.
Select the preferred search provider and Remove the unwanted provider.
Click Close and restart IE.
Remove from Mozilla Firefox
Simultaneously tap Alt+T.
Select Add-ons and open the Extensions menu.
Remove the undesirable add-on.
Tap Alt+T and click Options.
In the Search menu Remove the unwanted search provider.
Restart Firefox.
Remove from Google Chrome
Simultaneously tap Alt+F.
Click More tools and select Extensions.
Click the trash button next to the unwanted add-on and select Remove.
Move to the menu on the left and click Settings.
Under Search click Manage search engines…
Set the preferred search provider and click X on the URL of the search provider you wish to delete.
Click Done and restart Chrome.
In non-techie terms:
Search.emaildefendsearch.com is not a search tool you should trust. This search provider does not offer reliable services, and easy-access links provided via it are not worth the risks of facing misleading search results. You might find Search.emaildefendsearch.com deleted after you remove Email Defend, but it is most likely that you will need to replace your default search provider manually. The instructions above show how to restore your browsers, but we also recommend installing an authentic security tool to get rid of any remaining threats, as well as to guard your operating system.