Do you know what Search.easyclassifiedsaccess.com is?
It is crucial that you download reliable browser extensions; otherwise, Search.easyclassifiedsaccess.com and similar infections could slither in. This search provider is identified as a browser hijacker, and, as the identification suggests, it hijacks browsers without permission. Our research team has found that all popular web browsers, including Internet Explorer, Chrome, and Firefox, could be targeted by this threat. It is not clear whether this hijacker can corrupt different browsers at the same time, but, if that happens, you will need to remove Search.easyclassifiedsaccess.com from all of them. Although this infection deserves removal simply because it enters illegally, there are other reasons for you to delete it as well.
Have you analyzed the Privacy Policy at search.easyclassifiedsaccess.com/home/privacy? If you had, you would know that this hijacker can collect personal information and, what's worse, share it with third parties. Search.easyclassifiedsaccess.com uses tracking cookies (including third-party cookies) to collect information about your activity, and personal details could be leaked as well. If you do not delete the hijacker from your operating system, unfamiliar parties might continue spying on you, and this could lead to serious security issues. Another threat you risk facing is misleading advertising. As you might have noticed already, Search.easyclassifiedsaccess.com shows the search results of Yahoo Search. Unfortunately, these search results are likely to be combined with advertisements, and we do not recommend clicking on them. In fact, the only thing we recommend is deleting the hijacker.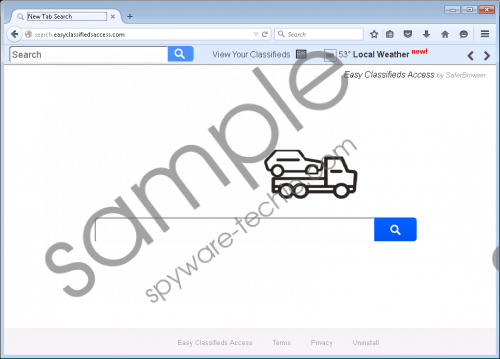 Search.easyclassifiedsaccess.com screenshot
Scroll down for full removal instructions
Since Search.easyclassifiedsaccess.com does not have an official installer, it is possible that it will be downloaded onto your computer along with malware. The installer of this hijacker could be silent, and this signals that malicious programs have a security backdoor that can be used to enter your operating system. Although it is difficult to say which malicious programs you might have to remove along with Search.easyclassifiedsaccess.com, it is very likely that you will find the Easy Classifieds Access add-on. As we have found, the clones of the hijacker (e.g., Search.myspeedtestxp.com, Search.myclassifiedsxp.com) travel packaged with browser extensions as well, and it is unlikely that Search.easyclassifiedsaccess.com will be any more original. Use a trusted malware scanner to find which threats you need to delete.
If you are deciding between manual removal and automatic removal, we can assure you that the latter option is the more beneficial one. If you install a legitimate antimalware tool, you will have the malicious Search.easyclassifiedsaccess.com deleted along with all other threats. Moreover, all security patches will be fixed, and your virtual security will be protected, which means that malware will not get a chance to slither in again. If you want to try removing Search.easyclassifiedsaccess.com manually, use the guide below. Note that the comment section below is open to all questions.
Remove Search.easyclassifiedsaccess.com
Remove from Internet Explorer
Tap Alt+T and select Internet options.
Click the Advanced tab.
Click Reset.
Confirm and restart the browser.
Remove from Google Chrome
Tap Alt+F and select Settings.
Click Show advanced settings.
Click Reset settings.
Confirm and restart the browser.
Remove from Mozilla Firefox
Tap Alt+H and select Troubleshooting Information.
Click Refresh Firefox.
Confirm and restart the browser.
In non-techie terms:
Search.easyclassifiedsaccess.com is a threat that requires removal. This infection can slither in without permission; however, even if you let it in yourself, you have to delete it as soon as possible. Although this hijacker represents seemingly authentic Yahoo search results, they are unreliable because they can be modified. What is even more disconcerting is that the hijacker can record and leak your private information. Due to this, we suggest removing Search.easyclassifiedsaccess.com as soon as possible.