Do you know what Search Defender Live is?
Search Defender Live is a Chrome extension that clearly comes across as a potentially unwanted program. It is important to understand that such things like Search Defender Live do not enter your system behind your back. It is very likely that you download and add this extension to your browser willingly. If you are not aware of such actions, you clearly need to review your web browsing habits.
Luckily, removing Search Defender Live is not complicated. Simply scroll down to the bottom of this description and then use the manual removal instructions to delete the app.
One of the reasons we can seldom call browser extensions and other apps like Search Defender Live actual threats is that they do not hide their presence. You can even find the official homepage for Search Defender Live, too. The site is located at searchdefenderlive.com, and there, you can find more information on the extension. It says that Search Defender Live "provides you with a security focused search experience." It also says that your search is reset to Yahoo! Search from your browser's search bar "along with safety indicators on sites that are safe on your search results page."
So, technically, Search Defender Live should help you avoid various threats when you browse the web. However, it also modifies your default search engine settings, so if you do not add Search Defender Live to your browser willingly, this sudden modification may take you by surprise. That is why browser extension are often confused with browser hijackers. Browser hijackers modify your browser's settings behind your back. Extensions do not do that, but users often are negligent about the apps they download and the extensions they add. As a result, they are not aware of the modifications they have authorized themselves.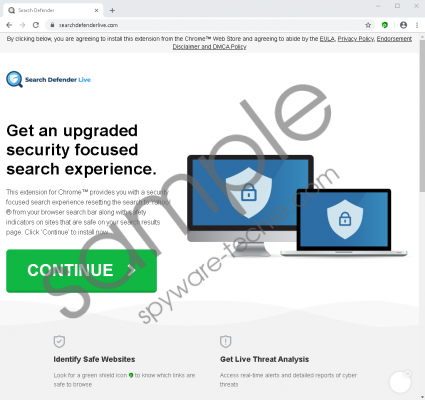 Search Defender Live screenshot
Scroll down for full removal instructions
Here you might say that you do not remember installing Search Defender Live on your browser, and that you have never intended to have this app. Well, that is also plausible. We have to remember that the official websites are not the only distribution sources for such apps. They can also come bundled with other software or through redirects. For instance, you might open some website that displays a lot of pop-up windows. One of those pop-up windows may redirect you to a page that automatically adds Search Defender Live to your browser. Even if the prompt is up, you might miss it, accidentally clicking the "Yes" button, when you agree to add Search Defender Live.
So, in the end, the truth is that you authorize this application, and you allow it to enter your computer. And since the app gets all the permissions from you, it can read your browsing history, change your search settings, and display commercial content.
Some users might say that if Search Defender Live provides everyone with safe search content, why shouldn't we use it? Well, it's really up to you whether you want to keep this app or not. But why would an application employ a third-party search engine (like Yahoo! Search) if it's that good? Why does it need another service? The truth is that while Search Defender Live is not a malicious infection, it could still expose you to potentially harmful content. Also, the app might be quite annoying, considering it monitors your web browsing habits. Therefore, the sooner you remove Search Defender Live from your browser, the better.
You can get rid of Search Defender Live by deleting the extension via your browser's settings. For that, you can find the manual removal instructions below. However, if you think that there might be more unwanted applications on-board, it is always recommended to run a full system scan with a licensed antispyware tool that will help you terminate all the potential threats at once.
Please bear in mind that your cybersecurity should be one of your top priorities. Of course, Search Defender Live cannot destroy your system or steal your personal information, but such small apps might be easily exploited by malevolent third parties, and then a dangerous malicious infection would be only one click away.
For more information, do not hesitate to leave us a comment. Our team is always ready to assist you.
How to Remove Search Defender Live
Open Chrome browser and press Alt+F.
Click More tools and go to Extensions.
Remove Search Defender Live from the list.
Restart your browser and scan your PC with SpyHunter.
In non-techie terms:
Search Defender Live is a browser extension that should improve your web search experience. However, users often add this extension to their browser accidentally. If you are one of them, please remove Search Defender Live today. You can do it manually or with an antispyware tool. Please be sure to employ safe web browsing habits so that similar apps do not enter your system in the future. Sometimes terrible cybersecurity issues start with something small and seemingly harmless.