Do you know what Search By myMusic Extension is?
Search By myMusic Extension is a questionable tool that may appear in your Google Chrome browser but you may not even realize it as there are no clear signs at first sight. Our researchers say that this is a totally redundant extension and you should not keep it in your browser if you want the best for your PC. In fact, this tool has been categorized as a potentially unwanted program, or PUP, but it is also possible that other malware researchers consider it as a browser hijacker. This PUP can actually modify certain browser settings, such as your default search provider. Please note that searching the web with this tool may put your system at risk even if indirectly. If you want to keep the integrity and security of your PC, you should not keep any potential or malicious threat on board, either. Thus, we suggest that you remove Search By myMusic Extension from your system as a good start to make it a "better place" to be.
This PUP comes from a growing family of identical and very similar tools like myMovie Start and myGames Search. In fact, we have seen a number of similar webpages, too, which promote other siblings from this family. These are mostly related to gaming, movies, and music, which are all in the top when it comes to keyword popularity. This extension can be found on "myappline.com/utilities/musicsearch" and "chrome.google.com/webstore/detail/search-by-mymusic/obblmbkdkkclcpimlbegbpokghbghegk" officially. Please note that installing this PUP is a bit tricky, to say the least. It can mislead you and make you believe that you need to install yet another PUP in order to finish your installation. Thus, you may end up on a page like "games.playzonenow.com/wim/lp/offer/special.php?t=myappline&ct=ye61strtrfnrml.118". We consider this very pushy and we certainly would not tolerate it at all. But this may not convince you to delete Search By myMusic Extension from your computer so let us tell you more.
If you do not remember installing this tool, though, chances are it sneaked onto your system while you were installing a freeware bundle. You need to know that bundles are a shady way to distribute software. In fact, most schemers use this method to spread all kinds of useless PUPs as well as malicious program installers, such as adware programs, Trojans, ransomware programs, browser hijackers, fake alerts, and more. Such a bundle can have a misleading installer that may sort of conceal the real content so that you will install every item by default. Next time you are dealing with a bundle, you should remember to choose the custom option if possible or read the license agreement. But now, you should delete Search By myMusic Extension and scan your PC with a reliable online malware scanner.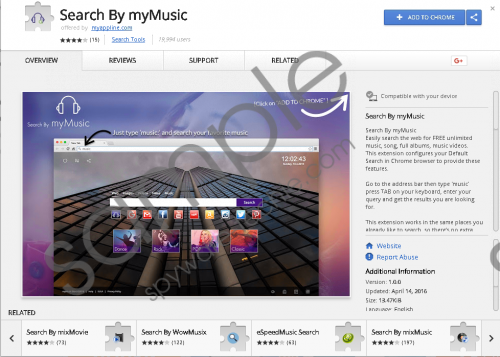 Search By myMusic Extension screenshot
Scroll down for full removal instructions
This browser extension makes changes to your Google Chrome browser to provide you with music-related searches using mymusic.gomusix.com when you type "music" in your address bar and press Tab afterwards. You should know that this promoted website contains potentially unreliable third-party ads. If you click on those, you may risk dropping malware infections onto your system or getting redirected to malicious websites. If you simply enter a search keyword in your address bar, this tool uses musix.searchalgo.com to forward you to a manipulated Yahoo search results page. Unfortunately, you may be introduced to questionable affiliated content there, such as advertisements and sponsored links. Again, if you click on these contents, you could open new tabs with questionable websites and even get scammed if you are that unlucky. This is why we think that you should remove Search By myMusic Extension from your computer.
We have placed our guide after this article. So, if you are ready to act, you can follow these steps and eliminate this annoying PUP from your computer. If you would like to use a secure PC, you should make sure that no threats remain on board whether just potential or downright malicious one. Most users may not be able to accomplish this manually and no wonder; there are millions of threats out there and god knows how many have managed to infiltrate your system and hide from your sight. Therefore, we recommend that you use a professional malware remover like SpyHunter to defend your PC against all possible threats.
Remove Search By myMusic Extension from your browser
Google Chrome
Open the menu by tapping Alt+F.
Navigate to More tools.
Select Extensions.
Locate the extension and click on the Trash can on the right.
Press Remove.
In non-techie terms:
Search By myMusic Extension is a new questionable Google Chrome extension from a team who has been releasing very similar potentially unwanted programs in the past year. There could be around two dozens of such useless tools spreading on the web. Unfortunately, apart from the official sources, these extensions can also be found in malicious free software bundles. This simply means that your system could be swarming with all kinds of threats right now just because you installed this PUP. This extension offers you search feature to find online music and music videos; however, you could be exposed to questionable third-party advertising while using this tool. We believe that it is best to remove Search By myMusic Extension from your computer if you want to keep it clean. It may be time for you to protect your PC with a proper anti-malware program to have peace of mind while in your virtual world.