Do you know what Search Awesome is?
Perhaps looking at the name of Search Awesome you might think that it is a browser hijacker, but our research team says it is an adware application. It means that with this application installed on your system, you will experience an onslaught of commercial advertisements. Adware programs are designed to make money as they promote third-party content. That might result in various computer security-related problems, so to avoid them; you need to remove Search Awesome from your computer today. Please scroll down to the bottom of this description for the manual removal instructions.
When we open searchawesome.net, which is supposed to be the main homepage for this application, we see that the page is very simple, and it does not even have a direct download link. It says that with Search Awesome on your computer, "when you search, Search Awesome shows you what your friends have shared." Supposedly, this program should "make search social," and all your web browsing sessions should be "safe and secure." However, when a program offers to improve your web browsing, but there is no direct link on its homepage, it should be more than obvious that something is not right.
If the program does not have a direct distribution source, it means that it employs other methods to reach target computers. According to our research team, Search Awesome tends to travel in software packages. It means that users download this application willingly, albeit unwittingly when they download some freeware application from a file-sharing website. That is why it is very important that you read all the steps in the installation wizard whenever you install programs downloaded from third-party sources. You may not mean it, but there could be additional apps included in the setup, and if you simply breeze through the steps, you will end up installing more programs than you need or want.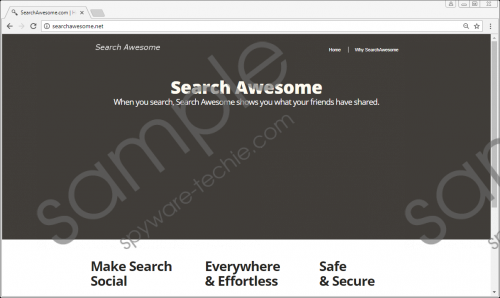 Search Awesome screenshot
Scroll down for full removal instructions
Search Awesome is a rather annoying application because it has a long affiliation history, and it is also good at changing itself. What we mean by the latter is that the program changes its signature and the website displayed in the list of installed programs almost daily. At the time of writing, its signature was technologiesommery.com, and the website address was chaumonttechnology.com. The program probably does that to avoid removal. And it is also a very good chance that these websites change on a daily basis because adware programs often have weak servers, and so when one website goes down, another replaces it. Meanwhile, as far as the affiliation history is concerned, this application is a direct clone of Wajam and Social2Search adware programs. So we practically can except from it the same things its predecessors did.
When this program gets installed on your computer, it affects Chrome, Firefox, and Internet Explorer. This means that no matter which browser you use, there is a very good chance to get affected by this adware application. The program will redirect most of your Google searches through searchpage.com to the Yahoo!Search engine in the US. For the rest of the world, the program adds more commercial advertisements on the Google Search page.
Now, why should we be concerned about it? The problem is that Search Awesome will not check whether the commercial content it promotes is safe enough. The content itself is embedded there by third parties, and so even cyber criminals could embed their links in those ads if they wanted to. Needless to say, that is a very thin chance, but it is there, and you should not overlook it. What's more, Search Awesome may indulge in personal data collection, in order to provide you with custom content, but that is also something you should not tolerate.
Luckily, it is really easy to remove Search Awesome from your system because the adware program has an entry in the list of installed programs. It means you can delete it via Control Panel. However, after manual removal, please consider scanning your system with a security tool of your choice. There might be some leftover files that have stayed behind, as well as other potentially unwanted programs you need to take care of. Do all you can to ensure your system's safety.
How to Remove Search Awesome
Windows 10 & Windows 8.1
Press Win+R and the Run prompt will open.
Type Control Panel into the Open box and click OK.
Go to Uninstall a program and remove the application.
Windows Vista & Windows 7
Open the Start menu and click Control Panel.
Select Uninstall a program and remove the app.
Windows XP
Click the Start button and select Control Panel.
Access Add or remove programs and delete the app.
In non-techie terms:
Search Awesome is an adware program that was created to display commercial advertisements. It makes money when it does that, and it does not steal that money from you. So the program is not a direct computer security threat. However, it is strongly recommended that you remove Search Awesome from your computer because the program could be misused by cyber criminals to promote their dangerous content. Thus, do yourself a favor and get rid of this app right now.