Do you know what Search-armor.com is?
A browser hijacker entitled Search-armor.com is known to be roaming the web nowadays. It is crucial to be aware of this devious program as its inner workings are known to be capable of making unauthorized changes to major web browsers such as Google Chrome, Internet Explorer, and Mozilla Firefox. These alterations will affect your daily online activities in a negative way, to put it mildly. While such functionality is one of the main basis that malware researchers at Spyware-Techie urge you to remove the hijacker in question as soon as it is found fully active on your PC, you must be notified that it could also prove to be quite dangerous. Upon further investigation, it has been discovered that this invasive piece of software could expose your personal computer to potentially harmful web content. Do not take any chances with Search-armor.com and execute its complete removal by using the instructions crafted by our team that we present below.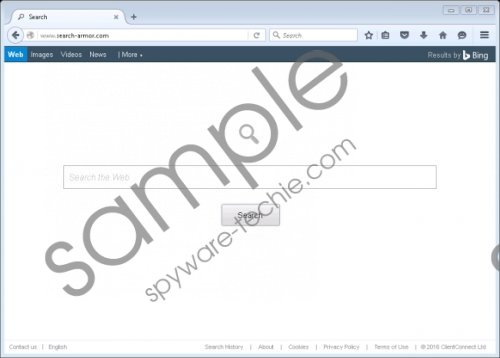 Search-armor.com screenshot
Scroll down for full removal instructions
Search-armor.com starts its intrusive functionality at the very same time that it enters your operating system. It embeds its files and modifies certain files and registry entries of Google Chrome, Internet Explorer, and Mozilla Firefox, which are known to be responsible for default settings of those browsers. These modifications result in an alteration of your default homepage and new tab page. This is extremely annoying and frustrating since you are not notified about any of these changes whatsoever. It is critical to understand that due to these alterations you will experience the web in a rather negative way because you will no longer have access to your default homepage and new tab page. This means that for as long as Search-armor.com is fully active on your personal computer you will be presented with a suspicious third-party web page as your new tab pages instead of a blank one that majority of users are used to. Virtually the same thing will happen in regards to your homepage as you will no longer have access to a site of your preference because you will be forced to use the newly appointed homepage whether you like it or not. It should be quite obvious that Search-armor.com is an application that should not be tolerated under any circumstances. The only way that you can surely restore the default settings of your web browser is by executing a complete removal of this browser hijacker by following the instructions that we present below.
On top of such invasive functionality, Search-armor.com could also prove to be potentially malicious. This could happen if you chose to use the devious search box that is presented on the website that is set as your default homepage. This is so because you could be presented with modified results that could prove to be hosting redirect links, meaning that you could end up on suspicious and in some cases potentially malicious websites. Even though such results are not an often occurrence, it remains a possibility that could have devastating outcomes because you might be taken to sites that are running an arbitrary code execution exploit, meaning that just landing on them could be more than enough to get your PC infected with some other malicious piece of software. It goes without saying that this hijacker is a major virtual threat. Make sure to execute a thorough removal of Search-armor.com as soon as possible. If you fail to do so, you will leave your computer at constant risk of being infected with other potentially even more dangerous programs.
A removal of Search-armor.com should not be taken lightly. Take your time and execute each step carefully. This is paramount since just a few leftovers due to an incomplete removal could be used in intrusive ways. For instances, there is a possibility that a couple of traces linked this hijacker could be more than enough to silently restore it. In other cases, an incomplete removal could mean that the changes established by Search-armor.com remained in full tact. All of this can be easily avoided by double-checking your operating system for potential leftovers associated with this invasive application once you are done with the manual removal.
How to remove Search-armor.com from your personal computer
Open the File Explorer.
Navigate to C:\Users\[your username]\AppData\Roaming\Mozilla\Firefox\Profiles\[unique Mozilla profile ID].
Find a file entitled prefs.js and then delete it
Navigate to C:\Users\[your username]\AppData\Local\Google\Chrome\User Data\Default.
Find and delete files that called Web Data, Secure Preferences, and Preferences.
Click the Windows button.
Type regedit into a search box and then tap Enter on your keyboard.
Navigate to HKEY_CURRENT_USER\Software\Microsoft\Internet Explorer\Main.
Right-click a registry value called Start Page and then select Modify.
Replace the undesirable URL with a new one of your choice and then click OK.
In non-techie terms:
A complete removal of Search-armor.com should not be delayed under any circumstances. If you happen to find manual removal a bit too complicated make sure to follow the removal instructions that we present below. By following these instructions you will be able to delete this hijacker in an automatic way.