Do you know what Search Adventure is?
Search Adventure is a useless browser extension that only seems to affect Google Chrome. According to our researchers, this unreliable search engine may emerge in your browser when a browser hijacker manages to infiltrate your operating system. Reports and our experience show that this hijacker can enter your computer mainly through alternative and rather questionable routes. It is quite seldom that computer users download such tools using the official sources – if there are any at all. Instead, they let this infection on board along with other malware threats via malicious bundles, third-party installers. This means that this browser hijacker may only be the tip of your "malware-berg." We suggest that you remove Search Adventure before you land on malicious websites or something worse happens by engaging with content displayed by this browser extension. But we also advise you to go on and eliminate all the possibly risky applications.
There are a couple of channels for this browser hijacker to appear on your computer. These include official ones as well. It is worth mentioning them even if we do not believe that too many users are infected this way. You can find the promotional website at searchadventure.net. This browser extension can be directly installed with the click of a button practically. Search Adventure can also be found in the Chrome web store (chrome.google.com/webstore/detail/searchadventure/oloaolgmbpcpgcihhklhodkdlopifppi). But do not think for a second that just because this application has a website and it is in the web store, it also means that it is reliable. Unfortunately, our experience shows that there are lots of potentially harmful extensions promoted in the web store; at least, until they get reported by users or reviewed by Chrome. It is possible that you will not find this extension there for too long. The counter in the store shows as "many" as one single user who has installed this tool so far. We hope it is clear that this certainly does not make it one of the most wanted applications.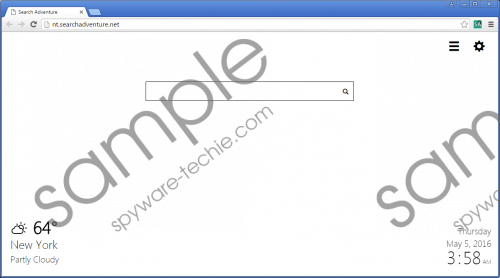 Search Adventure screenshot
Scroll down for full removal instructions
The truth is that it is more likely that this browser hijacker arrives in a freeware bundle alongside other malicious software installers. Letting such a lot onto your computer is a big mistake. But it is a mistake most users make at least once in their life time. Who would not like to install free software or download free movies from the web? Cyber criminals know this and try to exploit people who search for these free things. That is why they promote their malicious software bundles through file-sharing websites in the first place. And that is why these suspicious freeware and torrent sites are so dangerous to click on when they come up as the result of a web search. These bundles can pack several infections on the side of a legitimate free program. These infections can most commonly be adware programs, browser hijackers, and potentially unwanted applications. When such infections manage to sneak onto your computer, you will definitely notice their presence and operations. Since all of these threats may introduce you to unsafe web content, you should delete Search Adventure first and then, run a malware scanner to identify all other infections as well.
This browser hijacker promises you beautiful background pictures as well as time and weather-related widgets with on a search page. However, our version only had a blank page with a search box only; a rather empty page. It could be because of region-related issues, but we certainly did not see any background image or working widgets either. But all this does not even matter since you should not use this tool at all. This hijacker can spy on you and share the collected data with third parties, who may well be potentially unreliable or downright criminals. Based on this data, targeted advertisements or links can be sent to your screen hidden among the search results. It does not even matter that this hijacker redirects all your queries from the promoted nt.searchadventure.net search engine to a Yahoo search results page because it can modify those results to promote third parties. Clicking on these ads and links could take you to harmful webpages. You should not keep this tool in your browser if you do not want to fall prey to crooks and get scammed. We advise you to remove Search Adventure as soon as you can.
It is very easy actually to get rid of this useless extension since it only affects Google Chrome. By resetting your browser all setting changes will be undone and the infection gone. Please follow our instructions if you need help with this. In order to effectively protect your PC, it is worth considering the installation of a reputable malware removal tool, such as SpyHunter. If you keep this software up-to-date and refresh its definition database, you can have perfect protection from all known malware infections.
Remove Search Adventure from your browser
Google Chrome
Tap Alt+F and choose Settings.
Scroll down and click Show advanced settings.
Scroll down and click Reset settings.
In the confirmation window, press Reset.
In non-techie terms:
Search Adventure pretends to be an interesting choice of a browser extension that offers you amazing nature photos as background for your web searches in your Google Chrome browser. However, our researchers have found that this is simply a new browser hijacker. And, as such, your virtual security may be put at risk through the content this infection may provide you with. You should not trust anything coming from or through this search engine page. In fact, you should remove Search Adventure as soon as possible if you want to save yourself from the potential exposure to cyber criminals, their malicious websites, and their vicious scams. Since it is likely that there are other malware threats as well hiding on your system, make sure that all of them are erased; otherwise, your computer will not be safe for you to use. We recommend that you install a trustworthy anti-malware program if you want to protect your PC.