Do you know what Screenshared Ads is?
Screenshared Ads might be advertised as a useful tool for users who want to share their captured screenshots with others. Unfortunately, while it may seem the application is doing its job, you might start noticing huge amounts of suspicious advertising content that could be displayed while you browse. To make matters worse, these ads might be not only irritating but also potentially dangerous as they could originate from unreliable or even malicious web pages. Thus, keep it in mind that if you continue using the software, it may put the system at risk. Consequently, Screenshared Ads was classified as a potentially unwanted program. Naturally, our researchers advise not to waste any time with it and eliminate the application before anything goes wrong. To assist you with its deletion we placed a removal guide just below the article.
The potentially unwanted program has its official site (desktopscreenshared.com), but at the moment it seems to be unavailable, so we cannot say whether it has the download button to receive the software's installer. However, our researchers indicate the application could be distributed on other web pages, e.g. file-sharing sites. In other words, Screenshared Ads might be spread with bundled installers. Since some users skip reading the terms given on the setup wizard, they might install the threat without even realizing. If the same thing happened to you, we advise you to pay more attention during the installation process. You should always review suggested programs and deselect the ones you do not need. Another good way to keep the system clean is to employ a reputable antimalware tool.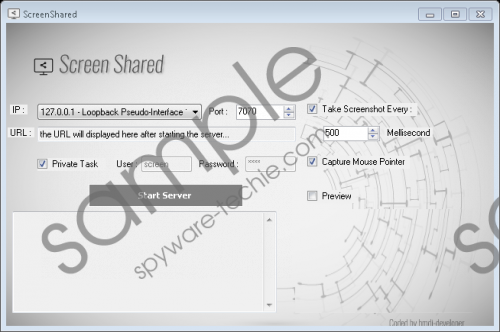 Screenshared Ads screenshot
Scroll down for full removal instructions
Once installed the application could look like a useful tool but over the time you might notice an increasing amount of irritating third-party advertising content. The ads could be displayed while you surf the Internet or use Screenshared Ads. As the software's End User License Agreement states "The Application may display, include or make available third-party content (including data, information, applications and other products services) or provide links to third-party websites or services." This means the displayed ads could redirect you to web pages promoting third-party software, services, etc.
As the potentially unwanted program's creators claim they do not take any responsibility for the ads or their promoted content, we may assume there is a possibility that some of the advertisements could be dangerous, e.g., they might encourage installation of similar threats, such as adware, browser hijackers, and so on. Some of them could even redirect you to sites with malicious content like Trojans, viruses, etc. Needless to say, that avoiding such content would be most advisable if you do not want to risk the computer's security. In such case, we recommend not just to stay away from the ads, but erase Screenshared Ads from the PC.
Luckily, Screenshared Ads has a working uninstall file. It makes it available to delete this potentially unwanted program simply from the Control Panel. Users who do not know how to do this can slide below this text and follow the available removal guide. The threat can be eliminated with a reliable antimalware tool as well, so if you do not feel like dealing with it manually, we advise you to employ such software instead. Nonetheless, if you need more assistance with the removal part or have some questions about the application, you can write us via social media or leave a comment below the text too.
Delete Screenshared Ads
Windows 8 & Windows 10
Launch the RUN (Win+R).
Insert Control Panel and click OK.
Select Uninstall a program.
Find the application and choose Uninstall.
Windows Vista & Windows 7
Open the Start menu.
Launch the Control Panel.
Select Uninstall a program.
Mark Screenshared and click Uninstall.
Windows XP
Click on Start.
Access the Control Panel.
Go to Add or Remove Programs.
Click the potentially unwanted program and press Uninstall.
In non-techie terms:
Screenshared Ads might show users unreliable advertising content from web pages that could be dangerous. Naturally, because of such working manner, the application was categorized as a potentially unwanted program. When you think about it, the tool seems rather useless too, since you can easily take screenshots with Print Screen button on the keyboard. Also, we have no doubt your operating system should provide an application to take more custom screenshots too. Therefore, our researchers advise not to take any risks with this tool and erase it from the computer. If you think you can deal with the program manually, we encourage you to follow the removal guide placed above. As for inexperienced users, we could suggest acquiring a reputable antimalware tool.