Do you know what Screenify is?
Screenify is a useless piece of software that is supposed to customize your screen brightness or let you choose from a couple of desktop modes. Unfortunately, these features do not work, but on the other hand, you can do all of this without this application. We would suggest you to delete the program from your computer, and if you scroll down, you will find the removal instructions below the text.
Even though it looks like the program does not work, it does other activities, such as displaying annoying pop-ups or gathering information about you. Undoubtedly, these advertisements come from a third party, and it leads you to their websites. Needless to say that these sites will have their own Privacy Policy statements or some of them might not even have such documents. Thus, the sites could be harmful to your computer, or they could invade your privacy.
It appears that the application could be spread bundled with other software. For example, it may have appeared on your computer when you installed a program that was downloaded from an unreliable source, such as a file-sharing or torrent site. Often, such web pages bundle their promoted installers with untrustworthy software, e.g. adware, potentially unwanted programs (PUPs), browser hijackers, and so on. Once you begin the installation, you should see that somewhere along the terms of the setup wizard there are some suggestions. However, if you do not pay attention to the terms and accept them all, these bundled programs, such as Screenify, get installed too.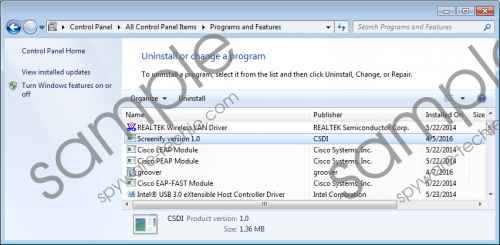 Screenify screenshot
Scroll down for full removal instructions
Even though our researchers confirmed that the program is very similar to a PUP called Hostify, the application was categorized as adware because it displays pop-ups with ads. This advertising content appears on user's screen every couple of minutes. It promotes various third-party services and products, including software. To protect your computer from malware or prevent any violation of your privacy, you should avoid the third-party ads. We cannot claim that you will be redirected to a malicious site if you click a pop-up, but there is such possibility, and if you do not have an antimalware tool it might be just a question of time when something goes wrong.
Also, you should know that the application is related to other PUPs, such as Sound+, Max Computer Cleaner, and others. Since these programs are often signed by a fictitious name, we can only assume that the same team could have developed them. Clearly, you should not trust software that comes from suspicious developers. Another thing you should know is that the adware might connect to the Internet without your knowledge, and it could download updates or other unreliable programs. The application might display a window with buttons for screen customization, but as you click them nothing appears to happen. Nevertheless, you can easily change screen brightness with the buttons on your keyboard, monitor or through the computer settings. Therefore, you should consider deleting this useless adware from your system.
In conclusion, the application does not look trustworthy, and users that are concerned about their computers' security should remove the adware. It is good to know that the program might be eliminated via Control Panel since it is one of the easiest ways to do that. If you need some guidance in this process, you can check the instructions provided below this text. Naturally, we can offer an automatic option for the adware's removal too. Simply, install the antimalware software and use its scanning tool. After the scanning is over, you will see a report on the security tool's findings and then you can choose to delete Screenify.
Remove Screenify through Control Panel
Windows 8 & Windows 10
Press Win+R to launch the RUN.
Type Control Panel and select OK.
Click Uninstall a program.
Locate the application and select Uninstall.
Windows Vista & Windows 7
Open the Start menu.
Select Control Panel.
Click Uninstall a program.
Select the adware and press Uninstall.
Windows XP
Open Start and select Control Panel.
Click on Add or Remove Programs.
Select Screenify and click Uninstall.
In non-techie terms:
Given that the application does not work, and you may have installed it unknowingly, it would be smarter to delete this application as you do not need it, especially when it is potentially harmful to your computer, too. In fact, it might be a good idea to remove it with a legitimate security tool, because the presence of this adware may suggest that there is more unreliable software on your system. The security tool could scan your whole system and find all possible threats, including Screenify.