Do you know what ScreenGlaze is?
ScreenGlaze is a potentially unwanted application that may be related to a variety of computer security issues, and so you shouldn't allow it to remain in your system. Remove ScreenGlaze from your computer once you get the chance to, and then run a full system scan with a security application of your choice to make sure that your system is absolutely safe and clean. Keep in mind that the likes of ScreenGlaze seldom travel alone, so if you have one unwanted application; chances are you have a bunch of others too.
Technically, ScreenGlaze is a screensaver application that gets installed on your PC automatically, once you install some associated freeware application. Our research team says that this unwanted program usually comes bundled with third-party downloaders, and it is often installed with Super Optimizer, PC Speed Up, MyPC Backup, and many other applications you could definitely do without.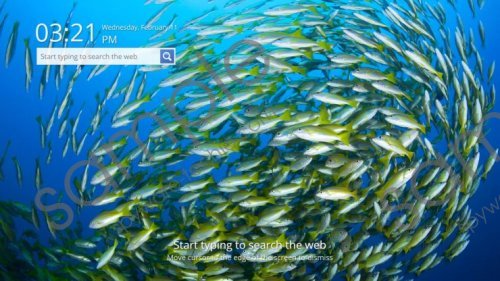 ScreenGlaze screenshot
Scroll down for full removal instructions
Once ScreenGlaze is set up on your system, it starts displaying regular screensavers after three minutes of inactivity. The problem is that these screensavers have a search bar that is supposedly there to help you search the web immediately in the time of need. However, the ScreenGlaze search bar should not be utilized because instead of redirecting you to Bing.com directly, first it sends you to Trovi.com, and then redirects you back to the Bing Search engine. Trovi is known as a malicious browser hijacker that collects information on your web browsing habits in order to generate financial profit.
From this, we can see that ScreenGlaze could be related to browser hijackers and other potentially malicious applications, so it should be a reason enough to shun this application and remove it at once. The good thing is that you can uninstall ScreenGlaze via Control Panel, so there is no need to panic. On the other hand, there is no guarantee that manual removal terminates all the potentially corrupted files that could be exploited by malevolent third parties later on.
Therefore, when you get around removing ScreenGlaze from your computer, after manual removal, be sure you scan the system with the SpyHunter free scanner. A full system scan will provide you with an extended list of potential threats that are currently installed on your PC (and you are bound to have some!). Consequently, you will be able to delete all the potential threats at once, and it will also give a chance to safeguard your PC against similar intruders in the future.
Manual ScreenGlaze Removal
Windows 8 & Windows 8.1
Slide the mouse cursor to the bottom right of your screen.
When the Charm bar appears click Settings and go to Control Panel.
Open Uninstall a program and remove ScreenGlaze.
Windows Vista & Windows 7
Click the Start menu and open Control Panel.
Go to Uninstall a program and remove ScreenGlaze.
Windows XP
Click the Start menu and go to Control Panel.
Select Add or remove programs and uninstall ScreenGlaze.
In non-techie terms:
ScreenGlaze is an application that displays screensavers when your computer goes to sleep. Unfortunately, it is associated with a number of potential system security threats, so it cannot be trusted. You need to remove ScreenGlaze as soon as possible, at the same time making sure that your computer is protected from similar threats.