Do you know what Screen Watch is?
Screen Watch is a piece of software that shares similarities with Muzik Fury, Seen On Screen, and TVHero applications, which are all considered to be potentially unwanted programs. Since it is very similar to all these listed applications, it was not hard at all for our researchers to realize that it is a potentially unwanted application as well. Screen Watch promises to enable users to "find and play all the best games" online, so we are not surprised at all that 233 183 users have already installed it from the Chrome Web Store. If you are one of them, or you have found Screen Watch installed on your computer without your knowledge, you should get rid of it today. It should not be very hard to do this because it is not sophisticated malware and, as research conducted by our experienced specialists has shown, it only affects one browser – Google Chrome. We will let you know why Screen Watch has been categorized as a potentially unwanted program in the next paragraph of this article, so you should continue reading this report!
We cannot confirm that Screen Watch is a very beneficial application because it has been observed that it only sets a new search tool and New Tab URL on users' browsers. Luckily, it is compatible with Google Chrome only, so your other browsers will be left untouched. Specifically speaking, it sets the modified version of mysearch.com on users' browsers. The page set does look like an ordinary search tool. It has a search box in the middle. Below it, you will find quick-access buttons opening Twitter, Amazon, Wikipedia, Pinterest, eBay, Instagram, and other popular websites. At the top of the page, you will also find a bar with buttons that allows accessing certain websites with the click of a button. For example, you could open websites with movie trailers and movie reviews. Even though this page looks completely harmless, it is not as innocent as it seems to be at first glance. If you type a search query in its search box, the chances are high that you will be presented with modified search results. Even though they cannot be recognized very easily, we are sure you will understand if you ever click on them – you will be taken to the website that does not contain any information you are searching for. We cannot guarantee that you will not be redirected to malicious websites as well. It is not too late to prevent serious problems from emerging – do not use the search tool promoted by Screen Watch for web searches. You will remove it from your browsers only by disabling the Screen Watch browser extension that has affected your browser.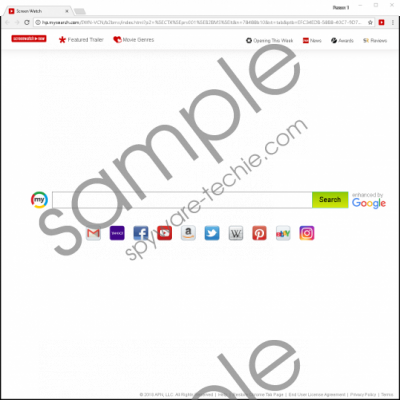 Screen Watch screenshot
Scroll down for full removal instructions
Some users download Screen Watch from yournewtab.com, whereas others get it from the official Chrome Web Store (https://chrome.google.com/webstore/detail/screen-watch/bkmjlcbkppjpiianckgofgolfojkdeep?utm_source=chrome-app-launcher-info-dialog). If you are sure you do not belong to any of these groups of users, it is very likely that Screen Watch has infiltrated your computer and then affected your Google Chrome browser without your knowledge. According to our specialists, this piece of software might be distributed bundled with other programs. Have you installed new software recently? If so, you must have installed Screen Watch together with other applications. If you are sure it is not the reason it has affected your web browser, you might remember clicking on ads promoting "useful software" recently. Such advertisements are often shown to users by advertising-supported applications (adware) they have active on their computers. If it turns out that you have adware on your system too, you will need to remove it too.
Fortunately, Screen Watch can be removed through the extensions' manager, so we are sure you will manage to get rid of it quite easily. If you do not know how to access the add-ons manager, follow our removal guide. If it is still not enough that you could get rid of Screen Watch, we suggest that you scan your system with an antimalware scanner instead of trying to eliminate the undesirable extension manually.
How to delete Screen Watch
Google Chrome
Open Google Chrome.
Tap Alt+F.
Click More tools.
Click Extensions.
Select Screen Watch and click the recycle bin button.
Click Remove.
In non-techie terms:
Do not install Screen Watch on your computer if you do not want to find your Google Chrome settings altered because this piece of software changes the default search tool and New Tab URL on those browsers it affects. The page set does look like an ordinary search provider, but it cannot be called fully reliable. As has been noticed by specialists, it might even provide users with the so-called modified search results. Some of these modified search results are even capable of redirecting users to dubious websites, so it is definitely not the best idea to keep the search tool set. You will get rid of it by removing Screen Watch.