Do you know what Screen Locker is?
Screen Locker is a serious computer infection that has to be removed from the system as soon as possible. To be more specific, Screen Locker is a typical Trojan, so do not be surprised when it starts performing various activities without your permission, and it will become impossible to use the computer. Luckily, Screen Locker is not that dangerous if compared to other Trojans; however, we are still sure that it will act in an undesirable way, for instance, you will notice that it is impossible to access Desktop together with all the files and programs. The only way to stop its annoying activities is to remove Screen Locker completely. Unfortunately, it will not be an easy task to get rid of this infection because it cannot be eliminated like other simple programs. We know that Screen Locker Trojan is rather prevalent and there will be many users who will find its removal difficult. Therefore, we have prepared instructions and provided them for you (see below the article).
Screen Locker is a really irritating infection because it opens the Internet Explorer window that covers the entire screen the moment it enters the system. It has been observed that the fake message that looks like a BSOD error is available on neterrors.info/security-breach.htm. Unfortunately, it will be impossible to close it, which is why so many users think that it is a genuine message that really informs about some kind of error, e.g. "mse.exe has expired on your computer. Plugin missing !!!" In some cases, users also start seeing a message which claims that malicious software, e.g. backdoor, has entered the system and it is now in danger. Even though these messages seem to be really convincing, the truth is that they only promote 1-888-31503446 and 1-866-978-8393 phone numbers. Even though it is said that your PC problems will be fixed after you contact MICROSOFT CERTIFIED TECHNICIANS by one of the given numbers, we do not recommend dialing any of them because they do not have anything in common with Microsoft. In addition, there is a very huge possibility that these numbers are premium-rate numbers despite the fact that they claim to be toll-free.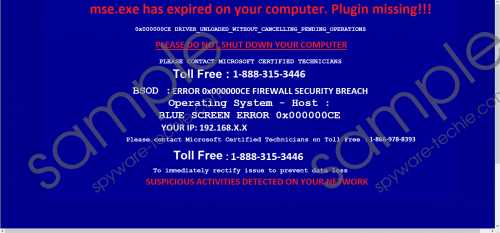 Screen Locker screenshot
Scroll down for full removal instructions
There are two main reasons why cyber criminals want that you make a phone call. First of all, there is a really huge possibility that they will ask you to make a payment for fixing your PC errors. In other words, they seek to obtain money from users. Secondly, they might ask you to provide personal information and then might sell it to other companies for a high price, which means that you might experience privacy issues. Finally, keep in mind that you might also get a huge telephone bill too because any of the promoted numbers might be premium-rate.
Research carried out by our team of specialists has also shown that Screen Locker will not only open a fake message, but will also apply changes to the system registry in order to disable explorer.exe and cmd.exe. The main reason why it applies these changes is the fact that it does not want to be removed. What is more, it has been noticed that it will keep connecting to the Internet, which means that there is a very huge possibility that it will update itself and start acting somehow differently in the future. Last but not least, Screen Locker is capable of launching together with Windows OS, so if you want to be sure that you will not encounter it ever again, you have to get rid of it. Unfortunately, this will not be very easy because Screen Locker disables the right button of the mouse too by creating the NoViewContextMenu Value in HKEY_CURRENT_USER\Software\Microsoft\Windows\CurrentVersion\Policies\Explorer and/or HKEY_LOCAL_MACHINE\Software\Microsoft\Windows\CurrentVersion\Policies\Explorer.
It is impossible to download this Trojan infection from some kind of official website because it simply does not have one. Therefore, we are sure that it travels together with other suspicious programs. In addition, it might be available on untrustworthy third-party web pages and users might download it after clicking on some kind of link or advertisement. Last but not least, you might infect your system with malicious software if you keep opening various spam email attachments. There is a number of other infections that seek to slither onto computers without permission. Luckily, you can protect your PC from harm. All you need to do is to install a security tool on the system. Surf the web very attentively as well because Internet is a dangerous place.
It will not be easy to remove Screen Locker from the system; however, it is a must to do that if you do not want to encounter a blue message ever again. We know that it is not very easy to do that, so we have provided instructions for users. You will find them below. Are you going to use them? If so, make sure that you follow them step by step.
Remove Screen Locker
Tap Ctrl+Alt+Esc simultaneously.
Click File and select New Task.
Type regedit into the box and click OK.
Move to HKEY_LOCAL_MACHINE\SOFTWARE\Microsoft\Windows NT\CurrentVersion\Winlogon and find the Shell Value.
Modify the Value Data by changing it to explorer.exe.
Find the AlternateShell Value in HKEY_LOCAL_MACHINE\SYSTEM\CurrentControlSet\Control\SafeBoot, HKEY_LOCAL_MACHINE\SYSTEM\ControlSet001\Control\SafeBoot, and/or HKEY_LOCAL_MACHINE\SYSTEM\ControlSet002\Control\SafeBoot.
Change its Value Data to cmd.exe and click OK.
Move to HKEY_CURRENT_USER\Software\Microsoft\Windows\CurrentVersion\Policies\Explorer and HKEY_LOCAL_MACHINE\Software\Microsoft\Windows\CurrentVersion\Policies\Explorer.
Right-click on the NoViewContextMenu Value.
Select Delete.
In non-techie terms:
Even though you do not see Screen Locker anymore, it does not mean that your system is 100% clean. Therefore, it would be really smart that you scan your system with an automatic malware remover after you erase this Trojan from your PC. Not all the tools will help you to detect other infections, so we suggest using SpyHunter for this matter.