Do you what Scarab-dy8wud Ransomware is?
If you got hit by Scarab-dy8wud Ransomware, you might not have noticed when the threat entered your operating system, when it encrypted your personal files, or even when it removed itself. The only good thing about this threat is that it should clear itself, which means that eliminating the infection overall should be much easier. Unfortunately, we do not have any good news when it comes to your personal files. If they were encrypted – and we discuss how to identify encrypted files further in the report – there isn't anything you can do to recover them. What about paying for the decryption tool that the attackers behind this infection are offering? Do not fall for their tricks, and do not let them blackmail you. Their propositions and promises are bogus, and the only thing you need to focus on is deleting Scarab-dy8wud Ransomware.
Are you familiar with the Scarab Ransomware family? Quite a few different infections belong to it, including Scarab-Good Ransomware, Scarab-Glutton Ransomware, and, of course, Scarab-dy8wud Ransomware. The names of these infections usually derive from the elements within the infections themselves, and in our case, it is the ".dy8wud" extension that is added to the corrupted files. That is not all. Scarab-dy8wud Ransomware also renames the files, and they might be hard to recognize. All in all, if the threat encrypts everything in its way, it is not hard to know which files were encrypted. Even if you remove the extension, rename the file, and use a different program to open the file with, you will hit a wall. That is because the infection ciphers the data within the file to make it unreadable. Even legitimate file decryptors cannot decipher the encryptor in this case (at least not at the time of research).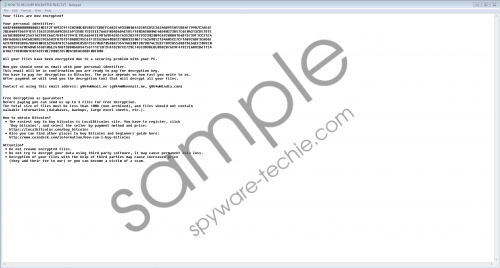 Scarab-dy8wud Ransomware screenshot
Scroll down for full removal instructions
While Scarab-dy8wud Ransomware encrypts files, it also disables Registry Editor and Task Manager, but these are enabled again once the attack is complete. This is also when the HOW TO RECOVER ENCRYPTED FILES.TXT file is created in every affected location. This text file represents the ransom note, and according to it, you need to pay Bitcoins to get a decryption key. Since there is no information about how much is asked from you, you might feel tempted to email g8k4w@mail.ee, g8k4w@keemail.me, or g8k4w@india.com. If you do this, be very careful with the information you receive from the Scarab-dy8wud Ransomware attackers. They might send you malicious links and malware launchers disguised as alleged decryption keys, or they could simply register your email address and use it later to scam you again. We do not recommend contacting cyber criminals or paying the ransom because that will not get you what you need. After all, cyber criminals are crooks.
Since Scarab-dy8wud Ransomware removes itself (for the most part), there shouldn't be much for you to delete from your operating system. Unfortunately, we cannot guarantee that the launcher and the copy created along with it would remove themselves successfully, which is why you need to inspect your system for these components too. We know where you should look for the copy file, but the launcher could be anywhere. If you do not think you can inspect your operating system yourself, an anti-malware program will be of great assistance. On top of that, your system's security is an issue, and the anti-malware program you choose should solve it for you. If your system is protected and your files are backed up, you will be fine in the future.
Delete Scarab-dy8wud Ransomware
Launch RUN by tapping Win+R.
Type regedit.exe and click to access Registry Editor.
Navigate to HKCU\Software\Microsoft\Windows\CurrentVersion\Run.
Delete the value that points to the location of the HOW TO RECOVER ENCRYPTED FILES.TXT file.
Delete all copies of the HOW TO RECOVER ENCRYPTED FILES.TXT file.
Launch Windows Explorer by tapping Win+E.
Type %APPDATA% into the quick access field and click OK.
Delete the osk.exe file that is the copy of the original file.
Delete the [random name].exe that launched the infection (the location of this file is random).
Empty Recycle Bin and quickly install a legitimate malware scanner.
Run a full system scan to check if leftovers exist.
In non-techie terms:
Scarab-dy8wud Ransomware is a threat that encrypts files, which means that it changes data to make them unreadable. The infection is silent, and you should not notice it when it invades the system. After execution, it should remove itself automatically, but there are no guarantees with this, and you must inspect your system for malware leftovers. You might be able to remove Scarab-dy8wud Ransomware manually using the steps presented above, but we suggest taking a different route. Instead, install an anti-malware program that will delete Scarab-dy8wud Ransomware and will also reinstate full protection to keep other threats away. You also need to think about file backups. If you back up your files, even if ransomware encrypts files on your PC again, you will have copies stored in safe backup.