Do you know what Scarab-Crypted034 Ransomware is?
Scarab-Crypted034 Ransomware is yet another computer infection from the Scarab Ransomware family. It means that we know what to expect from this threat, and there is always a chance that you can decrypt the affected files with a public decryption tool. However, the most important thing right now is to remove Scarab-Crypted034 Ransomware from your computer and then protect it from similar intruders. Therefore, read carefully through this entry, to find out how this infection spreads because it is possible to avoid ransomware programs, but users often miss the obvious signs.
So what are the signs that tell us about the oncoming ransomware infection? For one, we have to understand that Scarab-Crypted034 Ransomware and other similar ransomware often spread through spam email attachments and unsafe Remote Desktop Protocol connections. It basically means that users receive the ransomware installer files via common channels, and sometimes it is hard to discern these dangerous files from something genuine.
You might say that spam email attachments get filtered into the Junk folder, but that is not always the case. If you use an email service provider that has a less sophisticated algorithm, some of the spam emails might enter your inbox as well. What's more, the spam emails that distribute ransomware often are customized, and it looks like they were addressed at you individually. Sometimes it even seems that these messages were sent by a person and not some company.
Another thing about dangerous spam emails is that they often carry an urgent message. They might say something that will push you into opening the file without any second thought. However, if you do that, you would allow Scarab-Crypted034 Ransomware and other similar programs to enter your computer. The least you can do is scan received files with a security tool before opening them. This way, you would at least make sure that the file you are about to open is safe.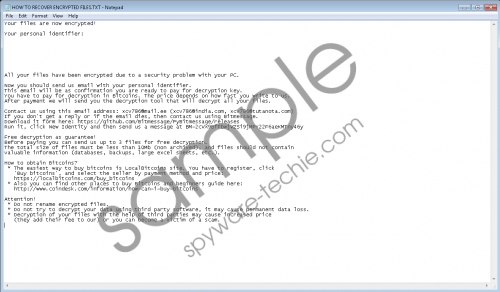 Scarab-Crypted034 Ransomware screenshot
Scroll down for full removal instructions
However, if you happen to launch the infection, Scarab-Crypted034 Ransomware will easily encrypt most of your files. Our research lab team says that after the encryption, this program drops a copy of itself in the %AppData% directory. The dropped file is an EXE file, and the filename is random. Aside from dropping the file, Scarab-Crypted034 Ransomware also creates a point of execution in the Registry, and this means that the program runs automatically whenever you turn on your computer.
It might also be a little bit complicated to remove Scarab-Crypted034 Ransomware manually because once the encryption is complete; the program deletes itself from the location of execution. That is to say if you launched the infection in the Downloads folder that launched file will be gone by the time all of the target files are encrypted. As far as we know, this program affects most of the files in the %AppData% directory, and if you do not have a file backup, in some cases, it might be really challenging to get those files back.
Of course, it might seem that Scarab-Crypted034 Ransomware gives you the chance to restore the files by acquiring the decryption key. The ransom note that this program drops into every affected folder has a lot to say:
Your files are not encrypted!
Your personal identifier:
<…>
All your files have been encrypted due to a security problem with your PC.
Now you should send us email with your personal identifier.
You have to pay for decryption in Bitcoins. The price depends on how fast you write to us.
After payment we will send you the decryption tool that will decrypt all your files.
Please note that Scarab-Crypted034 Ransomware was released back in 2018, and so, it is very likely that the program's server has long been dead by now. In other words, contacting these criminals would not solve anything.
Instead, remove Scarab-Crypted034 Ransomware following the instructions below and acquire a security application that would help you protect your system from harm. Also, you should not hesitate to address a professional technician in order to explore all the potential file recovery options. Only in the most extreme cases would you have to start accumulating your file library anew. However, the bottom line is that you have to be careful because it is always possible to avoid ransomware infections, and users miss that chance.
How to Remove Scarab-Crypted034 Ransomware
Remove all the HOW TO RECOVER ENCRYPTED FILES.TXT ransom notes.
Press Win+R and type %AppData%. Click OK.
Delete the random name EXE file from the directory.
Press Win+R and type regedit. Click OK.
Go to HKEY_CURRENT_USER\Software\Microsoft\Windows\CurrentVersion\RunOnce.
On the right pane, right-click the randomly named value and select to delete it.
Scan your PC with SpyHunter.
In non-techie terms:
Scarab-Crypted034 Ransomware is a dangerous computer infection that will lock up your files. This program will demand that you pay a ransom fee in order to restore your files. Please keep your money to yourself. You need to remove Scarab-Crypted034 Ransomware from your system and then learn how to avoid similar infections in the future. If you find the entire situation too challenging, don't forget that you can always address a professional who would help you deal with this infection.