Do you know what Scanfolder Disk is?
Scanfolder Disk is an application that promises to provide "a better understanding of disk space usage." According to our experienced specialists, its target group of users is those speaking Russian, so it should spread the most actively in Russian-speaking regions. Of course, it does not mean that it cannot show up on computers of those users who do not speak Russian. It seems that not all the users can explain why they have Scanfolder Disk installed on their computers, which suggests that this application can arrive on computers unnoticed. It is the first reason it has received a name "potentially unwanted program." We would like to say that it is the only reason it is called a PUP, but we would lie if we said so. Research conducted by malware researchers has clearly shown that Scanfolder Disk is not just a disk scanner – it might also perform other undesirable activities. Let's talk about what it is capable of first in the next paragraph, and then we will discuss in detail its removal.
At first glance, Scanfolder Disk seems to be a perfect application. It can scan selected folders and provide more information about certain folders and files. More specifically, it lets users know about duplicate files, the size of duplicate files, file extensions, and, finally, where files are located. Unfortunately, all these features still do not make it a decent application. Researchers have found evidence that proves that Scanfolder Disk is a typical potentially unwanted program. First, it connects to certain domains with malicious software. As you may suspect, it cannot do that without the Internet connection, so it uses the user's Internet connection and, consequently, might slow it down. Unfortunately, it is not the only reason it is better known as a potentially unwanted program for specialists. Research has also shown that this application might work as a bot for clicking advertisements. In most cases, undesirable applications perform this activity in the background to generate money to their developers, and it seems that Scanfolder Disk is no exception. Since ad-clicking bots need system's resources to perform this activity, users of older machines might also notice that their PCs work slower than usual. As can be seen, Scanfolder Disk might perform a bunch of undesirable activities, so there is no point in keeping it installed – it is still not a program that will act beneficially.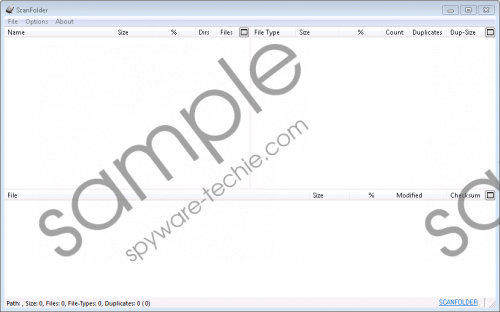 Scanfolder Disk screenshot
Scroll down for full removal instructions
What else makes Scanfolder Disk a potentially unwanted application is the fact that it might travel bundled in malicious software installers and, as a consequence, enter systems without the users' knowledge. It seems that the majority of users who discover this program on their computers do not know anything about its entrance, which suggests that bundling is the major distribution method used to spread it. You can be sure that Scanfolder Disk has been successfully installed on your computer if you can find its folder DiskScanner in %PROGRAMFILES%. Additionally, you could find two new tasks System Optimizer and Protection System in %WINDIR%\system32\tasks\microsoft if this potentially unwanted application has been installed on your computer. Since it does not have an uninstaller, you will have to remove its main folder with files and two tasks manually if you make a decision to get rid of it.
Although the majority of potentially unwanted applications can be deleted easily through Control Panel, Scanfolder Disk is not one of these programs – you will not find its entry in Control Panel. This means that users will have to remove its components one by one. The manual removal guide placed below this article will make it easier to erase it, but keep in mind that it can be erased with an automated malware remover as well.
How to delete Scanfolder Disk
Open the Windows Explorer (press Win+E).
Go to %PROGRAMFILES% and delete the DiskScanner folder.
Remove two tasks from %WINDIR%\system32\tasks\microsoft:
System Optimizer
Protection System
In non-techie terms:
Potentially unwanted programs usually pretend to be beneficial applications. Some of them might really work quite beneficially, but it does not mean that users can fully trust them or keep them installed on their PCs without fear because these programs have fallen into the potentially unwanted software category not without reason. That is, there is no doubt that they perform some undesirable activities. Potentially unwanted programs, although they usually look harmless, might also expose users to potential threats or cause privacy-related issues.