Do you know what SavingsMachine is?
SavingsMachine is a browser add-on which provides computer users with deals available online so that they can compare prices and find the best offers. The application is promoted at savingmachine.info and is compatible with Internet Explorer, Google Chrome and Mozilla Firefox. If you have installed SavingsMachine by mistake and have no intention of using this application, do not keep it on the PC. Remove SavingsMachine from the computer in order to stop it from monitoring you.
The application maintained by Internet Ltd. The company may collect some personally identifiable information, including your name and email address, which are recorded when you use the contact us option. Your credit card information is recorded by the company's payment processor. According to the privacy policy of SavingsMachine, the company does not store your credit card information.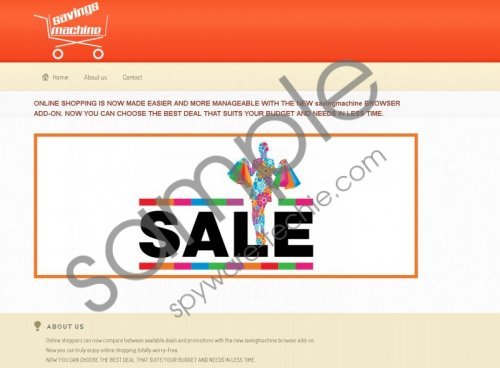 SavingsMachine screenshot
Scroll down for full removal instructions
After installing SavingsMachine, you may be invited to participate in the company's Threat community by using its Ironshield Antivirus. If this heuristic scanner detects malicious files, they are sent to particular servers for review. It is claimed that SavingsMachine and the scanner do not seek to obtain your personal inforamtion, but we recommend that you rely on reputable security tools instead of relying on questionable applications.
By installing SavingsMachine onto your computer, you agree to the fact that SavingsMachine does not endorse third parties by displaying their advertisements and links. It means that you interact with the pop-ups provided by SavingsMachine at your own risk. Third parties are governed by their privacy policies and terms of use, and, if you do not know the website but want to make an order or purchase, you should review its privacy policy. You should also keep in mind that third party websites may collect non-personally identifiable information, including your search terms, clicks, time spent on various websites, and the like.
As for the removal of SavingsMachine, below you will find our step-by-step removal instructions which should help you uninstall the program. In case you still receive SavingsMachine pop-ups, leave a comment in the comment box below so that our team can help you rid the browsers of the unwanted application. The sooner you remove SavingsMachine, the better, so act right now if you want to browse the Internet safely.
How to remove SavingsMachine
Windows Vista and Windows 7
Click Start.
Select Control Panel.
Click Uninstall a program.
Remove the unwanted application.
Windows XP
Click Start.
Click Control Panel.
Click Add or Remove Programs.
Uninstall SavingsMachine.
Windows 8
Press Win+R and enter control panel.
Click OK.
Select Uninstall a program.
Remove SavingsMachine.
In non-techie terms:
SavingsMachine is a browser add-on which displays online offers in order to enhance your online experience. Even though the application is available on its official website, it can be distributed by software installers; hence, you should always pay close attention to the installation process in order to prevent unreliable programs.