Do you know what Savez Ads are?
Savez Ads will present savings deals, alluring discounts, and other attractive offers. The question is: should you trust these ads? The malware analysts working in our internal lab do not think that this is a good idea. In fact, if you interact with the suspicious ads, it is most likely that you will call for more issues. The unreliable advertisements may present misleading surveys and unreliable software installers. Unfortunately, it is unlikely that it will be enough to delete Savez to ensure that all unreliable ads stop showing up. Savez Ads usually show up when computer users download software bundles, and these may carry a few different advert-supported programs at the same time. Of course, you need to delete all adware.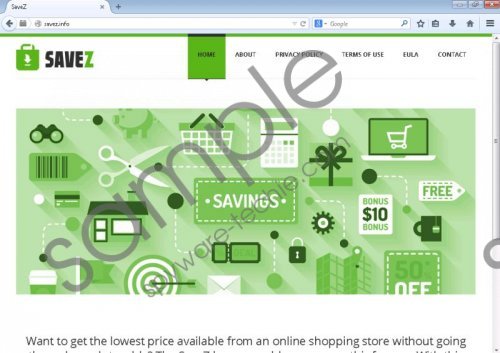 Savez Ads screenshot
Scroll down for full removal instructions
Computer users who are experienced with the advertisement-supported program may be already familiar with such apps as TakeShop, Foxwebber, or Giftssoft. Did you know that these programs present advertisements that are identical to Savez Ads? The names and the sites representing these programs may be different; however, we have no doubt that they are identical. The engine utilized for the creation of these applications is known as the Justplugit engine, and it is linked to hundreds and hundreds of programs that must be removed. Most of these programs you will be able to delete using the Savez Ads removal instructions. Of course, you can check the individual removal guides as well, and you can find them using the Search box found on the top-right corner of this page. You can also use the search feature to find information and removal advice regarding the infections installed alongside Savez. If the app has been installed onto your PC together with unrelated adware, it is unlikely that you will only need to remove Savez Ads.
It is not easy to remove Savez Ads, because the files of the advertisement-supported program are stubborn and are not deleted during the straightforward uninstall operation. We do not want to discourage you from removing the Savez Ads manually, because we are sure that many computer users have the knowledge to succeed. However, you must keep in mind that making errors is extremely dangerous, and so if you cannot guarantee that you will delete the running malware successfully, there is no doubt that you should consider installing automatic malware removal software.
Delete Savez Ads
Delete from Windows XP
Click the Start icon on the Taskbar and select Control Panel.
Double-click Add or Remove Programs and go to Change or Remove Programs.
Locate the undesirable application, click it once, and select Remove.
Delete from Windows Vista/Windows 7/Windows 8/Windows 8.1
Simultaneously click the Windows and R keys on the keyboard to launch RUN.
Type Control Panel into the Open box, click OK, and select Uninstall a program.
Right-click the application you want to remove and select Uninstall.
In non-techie terms:
Do not trust the Savez Ads, because they may introduce you to highly unreliable content. Forget the promises that the program has made, and get rid of it as soon as possible. Because the advertisement-supported program usually runs together with other unreliable programs, we are sure that you want to get rid of them simultaneously. To delete Savez Ads together with all other dangerous threats and to enable reliable protection, install the automatic malware removal software.