Do you know what SAveLots is?
SAveLots is not a regular browser extension which can be installed onto Internet Explorer, Google Chrome or Mozilla Firefox browsers. This one is an advertisement-supported application which can track your virtual activity and use the gathered information to present more enticing offers and advertisements. Even though the program may seem attractive at first, sooner or later you will need to delete SAveLots to ensure virtual security. As malware researchers have discovered, the removal of the suspicious program is the right move, and you should get rid of it right away. The article goes into detail why the program is unreliable and what removal obstacles you may face.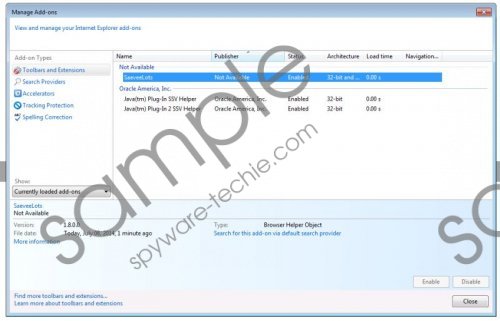 SAveLots screenshot
Scroll down for full removal instructions
If you are not completely sure that SAveLots is running on the PC, it is possible that you will recognize the application by a different name, like SaeveeLots, SaVeeLots or SSavELOts. These names are randomized to confuse both computer users and authentic malware removal software. Unfortunately, the web if flooded with applications alike, including SaveNewAppz, AllTubeNoAds and DiscountLocator. What is surprising is that most of these programs are distributed with the help of DomaIQ installers. You need to delete any software linked to them because they are incredibly unreliable. As our researchers have discovered, these installers hide behind fictitious java update and media player installers, so it is clear that they are unreliable. Unfortunately, adware creators use this deceitful trick because they have no other way to promote software. Note that savelots.net does not provide a working installer either.
Remove SAveLots as soon as possible to ensure that this advertisement-supported application cannot trick you into trusting fictitious offers and deals. Even though the extension may see harmless and useful, you need to remember that it serves third parties more than you, and so trusting the provided services may be even dangerous. In the worst case scenario, the produced offers may lead to the installation of dangerous malware, and so SAveLots removal should not be postponed for another moment. Use the guides below and delete the remaining components. Automatic malware removal software fits best for this task.
Delete SAveLots from the PC
Delete from Windows XP:
Navigate to the Taskbar, click Start and then Control Panel.
Double-click Add or Remove Programs and move to Change or Remove Programs.
Remove the undesirable application and get rid of other unfamiliar software.
Delete from Windows Vista/Windows 7:
Open the Start menu from the Taskbar and select Control Panel.
Move to Uninstall a program and right-click the one you wish to remove.
Select Uninstall and perform the same steps with other undesirable applications.
Delete from Windows 8:
Tap the Windows key to access the Metro UI menu and right-click to open a pane.
Select All apps and in the Apps menu click Control Panel.
Click Uninstall a program, find the one you wish to remove, right-click and Uninstall it.
In non-techie terms:
Advertisement-supported programs, PUPs, Trojans, rogue malware removers and other computer threats have different threat levels; however, none of them should be running on your personal computer. We advise having SAveLots deleted as well because this seemingly harmless program is actually an intrusive tool which schemers could use to manipulate you. Use the automatic malware removal software to remove SAveLots from the system, and you can do this using the guides below or the link provided in step 7.