Do you know what SaveDailyDeals is?
SaveDailyDeals is a browser plug-in for your Internet browsers, and, if you already have SaveDailyDeals on your PC but do not remember installing it, the odds that you have installed the application along with other software programs. SaveDailyDeals is known to be distributed by the Freedom Download Manager and is bundled with ArcadeParlot, PC Optimizer Pro, Browsersafeguard, Blitz Media Player, and the Yahoo! toolbar which can change the home page and search provider of the browsers to search.yahoo.com.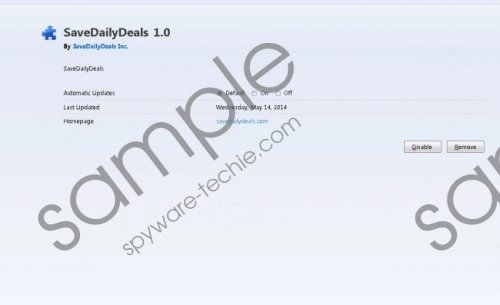 SaveDailyDeals screenshot
Scroll down for full removal instructions
The adware program is available at savedailydeals.com, where you can find information about discounts on various websites and access those websites with one click.
The SaveDailyDeals browser plug-in is aimed at providing you with online deals, coupons, discounts, and other shopping related information; however, this program may also display advertisements or web banners which are not related to your search terms and browsing interests. You may find pop-ups that offers you software updates, contests, quizzes, etc. You should be very careful with the pop-ups of SaveDailyDeals because the company does not endorse third parties by displaying their advertisements. Advertisements encouraging you to update your Internet browsers and media players may take you to scam websites, which you are provided with bundled installers asking you to install additional programs. If you want to prevent new adware programs, remove SaveDailyDeals from the computer as soon as you can and make sure that the computer is properly protected.
The SaveDailyDeals browser plug-in automatically collects some non-personally identifiable information, including the IP address of the computer, browser type, language settings, browsing history, your actions on various website, and information about your operating system. Moreover, the SaveDailyDeals plug-in may change some privacy-related settings on your browsers. According to the privacy policy of the application, information about you is not shared with other parties without your permission; nevertheless, bear in mind that the different advertisements and web banners can take you unreliable websites.
When it comes to removal, you have two options. First, you can try uninstalling the program. Second, you can implement a reputable spyware removal tool. We recommend that you choose the latter option because SaveDailyDeals can be eliminated from the computer by SpyHunter, which is a real-time malware and spyware prevention program. Use this software program if you want to have the system protected against various compute threats, including browser hijackers, Trojan horses, rogue anti-virus programs, and many other threats.
Below you will find our step-by-step removal instructions which should help you uninstall the adware programs; however, bear in mind that your operating system needs to be protected, so, do not hesitate to implement a reliable scanner afterwards.
How to remove SaveDailyDeals
Windows Vista and Windows 7
Click Start.
Select Control Panel.
Click Uninstall a program.
Remove the adware program.
Windows XP
Click Start.
Select Control Panel and click the Add or Remove Programs option.
Remove SaveDailyDeals.
Windows 8
Press Win+R and enter control panel.
Click OK.
Select Uninstall a program.
Remove SaveDailyDeals.
In non-techie terms:
After uninstalling the adware program, it is worth scanning the system to make sure that no harmful files are present within the system.