Do you know what Sale Planet is?
Sale Planet should be all about sales, shopping deals, discounts, and great offers. Unfortunately, it is unable to provide you with reliable content because the offers it injects are served via adware servers that could support anyone willing to pay for promotional services. As stated in the Privacy Policy, which you can access via saleplanet.net, third-party advertisers can inject ads when you browse the web; however, we do not know what kind of advertisers they are. Although there are plenty of reliable advertisers, many of them are schemers in disguise, and we do not want you facing them. Unfortunately, the ads controlled/created by unreliable parties might be the most attractive ones because they are designed to attract you, not to provide you with beneficial services or products. If you want to avoid this kind of content, you will remove Sale Planet from your Windows operating system without further delay. If you are in a rush, move to the removal guide below and run a malware scanner to see if your PC is clean.
Although you might consider Sale Planet a unique piece of software, we know that it has many clones, including Constant Fun, Astro Find, and Computer Pal. All of these ad-supported programs belong to the SuperWeb family, and they have almost identical-looking download pages. Of course, these download pages are irrelevant because they are not active and because most computer users download this adware using third-party installers. In fact, most users are unaware of these websites altogether. Nevertheless, even if you have installed this adware unknowingly, it should not take long for you to uncover it because the ads it injects are identified with tags, such as "Provided by Sale Planet." If ads show up without identification, it is possible that they are injected by other ad-supported programs, and you need to inspect them as well. Keep in mind that ad-supported programs are different. While Sale Planet is primarily used as an advertising platform, other ad-supported programs can be used to collect personal data or even directly expose you to malicious installers and devious scams.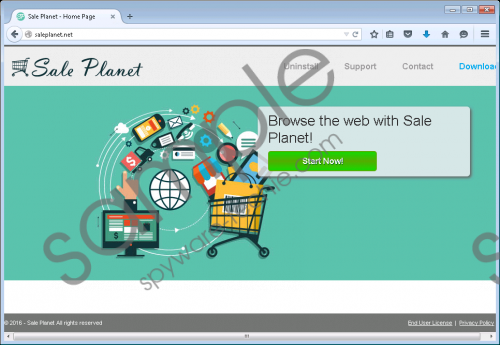 Sale Planet screenshot
Scroll down for full removal instructions
If you uninstall Sale Planet from your computer, the ads are likely to remain active because of the leftover extensions and other components. Sure you can erase the extensions, and that is not at all difficult, but can you eliminate all leftovers and erase the remaining computer infections, adware, and other strange programs? If you cannot, why don't you install an automated malware remover? The instructions below guarantee successful removal of Sale Planet, but, depending on the malware installed, you might face difficulties. After testing this adware in our internal lab, it became clear that it could be distributed along with all kinds of computer threats, and we can only predict what could happen. Hopefully, you can erase all existing threats without much trouble; however, it is wise to invest in anti-malware software just to ensure reliable protection against all security threats that you might encounter without protection.
Remove Sale Planet from Windows
Launch RUN (simultaneously tap Win+R) and enter regedit.exe.
In the Registry Editor find and Delete the Sale Planet key, which is found in these paths:

HKEY_LOCAL_MACHINE\SOFTWARE\Wow6432Node\
HKEY_LOCAL_MACHINE\SOFTWARE\
HKEY_LOCAL_MACHINE\SOFTWARE\Wow6432Node\Microsoft\Windows\CurrentVersion\Uninstall\

Right-click and Delete the Service Mgr Sale Planet and Update Mgr Sale Planet keys in these paths:

HKEY_LOCAL_MACHINE\SYSTEM\ControlSet001\services\
HKEY_LOCAL_MACHINE\SYSTEM\CurrentControlSet\services\

Launch Explorer (simultaneously tap Win+E) and enter %Program Files% (or %Program Files(x86)%) into the address bar.
Right-click and Delete the folder called "Sale Planet."
Enter %Temp% into the address bar and repeat step 5.
Enter %AppData%\Roaming\Mozilla\Firefox\Profiles\ into the address bar.
Open a folder with a unique ID name (*.default) and open the Explorer folder.
Right-click and Delete the file called "firefox@www.saleplanet.net.xpi".
In non-techie terms:
Sale Planet promises to help you save money, and who would pass an opportunity to save money? The thing is that this advertising-supported program is highly unlikely to show you any useful or beneficial deals, and its promises are simply meant to lure you in. If you install this program, it will use your browsing history to select attractive offers served by remote adware servers. As you might know, these servers can support any advertisers, including malicious parties, which is why interacting with the ads injected by this program can be very dangerous. If you agree that it is best to remove this adware from your browsers and your operating system, we suggest using the guide above. Of course, it is best to use automated malware removal software if multiple threats have corrupted your PC simultaneously.